Fight Preview & Pick Johnathon Banks vs. Seth Mitchell Rematch
After being rescheduled, Johnathon Banks and Seth Mitchell will now meet on June 22, in a rematch of their November 2012 bout, when Banks scored a big upset over the unbeaten and rising Mitchell. Banks, with his spirit perhaps galvanized by the recent passing of trainer Emanuel Steward, scored a stunning 2nd-round knockout. Now less than three months later, they meet at the same venue. Will things be any different?
Johnathon Banks, 29-1-1 (19 KOs), Detroit, Mich.
Vs.
Seth Mitchell, 25-1-1 (19 KOs), Brandywine, Md.
Date: June 22, 2013
Site: Barclay's Center, Brooklyn, New York
Weight Class: Heavyweights (12 Rounds)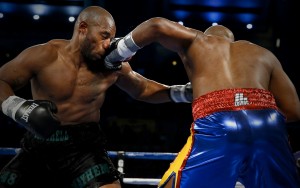 Against Banks, Mitchell showed in spades the suspicions some had about his overall championship hopes. His defense is severely lacking, which wouldn't be so bad if he knew how to take a punch. Not in a durability sense, but the guy just gets hit so flush.
It's a byproduct of starting boxing in your mid-20's. He just lacks some of the more subtle abilities that come with starting young in the sport. Looking offensively-impressive can win you fights, but whether you become a champion usually comes down to things other than that. In those areas, Mitchell needs a lot of improvement.
It was hard to not feel good for Banks for scoring the big win. Outweighed by 24 pounds, he was dealing with the loss of his protege, in addition to juggling preparations while being the lead trainer for Wladimir Klitschko. He threw sharp punches and dropped Mitchell three times before getting the TKO. It was a very impressive and dominant performance.
This rematch is happening quickly–less than 3 months after their first encounter. On one hand, it doesn't seem like enough time for Mitchell to recover mentally or perhaps address some of the problems that led to the defeat. Then again, maybe it's better for him to get an immediate chance of redemption instead of wallowing away in the indignity of that defeat.
Sometimes a quickie KO is the most misleading of results, despite being the most dominant and clear-cut of outcomes. While the knockout didn't occur in the first round, perhaps Mitchell got caught cold–before he had worked his way into the fight. In addition, Mitchell appeared to have a lack of respect for his smaller foe. In other words, there is reason to suspect that perhaps this fight will go differently.
Mitchell lost to a specialized version of Banks. He had just lost Emanuel Steward. A week before, he was training Klitschko. It gave way to a certain head-space. Those conditions aren't in place now. Banks now has time to focus solely on Mitchell and might not benefit from the same "who cares" attitude that seemed to have him relaxed and fearless for the first fight.
Expect Mitchell to approach this fight with a heightened sense of urgency and respect. He seemed to think he could just show up and bowl over Banks in their first fight. I expect him to have a better game plan this time, while exercising greater caution considering he now knows what Banks can do.
Banks, however, will carry the confidence of a man who was able to knock this guy out before. He knows if he lets his hands go–good things can happen. It's doubtful whether Mitchell will have been able to address his defensive liabilities since the first fight. Taking Banks, in that sense, seems like a good pick.
Prediction
This is an awfully tough pick to make. One feels compelled to rely on their first fight as a roadmap, but that's not always a reliable compass. I have a feeling that the conditions for this fight have completely changed, as opposed to their first fight. Simply put, I expect Mitchell to be better and Banks to be worse. I picture a good fight, with both men suffering knockdowns. A rugged fight will take its toll on both men, but I see Banks running out of answers around the 6th or 7th round.
Prediction: Seth Mitchell wins by 7th-round TKO.