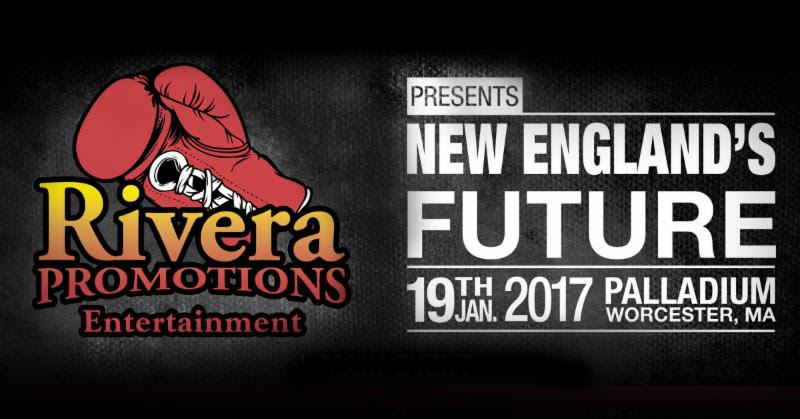 Rivera Promotions Entertainment (RPE) held a press conference yesterday to formally announce its inaugural show, "New England's Future," Thursday night, January 19, at the Worcester Palladium. It will mark the first professional boxing event in Worcester, located in Central Mass., in five years.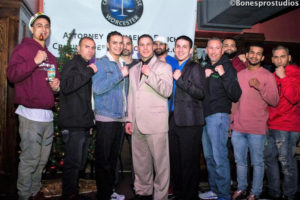 Rivera Promotions Entertainment is owned and operated by one of Worcester's all-time greatest boxers – 3-time, 2-division world champion Jose Antonio "El Gallo" Rivera – along with his son, Anthonee "AJ" Rivera, whose collective goal is to bring boxing back to Worcester on a consistent basis, providing boxers a platform and fans a full entertainment experience.
"It's all about the fighters," RPE CEO Jose Antonio Rivera said. "I'm in a unique position as a promoter because of my boxing background. I hard it is for local fighters to get fights, which is why we have so many with less than six pro fights and five pro debuts fighters on this card. They are why we're here today. I never had a press conference until I was much more established in my career. This is about them showcasing their skills.
"After my son graduated from Johnson Wales University with a degree in Sports Management, he told me he was ready to form Rivera Promotions Entertainment, as we had discussed, and promote shows. I lost a lot of money promoting a show in 2008, so I told him to put a plan together first and within a week he did. He had gotten his feet wet in the business as an intern for a boxing promoter. We went over the plan ad decided that we can do this. We're not signing fighters, right now, we're helping them build their careers. We do a lot of hard work behind the scenes that the public doesn't see; the fighters work in the gym. I'm really excited about January 19th. Irvin Gonzalez is a future world champion."
"We appreciate the support being given to us and the fighters who give their blood, sweat and tears for you," RPE president A.J. Rivera added. "I got into the business side of boxing as an intern working for CES. In Worcester, we have 11 active fighters, all on the rise, and to bring boxing back to Worcester is special, Teamwork makes dreams work. I also want to note that none of these fighters turned down a single opponent we offered."
Promising junior lightweight prospect, 2015 New England Golden Gloves champion Irvin Gonzalez (4-0, 4 KOs), fighting out of Worcester, will be showcased in the 6-round main event against Mexican invader Oscar Eduardo Quezada (2-1, 1 KO).
"I'm very excited to be fighting in my hometown for the first time as a pro," Gonzalez commented. "I fought here as an amateur but that's not the same as fighting in the main event and my first 6-rounder. Don't take your eyes off the ring when I fight. I'm going to be 5-0 with five knockouts on January 19th."
In the 6-round co-feature, light heavyweight Reinaldo "Bazooka" Graceski (4-0, 2 KOs), of nearby Springfield (MA), faces Worcester's Ralph Johnson (2-9, 1 KO).
Fighting on the undercard in 4-round bouts are Worcester junior lightweight Ranse Andino in his pro debut vs. Lowell's (MA) Jonathan Perez (2-0-1, 2 KOs), 49-year-old Auburn (MA) junior middleweight "Irish" Chuck Shearns (2-1, 1 KO) in his retirement fight vs. Philadelphian Shavonte Dixon (0-1), pro-debuting Worcester heavyweight Felix Martinez vs. Dorchester's (MA) Brian Richardson (0-8), Hartford's (CT) pro-debuting light heavyweight Richard "Popeye The Sailor Man" Rivera vs. Brockton's (MA) Huston Crayton (1-8, 0 KOs), pro-debuting Southbridge (MA) boxer Wilfredo Pagan vs. Puerto Rican Alexander Picot (1-1-1, 0 KOs) at a 145-pound catchweight, pro-debuting Springfield (MA) junior featherweight Luis "Pancho" Santiago vs, Mexican Jonathan Ramos (1-2, 0 KOs), 2016 N.W. Golden Gloves champion Anthony Laureano (1-0), of East Haven (CT), vs. Boston junior welterweight Rafael Francis (0-8), Saugus (MA) light heavyweight Brandon Montella (5-0, 4 KOs) vs. Mexican veteran Roberto El Viejo" Valenzuela (69-73-2, 56 KOs) and unbeaten Lawrence (MA) heavyweight Jean Pierre Augstin (7-0-1, 3 KOs) vs. TBA.