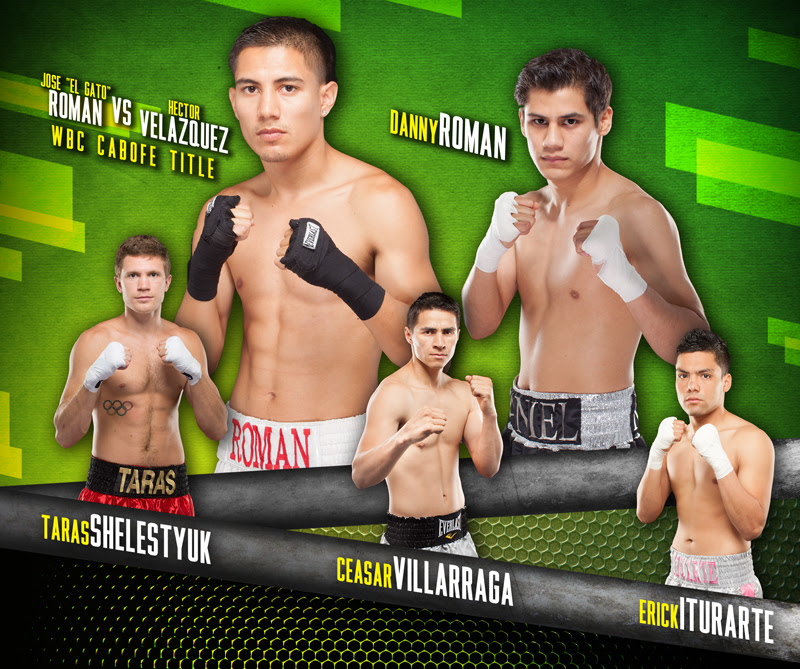 Jose Roman (17-1-1, 12 KOs) of Garden Grove, Calif. takes the next step in his quest to become a world champion when he goes against the far more experienced Hector Velazquez (56-22-3, 38 KOs) of Tijuana, Mex. The 8-round "Path to Glory" main event takes place Friday, Sept. 26, from the Doubletree Hotel in Ontario, Calif.
Roman, 26, is riding a three-fight winning streak, while the veteran Velazquez, 39, is 4-4 in his last eight outings. Velazquez is surprisingly active despite his advanced age, having fought three times this year.
"I've been fighting for a long time now and I can honestly say the excitement and passion is still as strong as when I first started boxing," Velazquez said. "I know Roman is a tough, young boxer that's going to fight until the final bell."
"Velazquez has faced Hall of Fame talent throughout his career," said Jose Roman, who will be making his first defense of the title he won in May. "He's fought Manny Pacquiao, Israel Vazquez, and Edwin Valero. It's safe to say he's not afraid of anyone."
Roman has never faced such an experienced foe, and even though he we will hold the edge in overall athleticism and speed, battle tested fighters often present a difficult challenge for less seasoned boxers. In order to properly prepare, Roman has loaded up on quality sparring partners. He has mixed it up with welterweight prospect Artemio Reyes, and prior to his retirement, Roman got some quality sparring with former lightweight world champion Julio Diaz.
"Reyes is versatile and crafty," Roman said. "He's able to fight on the inside and outside, has excellent reach, and good experience. And because he's a welterweight, he punches a lot harder than what I'm used to."
"I was fortunate to spar with Julio Diaz earlier this year and those were great sessions," Roman continued. "I had to be a little more cautious with him cause he's more of a counter puncher. If you make a mistake, he'll make you pay, and he has that experience so he's super savvy."
Overseeing the training sessions is the well-regarded Joel Diaz, who will be working Roman's corner for the fourth time. The pair hit it off last year and the relationship continues to get stronger.
"Joel is able to see things that other trainers might miss, which can make a huge difference in winning or losing a fight," Roman said. "He gives quality tips and advice in between rounds, and that's what you really want in a trainer, the ability to make in match adjustments. He's one of the best at that. He finds mistakes and fixes them."
In other action, the 8-round co-main event highlights super bantamweights Danny Roman (11-2-1, 5 KOs) of Los Angeles and Jonathan Alcantara (7-11-2, 1 KO) of Sonsonate, El Salvador. Roman is proving to be among the most popular fighters on the Southern California boxing circuit. He typically overwhelms opponents with his rapid-fire jab and sound counter punching. He has won three straight, two by knockout, and is hungry for another KO win.
"Lately I've noticed my punches have been doing more damage than before," Roman said. "We've been incorporating some strength training during our recent camps and it's paid off so far."
The rest of the card includes:
Undefeated welterweight prospect Taras Shelestyuk (8-0, 6 KOs) of Sumy, Ukraine fights in his first 8-round bout against an opponent to be named later.
Former Colombian Olympian Cesar Villarraga (4-0, 2 KOs) takes on lightweight prospect Oscar Santana (4-1-1, 2 KOs) of Pomona, Calif. in a scheduled 6-rounder.
Junior lightweight Erick Ituarte (7-1-1, 1 KO) of Santa Ana, Calif. looks to rebound from his first loss against Jesus Aguinaga (1-2) of Phoenix, Ariz. (4-rounds).
Undefeated heavyweight prospect LaRon Mitchell (4-0, 4 KOs) of San Francisco aims to stay unbeaten versus Eric Hector Martinez (8-6-1, 5 KOs) of Sacramento (4-rounds).
Opening the "Path to Glory" event is undefeated lightweight prospect Andres Figueroa (4-0, 3 KOs) of Bogota, Colombia. An opponent for Figueroa will be announced at a later date (4-rounds).