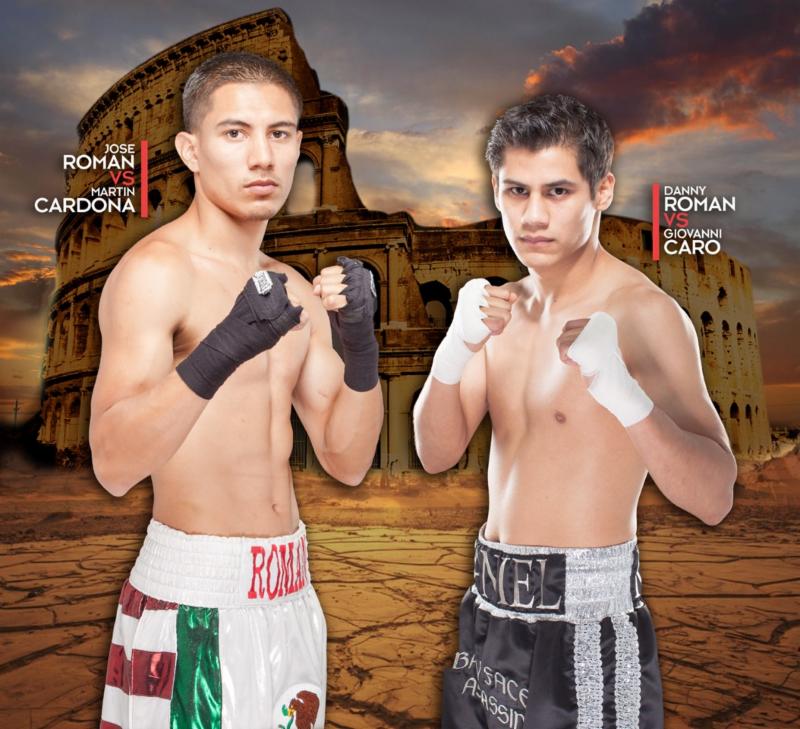 Lightweight contender Jose Roman (19-1-1, 13 KOs) and super bantamweight Danny Roman (12-2-1, 5 KOs), two of Thompson Boxing Promotions most exciting boxers, co-headline "Locked n' Loaded," Friday, April 24, from the Doubletree Hotel in Ontario, Calif.
Roman, out of Garden Grove, Calif., will face the equally talented Martin Cardona (18-4, 13 KOs) of Mexico in the 8-round main event, while the 122-pound Roman, a Los Angeles native, meets the veteran slugger Giovanni Caro (23-14-4, 19 KOs) of Mexico City in the 8-round co-feature.
Jose Roman and Danny Roman, no relation, have a lot in common outside of sharing a surname. They are coming off busy years that saw them increase their win total, they have steady followings in the Southern California boxing scene, and both are ridding five-fight winning streaks.
"I want this year to go a lot like 2014," said the 26-year-old Roman, who won a regional title last May. "I'm starting to enter my prime, and staying busy and ready for any opportunity will be critical to my success moving forward."
"Both Jose and I want to build on what we accomplished last year," said Danny, who is 24-years-old. "I know things will only get tougher from here on out, so the only thing I'm focusing on is beating Caro. Nothing else matters for me right now."
"We feel very confident in Jose and Danny's abilities," said Ken Thompson, president of Thompson Boxing Promotions. "They have an appetite for winning in dramatic fashion, are well disciplined, and have the potential to do wonderful things in their respective divisions."
Locked n' Loaded Undercard
Intriguing heavyweight LaRon Mitchell (6-0, 6 KOs) of San Francisco hopes to record his seventh win against Sylvester Barron (8-4, 3 KOs) of Seattle. The undefeated Mitchell will fight in his first 6-round fight – although he may not need that much time to take care of Barron – who is trying to right the ship after suffering two knockout loses.
Mitchell has all the right tools – height (6'4″) and punching power – to quickly make a name for himself in the heavyweight division.
Additionally, undefeated middleweight prospect Rudy Puga (4-0, 4 KOs) of Salinas, Calif. will face Fatlum Zhuta (0-0-1) of Anchorage, Alaska in a 4-round bout.
Welterweight prospect Eridanni Leon (1-1) of Los Mochis, Mex. aims for his second career win against Elih Lizama of Salinas, who will be making his pro debut (4-rounds).
Opening the "Locked n' Loaded" event are middleweights Miguel Trejo and Seattle-based Shariff Johnson (0-2-1). The 4-round bout will be the first of Trejo's professional career.
Tickets for "Locked n' Loaded" are priced at $40, $60, & $100 and can be purchased by calling (714) 935-0900, or online at www.ThompsonBoxing.com.