On August 13th, Showtime Bantamweight Tournament finalists Joseph Agbeko and Abner Mares will fight for all the marbles. The fight was originally scheduled to take place at the end of April, however a last minute health scare for Agbeko delayed things until now. Neither man will be the real bantamweight champ, as that distinction already belongs to Nonito Donaire, after his demolition of Fernando Montiel. Nevertheless, the winner of this bout will add another big name to his resume and become the consensus #1 opponent for Donaire, and will be in line for any number of major fights.
Joseph Agbeko, 28-2 (22 KOs), Ghana/Bronx, NY, IBF Champion
Vs.
Abner Mares, 21-0-1 (13 KOs), Mexico/Montebello, CA
Agbeko vs. Mares Preview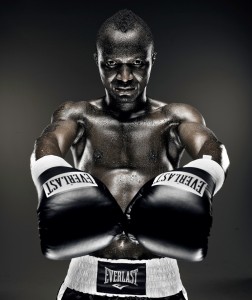 This is shaping into a great era at 118 pounds. The division is packed with a nice variety of talent, but more importantly—they're fighting each other. In some divisions, you see fighters holding pat, hoping to get to the top with a well-timed victory or two. It's becoming clear that at 118, you're going to have to survive a difficult series of tough matchups in order to rise to the top.
Fighting in L.A. brings back a lot of memories for bantamweight boxing enthusiasts. Over the years, this city has seen a ton of great fights and fighters in this weight class. Zarate-Zamora was in L.A. Excellent bantamweights like Lupe Pintor, Ruben Olivares, Albert Davila, Frankie Duarte, and many others have helped make Southern California a haven for great bantamweight fights.
Record and Background
Joseph Agbeko: The 30-year old Ghanaian debuted as an 18-year old bantamweight over a dozen years ago. Won the Ghanaian bantamweight title in 1999, the African title in 2000, and Commonwealth title in 2004. Lost a European title fight to future champion Wladimir Sidorenko in 2004.
Took off almost 3 years before returning with venom in 2007, when he beat talented Luis Perez for the IBF Bantamweight Title. In 2009, scored the biggest win of his career with a 12-round decision over Vic Darchinyan in a substantial upset. Lost in his next fight against Yonnhy Perez and was an underdog in their rematch over a year later. Agbeko shined in winning a clear decision to bring his record to 28-2 (22 KOs).
Abner Mares: This 25-year old is really coming into his own. Always considered talented, the Mexican-born Californian, 21-0-1 (13 KOs), has shown his championship heart and grit in his last two fights—a draw with Yonnhy Perez and a decision over Vic Darchinyan. Younger than most of the top guys in this weight class at 25, he makes up for it with a long and distinguished amateur career.
A 2004 Olympian, Mares had a fairly thorough building-up process. He was always worth watching and undoubtedly a top prospect, but few could have guessed he would do as well as he has in his first two world-class fights. Against Perez and Darchinyan, showed that he is up for the task when facing the best at 118.
Styles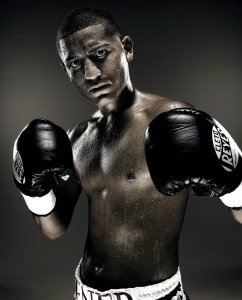 Joseph Agbeko: A passionate slugger who shows more tricks than the average brawler. Uses movement, feints, punch variety, and springiness to throw off his opponents. When highly concentrated at the task at hand, he fights much better. Always redoubles his efforts when tagged. Has pretty good head and upper body movement when in the mood. Showed a hurtful and highly-effective jab in the Perez rematch.
Abner Mares: A talented bantamweight who can box neatly or trade in the trenches, depending on the situation. Can tip close fights into his favor with a high workrate. Has become steadily more professional over the past several years. Throws precise and damaging blows. Showed in the Darchinyan fight that he isn't averse to using some rough tactics.
Physical Stature
Joseph Agbeko: Normal-sized bantamweight at 5'5" with a 65-inch reach. Looked a little jaded against Perez in their first fight, but at 30, came back refreshed in their second fight. Looked as good as he ever did. Still has some fight left in him after a 12-year career.
Abner Mares: Same height as Agbeko at 5'5," but has a 3-inch reach advantage at 68-inches. Entering his prime, having just turned 25. An unproven talent a year ago, Mares is now highly-regarded, still undefeated after two wars with Perez and Darchinyan.
Recent Work
Joseph Agbeko: A long layoff following the first Perez fight seemed to be cause for concern, but might have helped Agbeko, who looked rejuvenated in their second battle. Only 30 fights in over a dozen years has allowed him to keep most of the tread on his tires. Career has been up-and-down, or at least stop-and-go. Strangely took 3 years off from 2004-2007. Beat Darchinyan in '09, but lost to Perez just a few months later, in a fight where he clearly overlooked his uncelebrated opponent. Showed how important motivation is to his overall boxing by emphatically beating the very same Perez in the rematch.
Abner Mares: For 5.5 years, feasted on neophytes, journeymen and faded ex-contenders. It is his work in his last two fights that has given him distinction. Seemed to edge Yonnhy Perez, while only earning a draw in their title fight. His performance was good enough to get him in this 4-man tournament and he has answered the call. Performance against Darchinyan was gritty and skillful. Unlike Agbeko, seemed to beat a version of Darchinyan who was at the peak of his powers physically and mentally. Surprisingly withstood an impassioned Darchinyan attack, returning fire, and winning a split decision.
Questions
Joseph Agbeko: Was he truly refreshed against Perez, or did Perez just have a bad night? Did Agbeko catch an opponent who might have been a little burned out after a series of demanding 12-round wars? Will he be too slow for Mares? Can he make up for the speed deficit with superior timing and a hard jab?
Abner Mares: Can he hit hard enough to dissuade Agbeko? After seeing Perez looking a little worn-out against Agbeko, is it possible that Mares is getting a little frayed at the edges too? This will be his 3rd demanding war in under a year—quite the workload for a fighter who cruised through the first 5+ years of his career. Is he up for it? Will he box more in this bout, convinced he probably can't hurt Agbeko?
Agbeko vs. Mares Prediction
The same thing was said about the recent Tim Bradley-Devon Alexander bout, but this figures to be a great fight for fans. It's difficult to remember either man in a bad fight. Combine that with the super-sized stakes and it seems reasonable to expect a night of fireworks between these two excellent and world-class bantamweights.
Analyzing common opponents can be misleading, but their respective performances against Yonnhy Perez and Vic Darchinyan might be telling. In Agbeko's victories against those fighters, he was far more convincing than Mares. Whereas Agbeko won two clear decisions, Mares struggled with a draw and split decision win. The first Agbeko-Perez fight, however, shows how badly Agbeko depreciates when not in the proper frame of mind. Don't expect the lesser version of Agbeko to surface here.
Mares will have the faster hands and probably throw more punches. Agbeko will be bit more selective, but will be hitting with greater authority. When Mares is allowed to do his thing, he boxes beautifully. Agbeko, however, will be doing some things to offset the effectiveness of Mares. The Agbeko jab will keep Mares from establishing a rhythm. Those few other clever wrinkles that Agbeko throws into the mix will have Mares a bit uncomfortable—the confusing upper-body movement, the suddenly-thrown shots, and the mixing up of punch variety and velocity.
Mares will put some rounds into the bag, but by the middle of the fight, Agbeko will be zeroing in on Mares. His heavier punches will begin making an impact. Mares will do his best to keep it together, but will become increasingly ragged as "King Kong" warms to the task. I see the last 4 rounds being awfully tough on Mares. There is a chance that Mares will be able to dig in and taking a late round or two to make it close. But I see Agbeko not losing the momentum and punishing Mares late to take a clear unanimous decision.
Prediction: Joseph Agbeko wins the Showtime Bantamweight Tournament with a unanimous decision over Abner Mares.