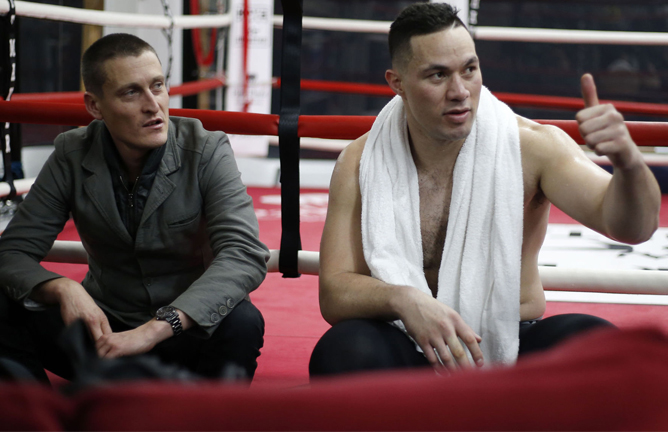 Joseph Parker held a press conference in Auckland yesterday, Wednesday 23 November 2017, where he and his promoter, Dave Higgins, made it clear they wanted to agree terms with Joshua and get a date set for the two to meet in 2018.
Since the conference, Parkers' agent has revealed that he felt Eddie Hearn was close to agreeing terms for the pair to meet next year in what will be a heavyweight showdown between WBO champion Parker and Joshua, who holds the IBF and WBA versions.
"We've said all along that a 35-65 per cent was both fair – and our bottom line," said Higgins.
"Now it seems that Eddie is pretty close to agreeing with us. That's very encouraging.
"Eddie's video was great. He's a really funny guy. He certainly scored a few points when making fun of us colonials down here in New Zealand, but the funniest part is where he still insists Joseph Parker isn't worth the 35 per cent we are demanding.
"Eddie's having a laugh there and he knows it."
Parker is confident the public display of words between the two fighters is going to result in the two meeting and is confident Joshua will need at least a second attempt if he wants to hold all three world titles.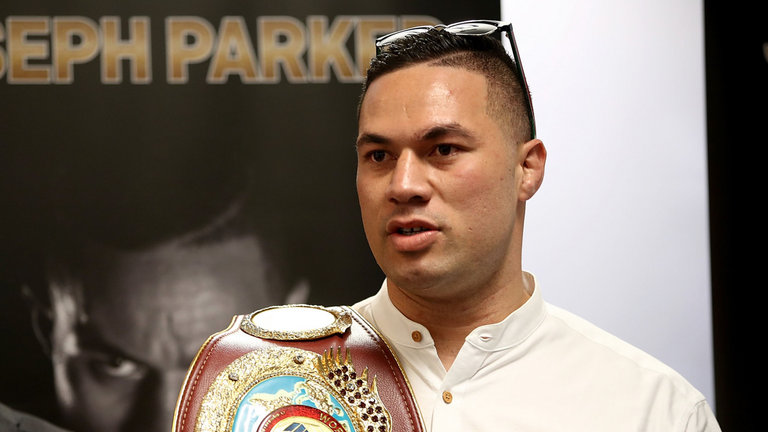 "I want to test myself against the best, so this is a fight I really want," he said.
"David Higgins is doing everything possible to make it happen and he seems to be flushing out AJ's real position.If he won't entertain a 35-65 split, then it's pretty obvious he doesn't want the fight to happen. It seems like I am such a big risk that he needs more than 65 per cent – and a rematch clause."
Following the conference, in a bizarre move last night, Team Parker sent a press release to members of the media promising to release a video showing "rare footage of Joshua getting dropped". It showed old footage of Romanian Mihai Nistor stopping AJ, as well as the Briton being floored by Dillian Whyte – both in amateur bouts.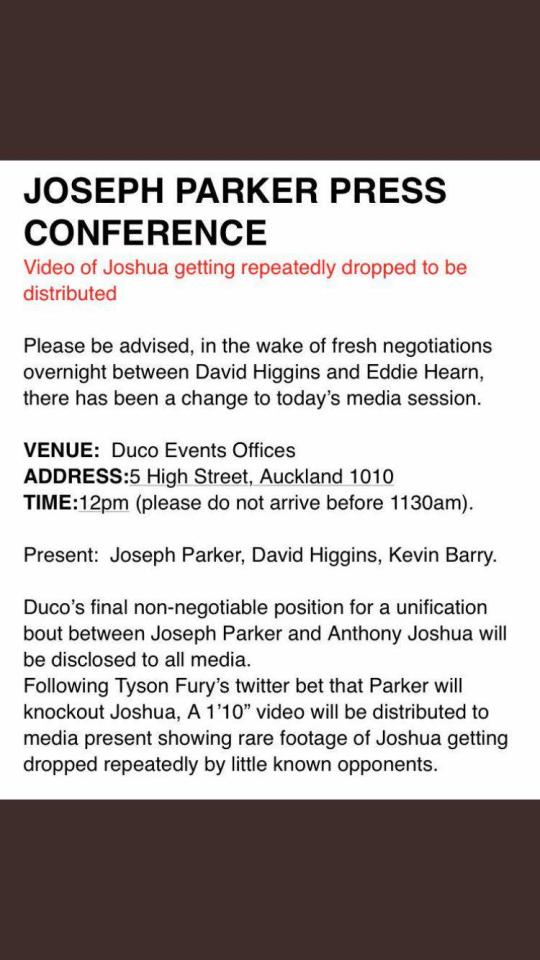 Joshua has previously admitted to being dropped in training by David Price and it seems like the claims that Joshua will require a second attempt to stop Parker are stemmed from claims by Parker that 'he has the better chin'.
You can see the full-video Parkers' team released yesterday to the media yesterday here:
Is this a fight you guys want to see – who do you see as a worth opponent for Joshua's next fight ? Leave us a comment below or on our facebook page.