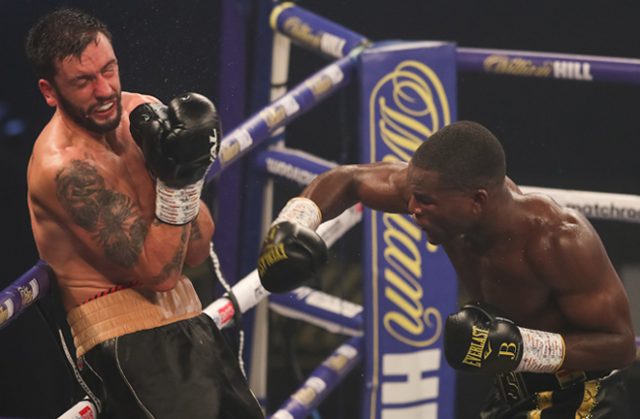 Joshua Buatsi overcame the tougher than expected Marko Calic, producing seventh round retirement in Milton Keynes on Sunday.
Buatsi was troubled early on by the Croat, but rallied back with a ruthless finish to make a successful fifth defence of his WBA International Light Heavyweight title.
Buatsi (13-0, 11 KOs), who had been out of the ring for over a year, began off a ramrod jab and showed good variety in his work, although he was caught by a Calic (11-1 6 KOs) right hand in the opener.
Calic again landed some decent combinations to begin the second and was catching the Londoner with some eye-catching stuff on the counter, with Buatsi's nose bloodied.
The unbeaten, former Olympic Bronze medalist got back on his jab to good effect in the third, but Calic again countered with a meaty right to keep his foe alert.
A right hand of Buatsi, followed by some sharp body work gave the 27-year-old encouragement, but Calic wrestled back control with a chopping right hand that buzzed Buatsi.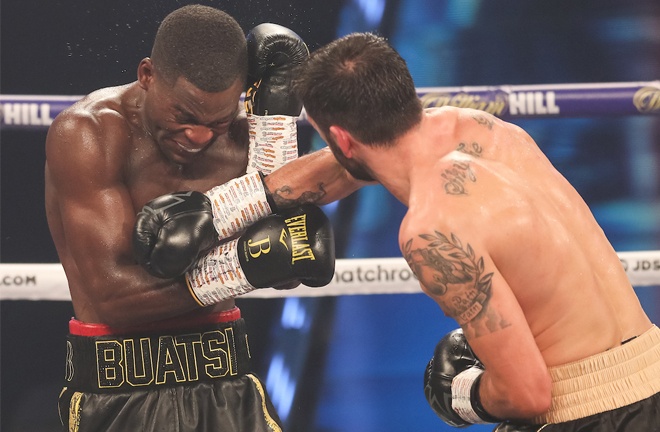 His left eye was close to closing, as a result and the visitor eyed a major upset.
Buatsi boxed much better in the fourth, as he attempted to force his will on Calic, who came back to life in the fifth by continuing to inflict damage on Buatsi's eye with flurries of punches.
The end of the fifth saw a breakthrough though for the home favourite, as a big overhand right stiffened Calic's legs, and he teed off on the ropes in search of a knockdown, but the bell came to the 33-year-old's rescue.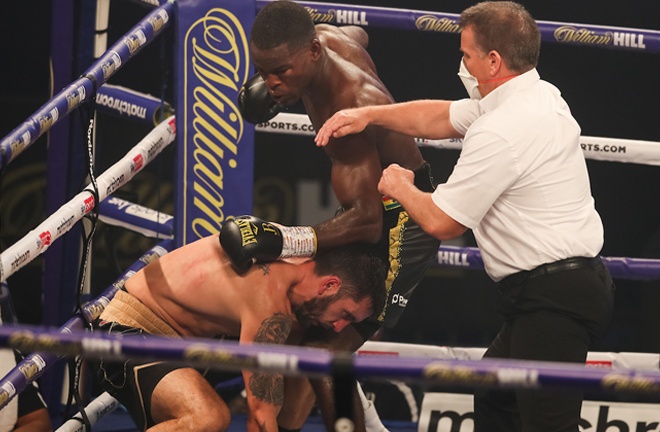 The seventh saw a change in stances that would prove costly for Calic. After picking off the change to southpaw, with Calic pinned to the ropes, Buatsi unloaded sledgehammer right hands, until the challenger was forced to the canvas.
The fight resumed, and with Buatsi hunting his man down, Calic's corner had seen enough, with the towel waved in withdrawal.
It was a tough nights' work for the Croydon resident, and one he will have learnt a lot from, as he edges closer to domestic showdowns with Callum Johnson and Anthony Yarde.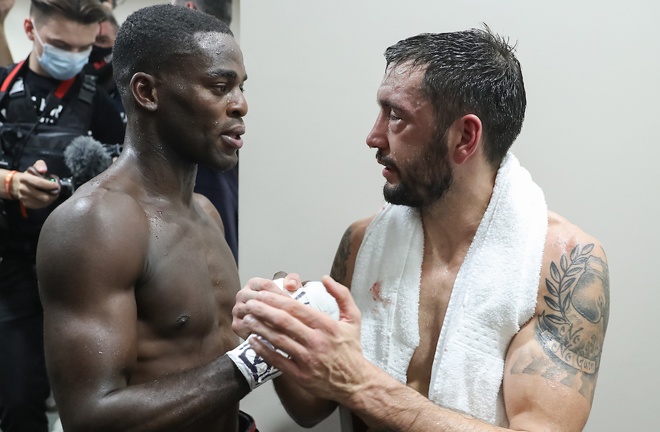 "I came out on top. Big respect to Calic, I had to dig deep," Buatsi told Sky Sports.
"I noticed he went southpaw, and then I caught him with a right hand and pressed on.
"I enjoyed it. Credit to him, he was a tough opponent.".
"I want to keep moving forward. I had 400 days out, so it's good to be back."
Cameron crowned WBC world champion
Chantelle Cameron was crowned WBC Super Lightweight champion as she claimed the belt made vacant by Jessica McCaskill with a dominant points win over Adriana dos Santos Araujo.
The belt was on the line for Cameron (13-0, 7 KOs) only, as the visitor weighed in five pounds over the ten stone limit at the weigh in.
Araujo (6-1, 1 KO) was showing little ambition, as she plodded towards Cameron, allowing the Northampton native to box at range and then deliver combinations when the Brazilian.
The seventh saw Cameron firing almost at will, and rocking Araujo's head back with multiple punches that could have possibly forced a stoppage given more time.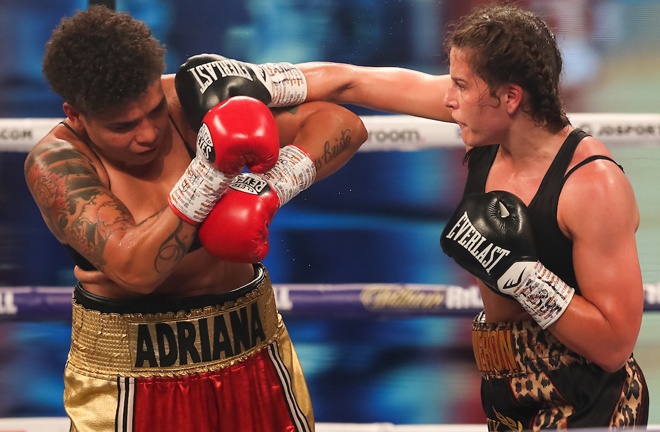 The 38-year-old was breathing heavily at the end of the round, and she was surely in need of a knockout going into the final few rounds.
It was one way traffic, and Cameron continued her charge towards the title with flush shots landing with regularity in the penultimate session.
Araujo did show her most ambition of the whole contest in the final round, as she went for broke, but 'Il Capo' Cameron was able to keep the former Olympic Bronze medallist at bay with power lefts and rights as the contest reached its climax.
Michael Alexander, Terry O'Connor and John Latham had the simple task of scoring every round to Cameron, who took a 100-90 verdict across the board.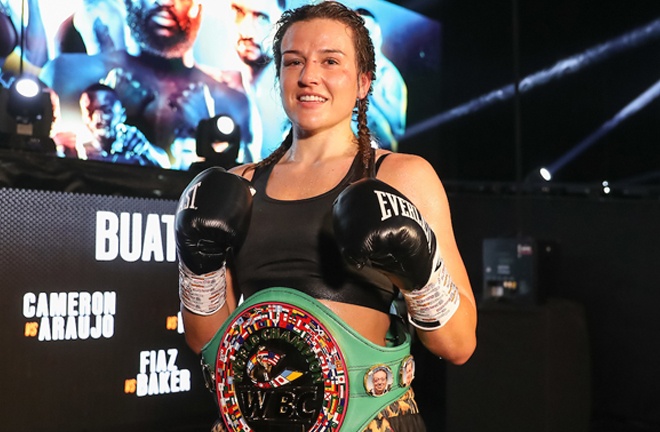 Alen Babic made it five wins from five, with a third round stoppage of the brave Niall Kennedy at Heavyweight.
Babic (5-0, 5 KOs) was crude and swung for the fences at every opportunity, with Kennedy doing well to evade the hurtful punches, until the Croatian finally caught him in the third round.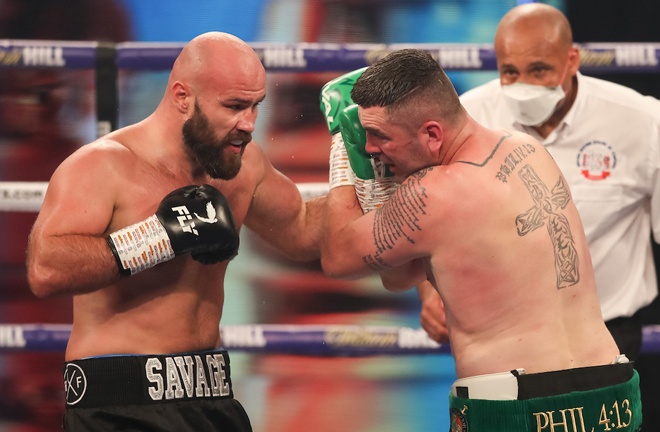 A big right hand with just ten seconds of the session gone, followed by a combination put Kennedy (13-2-1, 8 KOs) down, and after a follow up assault on the resumption that drove Irishman to the ropes, referee Ian John-Lewis waved the fight off.
The show opener was an English Middleweight title clash, with Linus Udofia (16-0, 8 KOs) retaining his belt with a ninth round stoppage of the brave John Harding Jr (8-2-1, 2 KOs), who faded down the stretch.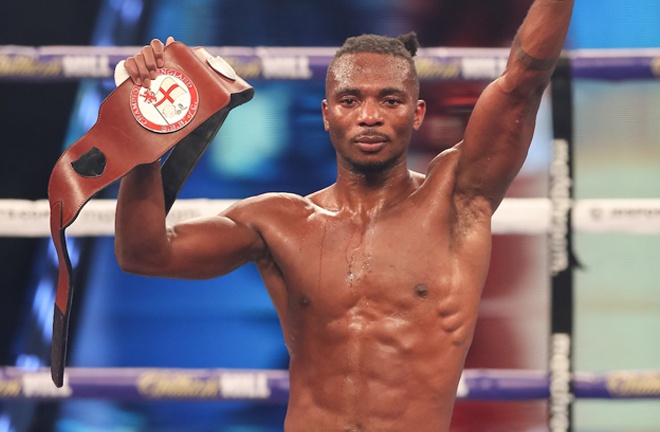 A big counter right hand floored Harding heavily with a minute of the ninth round remaining, and referee, Michael Alexander waved the fight off, despite the challenger's protestations.
Aqib Fiaz remained unbeaten, as he took a 77-75 verdict from Ian John-Lewis in his eight round Lightweight affair with Kane Baker.
The pair shared a fiery build-up after their Fight Camp clash in August fell through, with Fiaz (6-0) pulling out through illness a day before their scheduled fight.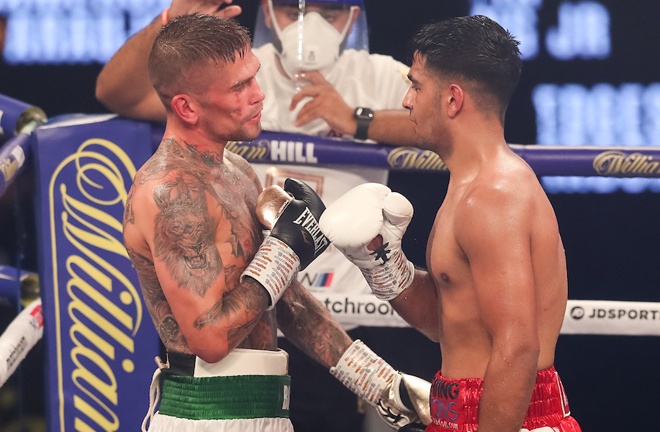 Baker (13-7) walked out of the ring in disgust at the verdict, but the result seemed just about fair.
Precocious 18-year-old amateur talent, John Hedges (1-0), made his professional debut, and was fortunate to take a 39-37 verdict over Jan Ardon (2-5) in their four rounder at Super Middleweight.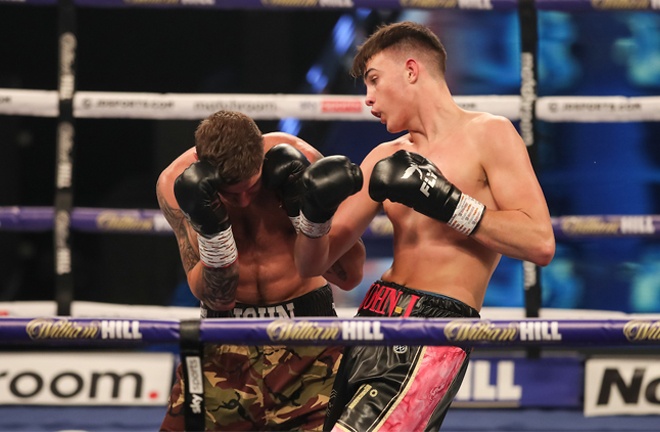 It looked as though the Czech had done enough to at least get a share of the spoils, but Ian John-Lewis' scorecard gave Hedges the nod.