With Felix Trinidad ringside at the Lopez vs. Concepcion bout, supporting his buddy and de facto apprentice – in not just boxing but Puerto Rican stardom – Juan Manuel Lopez brought to mind images of the great welterweight and junior middleweight fighter. It's not just winning fights that captures our attention after all, it's drama. Lopez dispatched of Concepcion in just two rounds, but those brief moments in the ring proved to be more than anyone could have predicted.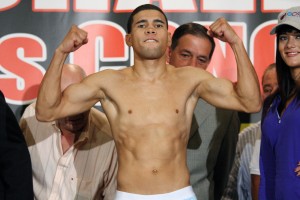 Lopez and Trinidad have shown to have two things in common as they battle in the ring. First, they both carry prestigious, game-changing knockout power in their gloves. Secondly, both have a deficit of strength in their chins, leaving them susceptible to quick trips to the canvas. In the Lopez vs. Concepcion bout Saturday night, we got to see both of those traits play out for JuanMa.
The first punch he threw in the fight sent Bernabe Concepcion reeling back to the ropes, off balance and buzzed. From there, the pressure continued to be poured on, and following a knockdown, the first in Concepcion's career, by the end of the round it looked like it could be a KO1 victory for the hometown hero. However, Concepcion winged a left hook that managed to crash into Lopez's chin, sending him careening to the canvas himself as the first round came to a close.
Still, it was a knockdown that seemed only to embarrass Lopez and reset his priorities in the encounter. In the second round, he found his range with a straight left hand, and finally a long string of combination punches that left Concepcion dizzy, on his knees and struggling for composure. The referee stopped the bout justly as Concepcion stumbled trying to stand back up, and Lopez retained his title in another quick but memorable showcase battle.
Next up for JuanMa is a showdown against Mexican legend Rafael Marquez. Make no mistake, Marquez is past his best following the first three epic encounters with Israel Vazquez and will have to move up in weight for the fight, but he could very well give Lopez the first loss of his career. Marquez has a strong chin, an indomitable will, and most importantly of all, has made a career out of well-timed, precision punching. Lopez, open to the counter and to lapses in concentration, will find himself in deep trouble very quickly if he allows Marquez to sniff an opening. It will be very intriguing to see how the bout plays out in the coming months.
For now though, with the Lopez vs. Concepcion results in, it's a TKO 2 victory and another title defense for the young, undefeated champion. Trinidad, surely, is more than a bit proud.