Fight Preview for JCC Jr. vs. Gomez in December:
On December 4, two of the most well known Mexican fighters today will square off at the Honda Center in Anaheim, California in a Top Rank match up labeled "In Harms Way."  In this fight, the always tough Alfonso Gomez will square off against the highly touted young Julio Cesar Chavez Jr. in what promises to be a closely contested battle, pitting the battle tested warrior against the son of a legend who is eager to work his way to a title shot.
Both are coming off the biggest, most significant wins of their careers, and this fight will prove to be a defining moment for each man.
Julio Cesar Chavez Jr.
Culiacan, Sinaloa, Mexico
41-0-1 (30 KO's)
Height: 6'0"
Reach: 73"
Last 5 Fights: Chavez is slowly starting to prove that he is more than a protected fighter with a padded record after his recent victory over John Duddy. With this recent decision victory, he defeated a tough contender and proved that he's ready for bigger fights. He has also notched impressive wins over Jason LeHoullier, Luciano Leonel Cuello, as well as a more decisive victory in his late 2008 rematch against Matt Vanda. His 2009 fight against Troy Rowland was ruled a no decision due to use of an illegal substance.
Alfonso Gomez
Guadalajara, Jalisco, Mexico
22-4-2 (11 KO's)
Height: 5'9"
Reach: 69"
Last 5 Fights: Gomez is coming off of the biggest win of his career with a stoppage victory over the veteran Jose Luis Castillo earlier this year for the WBC Continental Americas Welterweight Title. Aside from this key victory, his wins over Jesus Soto-Karass and Raul Munoz were quite impressive as well.
Chavez Jr. vs. Gomez Preview & Tale of the Tape: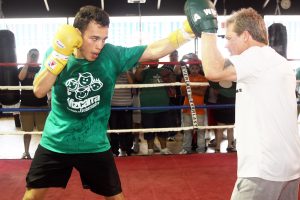 In this match-up, Chavez is the noticeably larger fighter, standing a full 3 inches taller than Gomez with a reach advantage of 4. Gomez will be moving up a weight class (to junior middleweight) to fight Chavez who is noticeably larger and should be able to assert control of the ring due to this advantage.
This height and reach disadvantage will definitely affect this fight, since Gomez is a fighter who likes to do a lot of his work on the inside. He'll have trouble working his way in against the rangy Chavez and will have to look for slight openings or other methods to potentially give Chavez his first professional loss.
—–> Buy Chavez Jr. vs. Gomez tickets online here
Experience Levels:
It may look as though Chavez is the more experienced of the two fighters, having 42 professional fights compared to Gomez's 27, but Gomez had an extensive amateur career, boasting an impressive record of 80-10.  Due to this experience and dedication in the ring, Gomez should have the advantage of adaptability. He plans to fight a smart fight and pick apart Chavez, claiming that Chavez fights purely "on instinct" and will be able to take advantage of this style.
Gomez's Toughness vs. Chavez's Skill:
Many see this fight as a mere stepping-stone for Chavez to prove himself against a battle tested opponent so he can take on Miguel Cotto. However, Gomez will not make this easy. Gomez will come to fight and use this aforementioned experience as a way to break his opponent down and earn the victory.
Chavez is ready to take on a fighter as battle-tested as Gomez, who has defeated Arturo Gatti and faced the likes of Miguel Cotto, and he proved this by recently winning a dominant decision over John Duddy, who is one of the toughest contenders in the division. With this decisive victory, he helped put to rest the idea that he is protected and only fights C-level fighters. A win against the tough Gomez will prove that the son of a legend is ready for his shot.
Chavez Jr. vs. Gomez Prediction:
This fight will certainly be a battle. Gomez is a great opponent to test Chavez to see if he is ready for the big time. Gomez will come to fight but he will struggle to establish rhythm and work his way inside against Chavez. Gomez will be able to come away with a few rounds, but in the end, it will be Chavez earning a unanimous decision victory.
Chavez by Unanimous Decision