According to multiple reports, Bob Arum is in the process of putting together a Julio Cesar Chavez Jr. vs. Martin Murray clash, tentatively scheduled for August 3. The Chavez Jr. vs. Murray fight could potentially take place in Mexico City, offering a grand stage for Chavez and his adoring fans. For the British Murray, he would then need to follow up his trip to Argentina and Sergio Martinez's home turf, with one to the backyard of Chavez and his fans, for an opportunity to get another title shot.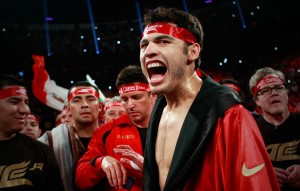 The WBC is already ruminating on the idea that Chavez Jr. vs. Murray would be for the interim WBC middleweight strap. Each man is coming off a loss to Maravilla, the full WBC champion, and each man sent him down to the canvas along the way.
Martinez is currently back on the sidelines with more injuries which he sustained in the Murray fight, so it seems quite likely that the WBC will put something up for grabs in this contest. Then the winner will get his rematch against Martinez with the full title at stake, when Martinez is able to return to action — perhaps the beginning of 2014.
[Also See: Middleweight Division Top 10 Rankings]
Chavez Jr.-Murray is a pretty nice match-up, and should be a fun one to watch. Chavez Jr. hasn't exactly always taken on the toughest of opponents, so for this to be his comeback fight, that's a solid choice. It'll be his first time returning to action since the Martinez fight, and his subsequent suspension for a failed drug test.
As for Murray, has showed he's willing to take on anybody, anywhere, and at anytime. He went to Germany to take on Felix Sturm, and came away with a controversial draw in a fight many believed he won. As mentioned, he went to Argentina to take on Martinez, and came away with a loss in which some make the case he deserved to win.
This would be his third trip into hostile, hometown territory, and with the "Chavez" name and the WBC involved in Mexico City, it would be exceedingly hard for Murray to come away with a decision victory.
Comments
comments