Live Chavez Jr-Martinez Round by Round Results
Julio Cesar Chavez Jr. vs. Sergio Martinez finally arrives to fight fans across the globe on Saturday, September 15, as the two best middleweights in the world battle for supremacy. Right here at ProBoxing-Fans.com, we'll be providing live Chavez Jr. vs. Martinez results and round by round updates all evening long so you can keep up with the action and see for yourself. We'll also have full coverage and notes on the undercard bouts from the entire Pay-Per-View.
Chavez Jr vs. Martinez Scorecard
| | | | | | | | | | | | | | |
| --- | --- | --- | --- | --- | --- | --- | --- | --- | --- | --- | --- | --- | --- |
| Round | 1 | 2 | 3 | 4 | 5 | 6 | 7 | 8 | 9 | 10 | 11 | 12 | Total |
| Sergio Martinez | 10 | 10 | 10 | 10 | 10 | 10 | 10 | 10 | 10 | 10 | 10 | 8 | 118 |
| JCC Jr. | 9 | 9 | 9 | 9 | 9 | 9 | 9 | 9 | 9 | 9 | 9 | 10 | 109 |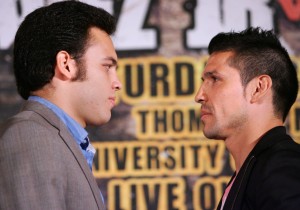 [Check in on the Canelo vs. Lopez results page here]
Chavez Jr. vs. Martinez Round by Round Results
Rd 1: First note: Chavez's bright yellow shoes are blinding. Maravilla throws the first punch, a quick jab. He's quickly circling to his left, round and round. Roy Jones thinks Chavez weighs about 190 lbs, but he refused to step on the scales. JCC Jr. hasn't thrown a punch through 90 seconds. As such, Martinez can't counter. So the action is slow. Maravilla drops his hands, Chavez takes the chance to try to land. Round for Martinez, but not much substance.
Rd 2: Chavez grabs a hold of Martinez and shoves him into the ropes. Doesn't get anything done though. Martinez attacks, lands some shots while Chavez blocks, and then clowns. Says it doesn't bother him, but Maravilla keeps attacking. Chavez goes to the body. Looks very slow compared to Martinez, but we knew that. Chavez gets Martinez to the ropes, lands a left hook upstairs. Martinez backs up, keeps his hands down, inviting JCC to throw something so he can react. Round to Martinez.
Rd 3: Martinez begins attacking at the start of round 3. Chavez hits him, Martinez off balance, but not bothered. Martinez digs to the body. He's jabbing. Backing up and circling to his right now, keeping Chavez off guard. JCC starting to warm up though, he's pressing more. As he does, Martinez nails him with a few clean shots. Then bolos a bit. Chavez gets him to the ropes. Lands to the body. That will pay off for later, but for now, Martinez circles away, jabs, and then invites Chavez back in. Another Maravilla round, as he looks to land a few big shots at the bell.
Rd 4: Size-wise, this looks like Nikolai Valuev vs. John Ruiz… but thankfully, with less body hair. Chavez is coming forward, but Martinez picking him off. The shots don't bother JCC though, so for now, he's coming. Gets Martinez to the ropes, lands his best punch of the night, but Sergio is fine. The two touch gloves after a foul. Then Martinez puts his hands down, nods his head, and launches a few quick jabs. Chavez has him back to the ropes, looking for a big chance. Maravilla chooses to sit in there, and trade. He's inviting Chavez in, but he's starting to look like he could be tired. Chavez lands big at the bell, but round to Martinez.
Rd 5: Martinez runs out, ready to go from the start. Chavez looking a little weary now. Martinez keeping the action in the center of the ring this round. Choosing his shots, popping them off rapid fire, moving out of the way. Hands down the entire time. Pretty crazy. Chavez finally throws, Martinez peppers him with 3 or 4 in return. Chavez's machismo routine didn't work, and now he looks lost. Big round for Martinez.
Rd 6: Martinez bouncing around in there. Just lurching around him, hands down, bouncing around. Kind of a funny scene. Now fires off the jabs. Bounces away. Chavez doesn't know what to do. He gets Martinez to the ropes, and know he knows what to do, so he throws some bombs. But Martinez is out of there. Chavez digging to the body now though. Has to hope that pays off. Martinez answers with a huge rally though, a dozen punches reeled off, forces JCC Jr. to back off. Chavez throws, Martinez slips and lands. Martinez again, but will he tire?
Rd 7: The pattern is continuing here. And again, I think Chavez seems lost in there right now. Martinez popping off those quick shots, hands down. Blood coming from Chavez's mouth now. He looks weary. The single shots don't hurt Chavez, but the accumulation is busting him up. Maravilla comes on now, backs JCC Jr. up, gets him to the ropes. Now the shots are hurting. Chavez bothered by his cuts. Broken nose maybe? Martinez pouring it on. Chavez answers with a rally, Martinez answers, and they are trading in there. Crowd going nuts. Maravilla circles away. Very nice stuff here.
Rd 8: Chavez looks to have his head cleared a little bit here. He lands his best shot of the night, a stiff right which snaps Martinez's head back. But Maravilla doesn't appear hurt. Still bouncing, circling, hands down. Chavez lands a jab. Maravilla searching for a spot, pop pop pop. Chavez gets him to the ropes, throws to the body then upstairs. Maravilla circles away. JCC's best round of the fight thus far. Martinez cut over his left eye.
Rd 9: With the cut over Maravilla really looking bad in there, he's not letting it look like JCC is taking control. He's dictating this round, bouncing around, popping off those quick shots. Chavez forcing the action as well, but Martinez not letting himself get trapped. He's just a perpetual motion machine in there, and controls the fight as a result. JCC looking finished, but he's trying.
Rd 10: Lederman rails on Chavez Jr., saying he is looking meek, and not trying. I don't agree he's not trying… I just think he doesn't know what to do, and he's getting beaten up by a great fighter. More of the same here in the 10th. Martinez down on a slip, to the chagrin of the crowd, but nothing doing there. Martinez backs Chavez into the ropes, lands some crisp, clean shots, then showboats to the crowd at the bell.
Rd 11: Chavez gets Martinez to the ropes early. Lands a good right hand. Martinez brings it back to ring center. Freddie Roach gives a very candid interview, saying he has thought about stopping the fight, and the speed is the factor right now. But he knows Chavez is trying, and right after that, JCC lands a few nice blows. Martinez answers immediately though, and the crowd shuts it. Chavez keeps coming on now, landing some big blows, Maravilla in the corner. And he just absolutely brawls his way out. WOW. Then pummels Chavez into the opposite corner. Ridiculous. That's a memorable sequence right there. Chavez comes back forward. Maybe his round, if you're looking to give him one. But…
Rd 12: Martinez's ability to surge in the face of trouble is absurd. And as I type that, he gets nailed by a hard, flush shot. He's getting tagged right now. He's hurt bad. He rallies back. Chavez sends him down! He's badly hurt! He's bloody and he is hurt, and there's 60 seconds left! Chavez is going for it! Martinez is down again! It's a push and a slip, but he's VERY hurt! Chavez pressing. His hands are still held at his waist! Chavez lands a huge left hook. Martinez just looks like's drunk in there. Can't stand straight! He finally holds on! Chavez gassed, but throwing bombs. 10 seconds! Martinez backs off. And it's the final bell! WHOA what an ending to a fight!!!! Martinez survives, it won't be Meldrick Taylor-Chavez Sr. II here. But wow.
ProBoxing-Fans.com has it 118-109 for Sergio Martinez.
Official Scorecards: 117-110, 118-109, 118-109, all for your winner, Sergio Martinez.
Martinez the clear winner, but major props to JCC Jr. for bringing the heat in the final round. What an amazing, memorable ending. Round of the Year, for sure.
Sergio Martinez: "Julio did a great job. He did a lot. More than I expected… He showed he had heart."
Chavez: "I hurt him, he was very hurt. I just couldn't finish him off."
Pre-fight event notes:
11:12pm – OK, it's national anthem time, as we approach the official beginning to the highly anticipated main event. Stay tuned!
The crowd seems extremely pumped up for the main event. "Belinda" sings the Mexican national anthem. Never heard of her. But she's smoking. Note to self – Google image search later tonight.
11:21 pm – Anthems are done, ring walks are set to begin… it's go time here folks!
11:24 – They are taking their time. But Maravilla is walking his way out to the ring now. Crowd is electric…
11:28 – Michael Buffer is giving his introductions… Let's get ready to Ruuuummmbbbblleeee!!!!
Undercard Results:
Martinez vs. Beltran Jr.
Fight starts out with a pretty slow pace. About midway through the first, Beltran takes the lead, and begins landing a few big shots. Martinez looks dry, not warmed up yet. Beltran takes advantage to win round 1.
Rocky working himself into action more in the 2nd. Both guys have their moments, round probably goes to Martinez though. Martinez continues to get going in the 3rd, taking that round with his effective aggression again.
Martinez comes out strong in the 4th, but it's Beltran that lands a big shot and sends Martinez reeling into the ropes. Fight is starting to pick up to what people thought it would be to begin with. The big punch wins Beltran the round, so it's 2-2 through four.
The 5th sees some major ebb and flow, as each man takes his turn landing and taking bombs. This is the type of fight where, when one guy gets hit hard, he wants to hit the other guy back. So, good action, with Martinez remaining the busier fighter and effective for longer stretches.
Martinez has long stretches of good action, then Beltran pops him with a clean shot. It could make for some intriguing scorecards if we get that far. Beltran has a good round in the 7th, and definitely seems to land the better punches, but both guys are unloading a ton of punishment on the other in there right now.
In the 8th and 9th, the back and forth exchanges continue. These two are gonna need some time off after this fight, neither one is bending or breaking at all in there. But Martinez does seem to be putting himself out in front, and as he busts up Beltran's face a bit, is also able to drive him back to the ropes. He's busier, but as I've been saying, Beltran has a way of ending rallies by landing his own flush punches.
With his cuts worsening in the 10th, Beltran decides to take things up a notch. Forces the action and lands some thudding body shots and big blows upstairs, sending the fight into the championship rounds. At the start of the 11th though, Beltran gets a point deducted. That could seal the deal for Rocky here, that's unfortunate. Beltran continues with the pressure after that. He likely wins the round, but with the point deduction, it's a 9-9.
The two men embrace to start the 12th and final session. Martinez keeping away a bit, at least in comparison. Beltran pressing as Martinez combos and circles. Both guys rightfully looking tired in there. They close out the show, and both sides appear confident that they are coming away victorious. It's going to be close.
Official scorecards: 116-111 Beltran, 114-113 Martinez, 114-113 Martinez, Split Decision for Ramon "Rocky" Martinez for the WBO Super Featherweight Title
The 116-111 for Beltran is too wide, but you can make the argument he won. Further, it's terrible that the point deduction takes a draw and turns it into a Martinez win. No real arguments on the scoring, just that the point deduction played such a major role.
Macklin vs. Alcine
Macklin gets things started earl here. He sends Alcine down two minutes in the first with a solid right. Alcine's hurt, but gets up. Macklin presses and sends him down again. Alcine less hurt this time, and gets up, but Macklin traps him against the ropes, is tagging him to the body and head, and the ref waves it off. Official time is 2:36 of Round 1.
Macklin wins by 1st round TKO
Rigondeaux vs. Marroquin
Well, I'm not fooled by Max Kellerman saying that this is a great fight. It's not. Marroquin is a no-hoper… I just hope Rigondeaux takes care of him quickly, and in impressive fashion. The HBO PPV is experiencing some audio difficulties, not a great way to get things started here.
Rigondeaux controls the action through rounds 1 and 2, but mainty sitting in the pocket and looking for the right opportunity to open up. Marroquin being the aggressor, but not accomplishing much.
In Round 3, Marroquin starts connecting with a few shots, mostly his left hook. He lands one, then lands a bigger one, and buckles Rigondeaux's legs a bit. He's hurt but staying cool. Marroquin looks to press but can't take advantage. Rigondeaux steadies himself, Marroquin lands a straight right. Very nice round for Marroquin.
Things revert to normal in the 4th, as Rigondeaux assumes control of the action once again. Marroquin looking to land big shots, but unsuccessful in this stanza. Rigondeaux lands a straight left in the 5th, Marroquin quickly goes down and is right back up. Rigondeaux threw that one perfectly. Marroquin not badly hurt, but the message was certainly sent.
I don't think there's anybody in boxing today, any weight class, that is as comfortable as Rigondeaux is standing completely still right in the pocket. Just patient, perfectly still, waiting for an opportunity. That's the game he's playing in the 6th and 7th, waiting for another perfect chance to pounce and land a big blow. It doesn't come in these two rounds, but he wins both comfortably anyway.
As everyone watching begins falling asleep at the repetition, Marroquin lands another big shot midway through the 9th. Rigondeaux certainly affected, but again, doesn't go down and remains cool. The moment passes and the 9th comes to a close. Like last time, Rigondeaux comes back to easily take the next round.
In the 12th, with the action once again at a standstill, Rigondeaux sends Marroquin down for the second time. Marroquin bloodied up now, but comes back firing. The round continues with some decent action. Rigondeaux rides it out and will win a wide decision.
Official scorecards: 118-108, 118-108, 118-109 for Guillermo Rigondeaux by Unanimous Decision
——
We'll have more post-fight analysis and updates in the days to come.  Thanks for checking out all of our coverage tonight on the big pay-per-view, topped off by our live Julio Cesar Chavez Jr vs. Sergio Martinez round by round results.