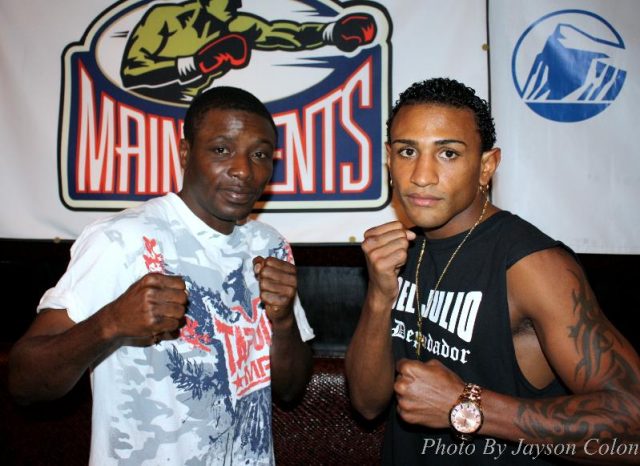 The final presser for tomorrow night's Friday Night Fight card from Newark, headlined by Joel Julio vs. Anges Adjaho, was held yesterday. Take a look at quotes from the event as all of the fighters are ready to step into the ring. The undercard features a few big name prospects, such as former Olympian Sadam Ali.
Kathy Duva, Main Events, CEO: "It occurred to me that you hear a lot of stories the night after a fight that the main event was great but the under card was awful. Well our story today is that not just the main event is going to be great, but that the under card is going to be great too."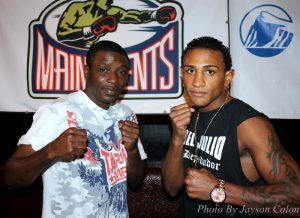 "With a card like this we can concentrate on making every single fight matter. This show is a club show in the truest sense. It's also going to be televised on ESPN. We have a lot of fighters on this undercard that have scored upsets. That's what club shows are built on. Everybody on this card is bringing a lot of people to see them and that just adds to the excitement and makes it a lot more fun."
"In the co-feature we have Sadam Ali vs. John Revish. The thing that strikes me about John is that he is the first person as far as I know, that has ever asked to fight Sadam Ali!  Jolene (Mizzone)'s challenge every time we do one of these shows is finding someone who wants to fight Sadam Ali, because nobody seems to want to. Apparently John (Revish) called to ask for the fight and has trained for 5 weeks. Because Sadam's opponents tend to fall out multiple times in a promotion, I don't know if he's ever fought anyone who knew about the fight more than about a week before. I feel this is going to be a terrific fight."
John Revish (Sadam Ali Opponent): "The last two fights didn't turn out the way I wanted them to, but I am here to win. I can't lose this fight. It means too much to me right now. I'm ready to rumble and I'll never back down. I'm ready for a war and everybody better expect to see some sparks fly."
Sadam Ali: "I always come to fight but I'm even more excited now because I know that he (Revish) is coming to fight, so I've got to be ready. I'm ready mentally, I'm ready physically, I'm ready to go out there and do what I do best. He's very hungry and he wants to take the win, but I'm hungry too. You guys are going to see a fight!"
Kathy Duva: "For the main event we had a great match made originally with Antwone Smith, and unfortunately Antwone was injured. Jolene (Mizzone) and Russell (Peltz) had to go out and find an opponent for Joel. After going through literally 10 people, people who wouldn't take the fight, or people ESPN wouldn't accept, they worked very hard and came up with Anges Adjaho. He's a very tough fighter and ready for the challenge."
Anges Adjaho: "I am thankful for the opportunity. Sometimes it's hard to say exactly what I mean, but I know I am ready for this fight. People will be surprised."
Kathy Duva: "Joel Julio has been a rising star in the world of boxing for quite some time. Joel turned pro after virtually no pro fights. He's been working and moving up, coming up through the ranks in a very difficult weight division and fighting some very difficult fights. After 5 years of thinking it through, Joel has finally come to the conclusion that he should have stayed in the welterweight division. Joel is an exciting fighter and a great performer."
Joel Julio: "I am in very good shape. I feel very good. I have worked hard with my trainers.  It does not matter that he (Smith) could not fight me, I am ready to fight anybody."
"I don't want to talk too much – my hands talk for me! See you Friday night!"
FIGHT INFO:
In the main event Joel Julio of Monteria, Colombia, 36-4, 31KOs, will take on Anges Adjaho, of Cotonou, Benin (Africa), 17-5, 9KO's, in a 10 round welterweight bout.
Local fighter favorites to be featured on the undercard:
Sadam "World Kid' Ali of Brooklyn, NY vs. John Revish, Baton Rouge, LA;
Jose "Mangu" Peralta, Jersey City vs. Bryan Abraham, Schenectady, NY;
Vinny O'Brien of East Hanover, NJ vs. Rafael Montalvo,Philadelphia, PA;
Newark favorite, Angel Concepcion vs. Teneal Goyco, Philadelphia, PA;
Bronx, NY's Joel Castillo vs. Jesse Orta, Dallas, TX;
Tyrone Luckey. Middletown, NJ vs. Sidell Blocker, Hamilton, NJ.