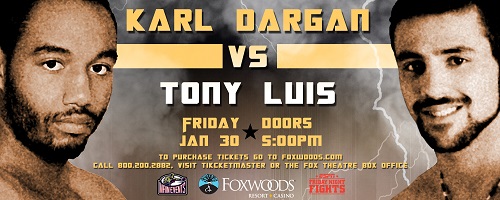 When undefeated lightweight Karl "Dynamite" Dargan makes his ESPN2 Friday Night Fights debut on Friday, Jan. 30 at Foxwoods Resort Casino he will face an aggressive brawler in Tony "Lightning" Luis. Dynamite was born and raised in boxing surrounded by legends like "Sugar" Shane Mosley and Bernard "The Alien" Hopkins so he developed the style of a technical boxer. Luis will be the next big challenge Dynamite has faced thus far. Below is the scouting report for this exciting match-up:
Category

Karl "Dynamite" Dargan

Tony Luis

Age

29

27

Record

17-0 (9 KOs)

18-2 (7 KOs)

Strength
Dargan is a good technical fighter with great hand speed. He is very elusive, making it tough for any opponent to hit him.
Luis has an in-your-face style and likes to punish the body. He cuts the ring off very well and forces his opponents to fight his fight.
Weakness
At 17-0, he has yet to face any top-level opposition.

His style enables him get hit too easily, which ultimately could be a problem considering Dargan is coming off two consecutive knockout wins.
Experience
Dargan had a long and successful amateur career; he also trained with Saul "Canelo" Alvarez and "Sugar" Shane Mosley.

Luis had a solid amateur career with over 100 bouts. He also faced tougher opposition as a pro competing against undefeated and ranked lightweight contender Ivan Redkach, a bout in which he came up short. After that he beat the previously undefeated and former amateur standout Wanzell Ellison.
Power
His power comes out during his flurries of punches, which has been on full display during his previous two fights in which he scored two 5th round knockouts wins.
Although Luis has only recorded seven career knockouts, he throws each punch with bad intensions and puts his power on full display during his relentless body attack.
Speed
Dargan has the speed advantage in both his hands and feet; his speed is his biggest asset on offense and defense.

Dargan will have the advantage here but Luis's speed is not to be underestimated. He has the ability to turn it up during his flurries of punches and combinations.
Endurance
Dargan has been ten rounds just once in his career, when he defeated Michael Brooks in late 2013. His endurance is yet to be tested.
Luis has been ten rounds once in his career and his previous four outings have resulted in decisions.
Accuracy
Dargan possesses effective accuracy; he picks his shots wisely and is a great counter-puncher.
Luis possesses average accuracy, he likes to throw a lot of punches but does not pick his shots as well as Dargan
Defense
Dargan is a defensive fighter who has never been stopped. His defense may be the best part of his game.

Luis likes to stand right in front of his opponents in hopes of forcing them to engage with him. This style has been somewhat effective for him but also allows him to get hit too easily.
Chin
Dargan was knocked down in his most recent bout. He managed to overcome the knockdown and return the favor by scoring a knockout win two rounds later.
Luis has been knocked out once in his career and was knocked down in his recent defeat to ranked lightweight Ivan Redkach.
Style
Dargan is a technical fighter with great defense and counter-punching abilities.
Luis is an offensive fighter who likes to walk his opponents down and cut the ring off while utilizing his vicious body attack
Intangibles
Dargan is taking the biggest step up in his career when he faces his first ranked opponent in Tony Luis. Coming off of two consecutive knockout wins has motivated Dargan to challenge himself against top-level opposition with this fight.
Luis is coming into this fight ranked #14 in the WBA and rather than protect his spot in the rankings, he has agreed to fight Karl Dargan, his third consecutive undefeated fighter that Luis has faced.
Crowd Support
Dargan has competed in Connecticut before, including in his last fight and is from Philadelphia, so he should receive most of the crowd support.
Luis may lack significant crowd support, as he will be competing in Connecticut for the first time in his career and he is from Canada. However, his in-your-face aggressive style may win him fans as the fight progresses.
The Match-Up
1.       This is Dargan's toughest test to date. Will he be able to prove he belongs with the top lightweights?

2.       Will Luis be able to get through Dargan's defense?

3.       Luis has already gone through losing so is he better prepared mentally?

4.       Dargan has yet to lose in the pros. Will that be an advantage or a disadvantage?
According to Jolene Mizzone, Main Events' matchmaker, "It is never easy to get an opponent for Karl Dargan but Tony Luis jumped on this opportunity, which is always a sign of someone ready to win. Dargan has pressured his opponents in his last two fights, so I see Dargan only getting better, the better opposition he faces the better he fights. This is going to be a very interesting fight."