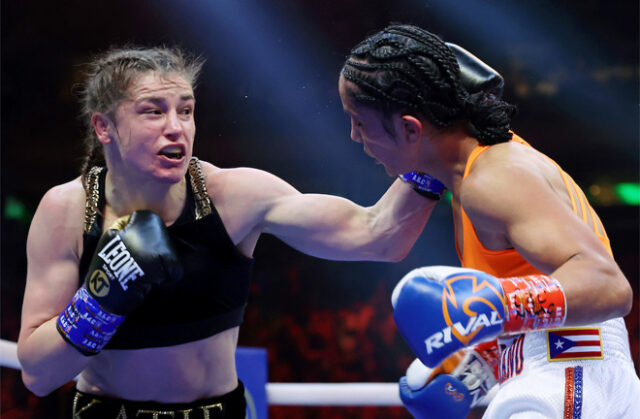 In a superb advert for female boxing, and the sport in general, Katie Taylor retained her undisputed lightweight crown inside the iconic Madison Square Garden in New York with a thrilling split decision win over Amanda Serrano.
Many questions were levelled at Taylor before the fight, and she found herself coming into this one as a betting underdog, after underwhelming performances in her last few fights, and the consensus was that Serrano, who had ruled at no less than seven different weight classes previously, would be the one to emerge victorious.
Few could have predicted this contest to become an all-time classic, as the first half of the fight was a largely technical affair.
Taylor (21-0, 6 KOs) had a decent start, and was busy with her speed and movement in the opener, but Serrano (42-2-1, 30 KOs) closed the gap and had a good second round of her own, landing with eye-catching combinations.
Taylor started the third round with intent, but found herself on the end of some stinging shots from the Puerto Rican, and there were some fierce exchanges.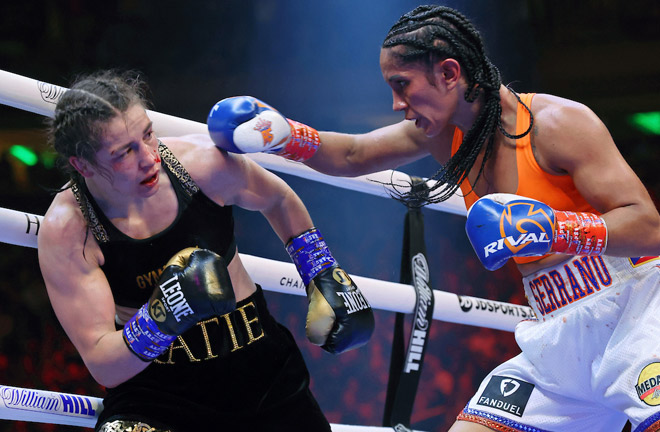 After a quieter fourth, the fight exploded into life, and the champion was in dire trouble in round five, as Serrano swarmed over her and landed with several hurtful shots that seriously troubled the Ireland native, and she had to show all of her heart and skill to rebound a round later, negating Serrano's attacks and outlanding her challenger to regain a foothold.
After close seventh and eighth sessions, Taylor's boxing seemed to be shading the fight, and the capacity crowd were lapping up the intensity of the battle, and as the bout reached its final frame, the atmosphere reached fever pitch.
The fighters didn't disappoint, and wildly exchanged for the last two minutes, with Serrano cut and both showing the scars of warfare as the fight went to the cards.
One score of 96-94 for Serrano was overruled by tallies of 97-93 and 96-93 for Taylor, as she further cemented her legacy with a breathtaking victory.
Thoughts now turn to a rematch, and it could well take place in a stadium, with Croke Park in Dublin already mooted.
"Absolutely. We have to do this again," said Taylor post-fight.
"It was an absolute war for ten rounds. I'm grateful to be in this position, and to sell out Madison Square Garden.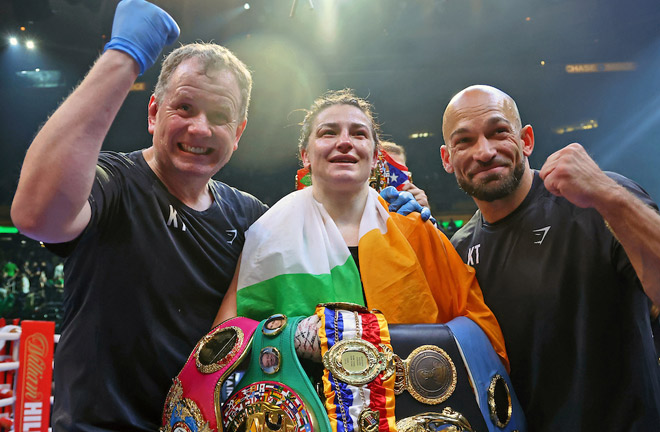 "I knew I was going to have to dig deep ad go to the trenches. I have the heart as well as the skill. I knew I was going to be able to pull through.
"I said before that when you think of Madison Square Garden, you think of Ali vs Frazier, but now everyone will be thinking of Katie Taylor vs Amanda Serrano."
Smith stops Vargas
Liam Smith continued on track towards another world title shot, as the former WBO super welterweight champion halted Jessie Vargas in ten rounds.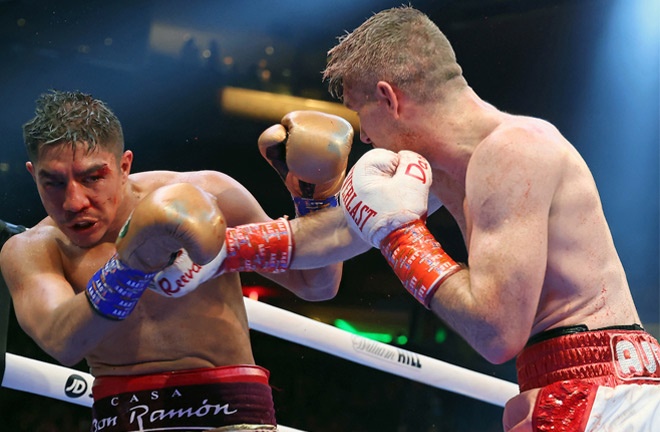 Liverpool's Smith (31-3-1, 18 KOs) took over in the middle rounds, and put the seal on an impressive win in the tenth, where a sustained attack left Vargas (29-4-2, 11 KOs) trapped on the ropes, and the referee stepped in to bring a halt to the contest.
Crews-Dezurn crowned undisputed champion
In a groundbreaking night for the female side of the sport, there were two undisputed title fights on offer, and Franchon Crews-Dezurn took the WBA and IBF titles from Elin Cederroos (8-1, 4 KOs) and added them to her WBC and WBO straps in an all-action points win.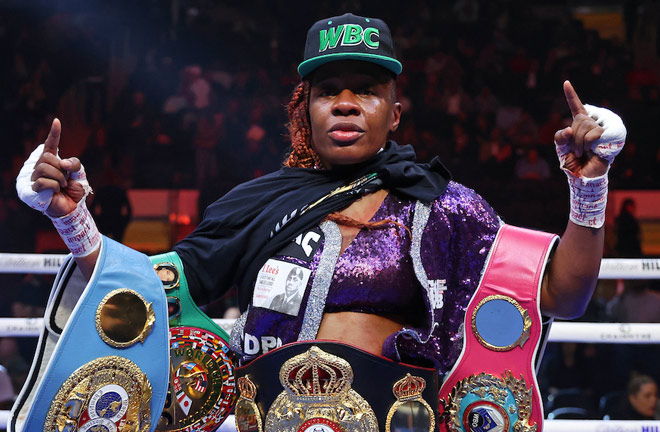 Crews-Dezurn (8-1, 2 KOs) got the better of the action in the main, but it was a fight full of heavy blows and exchanges, but it was the American that came out on top by two scores of 99-91, and a third at 97-93.
Remaining Undercard
Galal Yafai (2-0, 2 KOs) defended his WBC International Flyweight title that he won on his debut, as the Olympic Gold Medallist forced Miguel Cartagena (17-7-1, 8 KOs) to retire after two rounds of their scheduled ten rounder.
At middleweight, Austin 'Ammo' Williams (11-0, 9 KOs) needed less than a round to claim the vacant WBA Continental Americas title, stopping the previously unbeaten Chordale Booker (17-1, 7 KOs).
Galal Yafai delivers a clinic and Miguel Cartagena's corner puts an early end to this one 💥#YafaiCartagena | #TaylorSerrano | @galal_yafai pic.twitter.com/z74mlFG1KY

— DAZN Boxing (@DAZNBoxing) April 30, 2022
Skye Nicholson (3-0) took a six round points win against Shanecqua Paisley Davis at featherweight, dropping Davis (3-2) in the final round along the way, and at super lightweight, Reshat Mati (12-0, 7 KOs) remained unbeaten, taking all eight frames against Joe Eli Hernandez (12-2, 10 KOs).
Light heavyweight prospect, Khalil Coe (3-0-1, 2 KOs) banked six rounds, and took a points win over William Langston (6-3, 4 KOs).