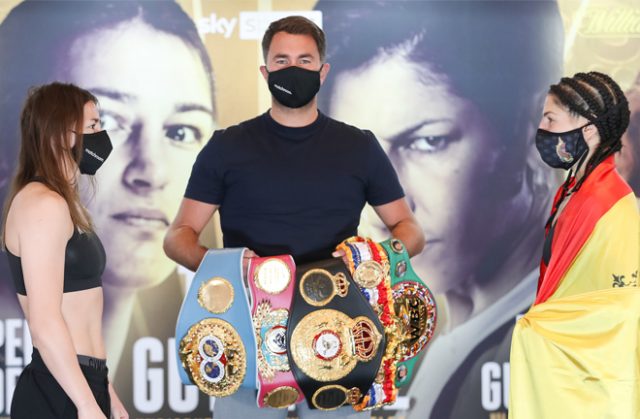 Katie Taylor weighed in just an ounce heavier than Miriam Gutierrez ahead of their undisputed lightweight title clash on Saturday night.
Taylor defends all her lightweight belts for the second time against Gutierrez live on all Sky Sports platforms, part of now a world title double-header at The SSE Arena.
Terri Harper was just lighter than Katharina Thanderz, ahead of her WBC super featherweight title defence, although Rachel Ball's clash with Joreglina Guanini will no longer be for the WBA bantamweight crown, after the Argentine missed two check weights on Tuesday and Wednesday and then tipped the scales at 8st 13lbs 7oz, above the 8st 10 limit.
18:10 LIVE ON SKY SPORTS FACEBOOK
8 x 3 mins Light-Heavyweight contest
Thomas Whittaker-Hart 12st 6lbs 9oz v Jermaine Springer 12st 5lbs 4oz
Followed by
19:00 LIVE ON SKY SPORTS
10 x 3 mins vacant WBA Continental Bantamweight Title
Kash Farooq 8st 5lbs 0oz v Angel Aviles 8st 8lbs 0oz
followed by
10 x 3 mins British Super-Middleweight Title Eliminator
John Docherty 11st 12lbs 9oz v Jack Cullen 11st 13lbs 7oz
followed by
10 x 2 mins vacant Interim WBC Super-Bantamweight World Title
Rachel Ball 8st 9lbs 9oz v Jorgelina Guanini 8st 13lbs 7oz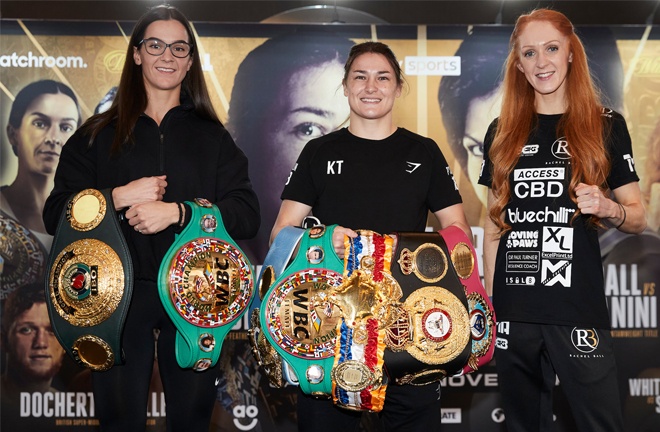 followed by
10 x 2 mins WBC and IBO Super-Featherweight World Titles
Terri Harper 9st 3lbs 5oz v Katharina Thanderz 9st 3lbs 10oz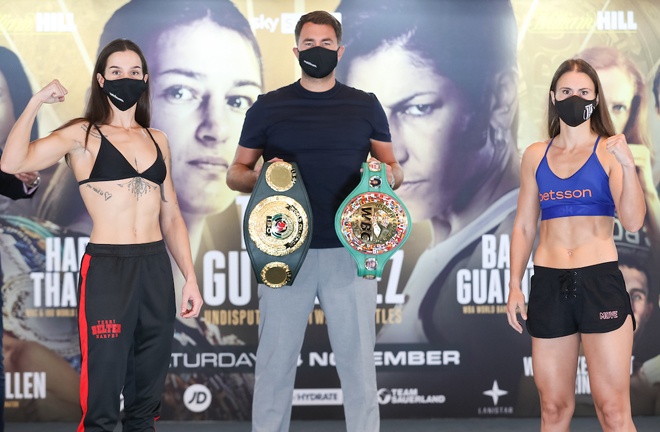 followed by
10 x 2 mins Undisputed Lightweight World Titles
Katie Taylor 9st 8lbs 7oz v Miriam Gutierrez 9st 8lbs 6oz