Uncle Ben from Marvel's Spiderman series once said in reference to being a hero, "with great power comes great responsibility". In boxing our hero's take on the responsibility of giving us the fans the fights we want to see. The proclaimed villains are the fighters who choose to duck and dodge the opponents fans want to see for their own safe gain. The question for many fighters during evaluation is are they the fans hero, or the fans villain?
The welterweight division in boxing has been not only the most competitive, but also the most exciting division in boxing for the past decade, and going into 2018 the welterweight division will be looking to continue their reign. In 2007 when Floyd Mayweather changed his nickname from "Pretty Boy Floyd" to "Money Mayweather", he became the top attraction in boxing, while breaking Pay Per View and live gate records at the same time. His equally popular counterpart Manny Pacquiao was destroying all competition in the smaller divisions and in 2008 he moved up and established himself as a welterweight for the remainder of his career and similar to Mayweather he too broke live gates and PPV records. The likes of Shane Mosley, Miguel Cotto, Antonio Margarito, Tim Bradley, and Juan Manuel Marquez were also big names in the division that gave us entertaining fights.
For the up and coming fighters following the footsteps of Mayweather and Pacquiao, the goal of PPV money and live gate receipts began to outweigh true competition and entertainment for the fans. In 2015, WBA Champion Keith Thurman began to become more recognized as the fighter positioned to take over the division, with his entertaining style along with his willingness to take on all comers he was set to take off.
Thurman began his welterweight king campaign defeating tough division challenger Robert Guerrero, and followed that up with a tough split decision win over former welterweight champion Shawn Porter. In March of this year Thurman took on his biggest test to date in a unification fight against long standing welterweight champion, and another fighter looking to take the reigns as welterweight king in Danny "Swift" Garcia. Thurman again won a split and this time controversial decision.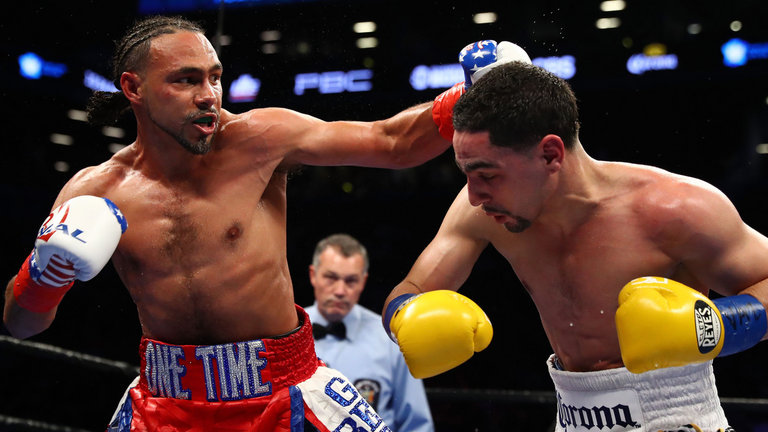 Due to elbow surgery Thurman has been sidelined for the remainder of 2017, but as the end draws near, Thurman's next fight for the first quarter of next year has been discussed. IBF Champion and the number 2 ranked welterweight Errol Spence fresh from his victory over Kell Brook, has been publicly calling out Thurman for a fight for the undisputed welterweight headline. Danny Garcia has been out of action as well following his split decision loss and has been publicly calling out Thurman for a rematch to see who truly the best is. After his knockout win over former champion Andre Berto, Shawn Porter has also been calling for a rematch and is the mandatory challenger to Thurman.
Last week Thurman's response to the fighters calling him out was a response we the fans were in fear of. Thurman mentioned he prefers to wait for the time to be right; he would like a tune up fight, and wants the fights to build up in the public eye. Undisputed Junior Welterweight Champion and fellow top pound for pound fighter Terence Crawford Is moving up to welterweight and in response to that move, Thurman said Crawford must be "relevant at welterweight first".
What made Thurman's popularity rise so quickly was his willingness to take on all comers, and his drive to prove to world that he is the best in the division. His confident demeanor and competitive trash talk are traits that makes Thurman not only likeable, but different than what fans have endured the past decade with Mayweather and Pacquiao. Metaphorically speaking the villain of boxing fans is one who chooses not to take on top competition, one which prefers to fight fighters at "the right time" and etc.
While wanting a tune up fight after being out of action for a year is understandable, my hope is Keith Thurman's goal in 2018 is to continue to be who we love him to be, continue to take on the responsibility of being our hero. Errol Spence, Danny Garcia, Shawn Porter, and Terence Crawford are in line and waiting. Now is the time for our hero to take flight.