Heavyweight Kelvin "Price is Right" Price, 14-1, 6 KOs, knows very well that his opponent on Saturday night is an undefeated puncher with a great deal of buzz surrounding him. However, the six-foot, seven-inch, fighter from Pensacola, FL, is not letting the dangerous reputation of Amir Mansour, 19-0, 14 KOs, distract him from trying to do what no other fighter has managed thus far.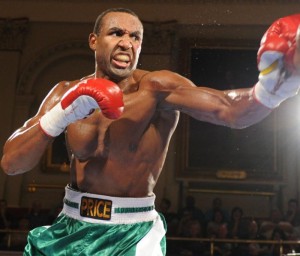 When Price meets the trash-talking slugger from Wilmington, DE in a scheduled 10-rounder at Resorts International Hotel and Casino, he is determined to use his size and experience to expose and upset the highly touted and unbeaten Mansour. The bout is the main event on the next edition of Fight Night, the nationally televised live boxing series on NBC Sports Network. The program begins at 8PM.
Price was on quite a roll before meeting another hot prospect, Deontay Wilder, one year ago. The thirteen straight victories that opened his career included decisions over Tor Hamer and Arron Lyons. However, he fell short in his first nationally televised test against Wilder, something he refuses to let happen again. Since that defeat, Price rebounded with an excellent 10-round decision over Danny Williams, and looks to extend his new winning streak on Saturday.
The fight with Mansour is the perfect opportunity for Price to make a real impression on the legion of boxing fans expected to tune in for the live telecast. With advantages of six inches in height and three years in age, Price has the numbers to suggest that an upset is possible.
Mansour has quickly walked over much of his competition in collecting his 14 career KOs. Knockouts are impressive, but Price is betting that all those swift victories have left Mansour untested and over confident. When the fighters meet in center ring, Price will learn if he is correct.
Price said this about Mansour, "He is a strong fighter and I can admire his work ethics, but I have yet to meet an opponent that possesses the stamina, skill and speed needed to properly challenge me. I encourage Mansour if he feels he carries those necessary traits, to bring it on this Saturday! In the end I know I will be victorious when I leave the ring on the 14th."
He may not be putting money down on his bet, but Price is wagering with the remainder of his career. If he wins the fight, it means more high-profile bouts and perhaps a world ranking. However, if Mansour is everything that he's cracked up to be, Price will again be seeking redemption on another day in the future.