Which Fighter Makes his Case when Mikkel Kessler vs. Carl Froch Step Into the Ring for Their Stage 2 Super Six Battle
On April 24, 2010 undefeated WBC Super Middleweight Champion Carl Froch and veteran former WBA Super Middleweight Champion Mikkel Kessler will clash in the second stage of the Super Six World Boxing Classic Tournament. This fight for the WBC Super Middleweight title fight will be held at the MCH Messecenter in Herning, Denmark, the home country of Mikkel Kessler. It should be an interesting match-up of two talented fighters looking to erase the memory of recent mediocre performances.
Carl "The Cobra" Froch

26-0 (20 KO's)

Nottingham, England

Height: 6'1"

Reach: 74 ½"

WBC Super Middleweight Champion

Last 5 fights:  4 out of Froch's last 5 fights have been in his hometown of Nottingham, England, so clearly the Cobra is accustomed to being the hometown favorite. These include wins over Jean Pascal, Albert Rybacki, Robin Reid, Jermain Taylor (which was in America) and his recent controversial split decision victory over Andre Dirrell. Many believe that Dirrell clearly outfought Froch, landing the cleaner shots and winning by far the majority of the rounds, but nevertheless, Froch was awarded the split decision when 2 of the 3 judges saw it as a 115-112 victory for the Cobra.

Mikkel "Viking Warrior" Kessler

42-2 (32 KO's)

Copenhagen, Denmark

Height: 6'1"

Reach: 73"

Last 5 Fights:  Kessler's last 5 fights are scattered with both impressive wins and very notable losses.  In 2007, he was defeated by the great Joe Calzaghe in Calzaghe's homeland of Wales. He has also notched impressive knockout victories over Dimitri Sartison, Danilo Hausler and Gusmyr Perdomo. Although he looked impressive in these fights, it is his most recent fight that is the most noteworthy when it comes to his upcoming fight against Froch. In November of 2009, Kessler was beaten handily by Andre Ward, being dominated and suffering bad cuts before the fight was stopped in the 11th round.
Kessler vs. Froch Preview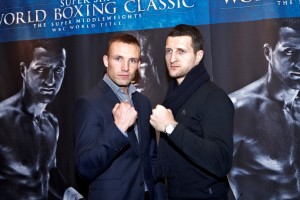 Both fighters did not look particularly great in their most recent outings so they will both be entering the ring with something to prove. Although Froch's record appears unblemished, he is well aware that many feel as if Dirrell had a better day at the office in October of 2009 and should have won the fight. Froch wants to come out and prove that he is the deserving WBC Champion by beating Mikkel Kessler, a seasoned Danish fighter with big fight experience, tremendous skill and an impressive record.
Kessler may have a bit more to prove then Froch after being completely dominated by Andre Ward in the first round of Super Six. In relation to this fight, the one thing that may pose a problem for Kessler's chances will be the cuts he suffered in the fight against Ward.
Will Kessler's cuts pose a problem? Kessler was cut badly against Ward and obviously seemed to fight worse and worse as his cuts became worse. Not only did the cuts negatively affect his fighting, it also affected his visibility and his mental state as well. Let's hope for Kessler's sake that these severe cuts don't reopen because if they do, he may be in for some serious trouble with Froch's rough, physical style.
I'm sure Froch is well aware that there is a possibility of these deep cuts re-opening and will know how to go about his business if they do. However, if they don't, it may be a long night for Froch. If Mikkel Kessler comes into this fight in good form, he has the talent and experience to beat Froch fairly handily.
Strategic Considerations for Kessler vs. Froch

If Froch wants to have any chance at all of winning this fight he must be very physical. He will need to work his way inside, tie Kessler up and try to land some big rights. If Froch wants to win this fight, he will have to do it in a way that isn't pretty. He will have to charge straight ahead and engage in his share of clinching. In the open ring, his hand speed and style is not enough to faze Kessler.
Kessler, although not the fastest fighter, has greater hand speed than Froch and in my personal opinion, more talent overall. Froch is a hard-nosed, hard working fighter who loves the competition and knows how to obtain victories, but his tools just are not enough to threaten a fighter as talented, experienced, and tough as Kessler.
Home Advantage for Kessler – As stated earlier, Carl Froch has a lot of experience being the hometown favorite. In this fight, however, he will not have the advantage of thousands of screaming Nottingham fans boosting his moral and pumping adrenaline through him as he defeats yet another opponent. This time it is just the opposite.
The fight will be in Kessler's home country of Denmark, and although Froch plans to bring his share of supporters, the crowd will be overwhelmingly for Kessler. Froch is a fighter who claims to thrive under pressure and rise to the occasion no matter what, but this home ring advantage will be a huge mental edge for Mikkel Kessler.
Kessler vs. Froch Prediction
Both fighters will come out of the gates extremely eager to prove themselves. Froch will be bouncing back from a controversial win and Kessler will be bouncing back from a one-sided, injury-ridden loss. Both fights will prove to be learning experiences and both fighters will come out of the gates fast.
Expect Kessler to fight a very smart fight and avoid any advances Froch may try to make to get physical with him and open up his cuts. I see Froch working his way in and winning a few rounds, but in the end it will be "The Viking Warrior" Mikkel Kessler winning by unanimous decision to an ovation from his hometown crowd. On this night, Froch will suffer his first loss and Kessler will be the new WBC Champion.