Tomorrow night in Copenhagen, Denmark, Mikkel Kessler makes his debut in the light heavyweight division as he meets Allan Green for a silver strap from the WBC. Today, the weigh-ins were held for Kessler vs. Green, as well as the rest of the card, which features hot cruiserweight prospect Mateusz Masternak, and middleweight prospect Patrick Nielsen. View the complete weigh-in results and some notes from the event right here.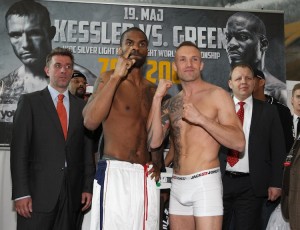 Here are the weights from Copenhagen, Denmark.
WBC Light Heavyweight World Championship (Silver):
Mikkel Kessler: 169 lbs (76,7 kg)
Allan Green: 171.75 lbs (77,9 kg)
It's interesting that even in Kessler's debut at light heavyweight, he's coming in just a pound heavier than the super middleweight limit. Of course, Green is a fighter who has been campaigning at super middleweight as well, so he won't be at a big size disadvantage either.
Middleweight:
Patrick Nielsen: 163 lbs (74 kg)
Gaetano Nespro: 163 lbs (74 kg)
Cruiserweight:
Mateusz Masternak: 198.5 lbs (90,1 kg)
Hari Miles: 200 lbs (90,7 kg)
Check back in later this weekend for Kessler vs. Green results and full post-fight coverage for the entire card from Copenhagen.