Take a look at this interview conducted by Gianluca "Rio" Di Caro with lightweight contender Kevin Mitchell. Mitchell lost to Michael Katsidis last year, but is now on the comeback trail. Rumors are swirling that he would face John Murray, and a potential rematch with Katsidis, title shots and more are discussed here. Take a look at what he has to say below.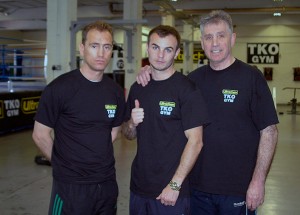 May 15th, 2010 is a date etched deep in the memory of the tens of thousands of Dagenham's Kevin Mitchell's supporters. On that fateful night over twenty four thousand of those partisan fans packed in to Upton Park to watch their all conquering hero, who was firm favourite to clinch the interim WBO Lightweight title and to be just one step from achieving his goal of a full blown World title shot.
However it was not to be, as Kevin succumbed to the antipodean upsetter Michael 'The Great' Katsidis and in doing so not only lost his coveted 'O' but also a World title shot in just three short rounds.
I caught up with Kevin at the Ultrachem TKO Gym in Canning Town and got to ask him about the Katsidis fight, the on-off-on-off proposed April clash with John Murray and his future championship aspirations amongst other things.
Rio – Hi Kevin, thank you for taking the time to talk with me today. Before I get on to boxing related questions I have a more personal one. Last year there was sad news that your five year old Cousin Mitchell Huth had been diagnosed with cancer, I wondered just how young Mitchell is doing these days?

Kevin Mitchell – He's really well now, he popped round my mum's house the other day, it was the first time I'd seen him in a while. He's in a happy state, a good frame of mind. We're gutted for him but he's a fighter, his fighting the cancer so good on him.
Rio – Your planned fight with John Murray is up in the air at this point. Do you think there is still a chance it will go ahead or is it completely off the board?
Kevin – I don't think it's completely off the board, I think it's still there. I'm in the gym getting ready for it. I'm just waiting for a better offer of money for it. It's all negotiable, Frank (Warren) has always done good by me, Frank's always looked after me and I think he always will do, so just waiting for me and Frank sitting down and negotiating.

Rio – How did it feel coming out at Upton Park to the tens of thousands of fans, and knowing that they were there supporting you?
Kevin – It's a crazy feeling, twenty-twenty two thousand standing in front of you, twenty four thousand or whatever was there. It was a mad feeling really. It was something else standing there and an even greater feeling to walk out and seeing all those people there. It made me feel really proud, you know I was really proud to be there.
With losing that though I felt I had let everyone down. Obviously I had done things wrong and want to put things right and make sure I make all the West Ham fans proud again. "
Rio – I know your fight with Michael Katsidis has been well and truly covered but  what was your view of the fight?
Kevin – I think I knew in the dressing room I wasn't right, not due to the weight, I'd cut corners because the way my life was at the time. I knew in the dressing room I wasn't right, I think when you know in the dressing room you're not right you know you've cut corners, you've missed out on runs and I was missing out on gym sessions down here, that's not like me. I like to train everyday, be in the gym every day, train in the gym two or three times a day.
Afterwards I was just gutted that I got beat. If ever I get beat by a better man when I am on top form I'll hold my hands up. I don't mind that. But when you get beat due to yourself not being right. But down to not preparing yourself properly, with yourself messing around, you kick yourself in the backside. It's give me a major lift as well to push myself harder and harder as I'm working now.
Rio – So does that mean you want a rematch with Michael Katsidis?
Kevin – Most definitely yeah. I want the fight against John Murray. Get it on with him, show Britain who is the best on the domestic scene, I know it's me. Beat John Murray, show them I'm back, and then Katsidis and then a World title fight.

Rio – You've held all the main domestic titles, but you very first title wasn't domestic it was the IBF Inter-Continental. What made you decide to go straight for an International title?
Kevin – Well that was down to Frank Warren, Frank's a brilliant promoter he's the best at his game without a doubt. he said it gives you more of a lift than the Commonwealth title, It puts you in the World rankings. He put me in there straight away, put me in with good fighters, good opponents. They were learning fights, I was doing twelve rounds. For me it was a good way to learn doing twelve rounds. I was just twenty one when I started fighting twelve rounders, it shows you don't it.
Rio – You've had some great battles over your career, which holds the fondest memories or means the most to you?
Kevin – The most memorable was most definitely the British title fight against Carl Johanneson. I came out for the first four rounds steaming. Thought in a few rounds I was going to blow him out. I was completely wrong, I came unstuck in the sixth, I took the most punches I ever did in my whole career, I was out of it most of the sixth, I took a few big bombs. Without realising It, I was gone. I went back at him legless and caught hold of him again and got him out of there in the ninth. Being in there in a fight like that is something I am likely to be again someday. Being in fights like that makes me proud and proves that I can get through hard times.

Rio – You're trained by Jimmy and Mark Tibbs at the Ultrachem TKO Boxing Gym – Jimmy's a legend in the sport and Mark is getting a reputation as a chip of the old block, so just how is having them co-training you going?

Kevin – Working with Jimmy and Mark is brilliant. They're so much a like. You've got Mark bringing in new things and you've got Jimmy who is old school. It's brilliant I'm really happy here, It's great being up here at the TKO Gym with all Jimmy and Johnny's (Eames) fighters and that. One minute you've got David Haye, the next minute you have a kid in here or a cabbie in here. It's a real happy gym. I'm really happy here, everyone's here to work, whether it's a cabbie or a World Champion like David Haye training and sparring in here. Everyone that's in here is here to work and train hard, there's no spectators or nothing like that. The only people that will be watching are either a boxer, a trainer, a pad man or someone involved in the boxing. It's a brilliant place. What they do here is brilliant.
Rio – I was here at the TKO Gym when you sparred Colin Lynes a couple of weeks ago – that was awesome to watch – does it help having such good sparring in-house?
Kevin – Yes most definitely, sparring with Colin Lynes, an ex world champion and a weight or so above me now, you can't get better than being around guys like that. You've got Michael Grant and guys like that around to spar all the time.
You've got Nathan Weise in here. The quality fighters that come out of this gym is brilliant. One minute you'll be sparring so so and the next time it's someone different. You get to spar with guys with different styles it's brilliant. It works sparring all the different styles.
I was speaking with Steve Bunce the other day and he said the gym's always buzzing and there's plenty of quality sparring. It is and that's what you want in a gym.
Rio – I know the fight with John Murray is still in negotiations, if it doesn't go ahead who would you be looking to fight next?
Kevin – As in names it doesn't bother me, although I want to fight Miguel Vazquez, the IBF Champion, I've been watching him, watching what he does, I'd love to have a little do with him.  I want to fight first and then a World title. Either Katsidis and then a World title fight or John Murray then Katsidis and then a World title fight. I'm looking to be IBF World Champion.
Rio – You more or less covered my next question with that answer – What does the future hold for Kevin Mitchell?
Kevin – Yeah, what the future holds for me in boxing is, and the fight fans is, a big title in the World of Boxing. I definitely want to fight in Vegas in the future. I really fancy topping some big bills in Vegas, and yeah being World Champion and making lots of money.
Rio – Thank you so much for talking with me today, I wish you nothing but success and hope that you get the title shot you deserve.

Kevin – Thank you, and thanks to all the Boxing fans out there.