Weekend Recap from Around the Boxing World, Khan vs. Malignaggi, Katsidis vs. Mitchell, Ortiz vs. Campbell and more.
Another weekend of boxing action is in the books. Let's take a look back at some of the action and see how it all played out.
Julio Diaz vs. Herman Ngoudjo Results: Diaz Scores a Big Win Over Ngoudjo
I was proven wrong about Julio Diaz. It was difficult to not regard him as being shot based on his recent form. Herman Ngoudjo was favored and seemed to be a good pick. Wrong again! Diaz worked beautifully from long-range, strafing Ngoudjo with shots the whole night. His punches were still quick and strong, while his supposedly waning punch resistance was more than enough to keep him upright against Ngoudjo.
If anything, Ngoudjo was the one who appeared faded. It makes sense now, though it wasn't very clear before the fight. I saw Diaz struggling against opposition he would have beaten previously, while Ngoudjo had been fighting better competition, managing to keep it close. As Teddy Atlas mentioned, Ngoudjo was coming off a patch of 12 straight 12-round fights, all going the distance. In his last meaningful fight, the one-dimensional Juan Urango routed him in a decision win. He didn't look like the same fighter who had beaten Randall Bailey and given hell to Paulie Malignaggi.
The signs were there for both men being shopworn, but I only looked at Diaz. Live and learn. Hats off to Diaz for digging deep to breathe some much-needed life back into his career. It was a classy win by a classy fighter and person. Best of luck to Diaz in the future, and here's hoping he can secure a big fight.
Katsidis vs. Mitchell Results: Katsidis Crushes Mitchell
Once again, my prediction abilities were put under scrutiny after Michael Katsidis blew out Kevin Mitchell in 3 action-packed rounds. It looked like man vs. boy in the ring. Mitchell figured to benefit from the homecourt advantage at Upton Park, but Katsidis's power immediately came into play. I thought Mitchell had a good chance of out-slicking the crude Katsidis. While he did in spots, Mitchell fell into deep peril whenever Katsidis began unloading.
Mitchell showed deficits in experience and ring IQ as he kept allowing himself to be steadied against the ropes—right in Katsidis' wheelhouse. When rattled, he was unable to move out of range or tie Katsidis up. The 3rd round knockout against an undefeated and favored fighter in his homeland should give Katsidis a high profile fight in the near future. I'm sure I will hear no boxing fans complain. This guy personifies entertainment.
Ortiz vs. Campbell Results: Ortiz Cruises by Campbell
In the first bout of the HBO telecast, Victor Ortiz cruised by Nate Campbell for an easy ten round decision. An iffy knockdown was called in the first against Campbell, but it didn't make a difference. Campbell began to show the signs that began to manifest in the Bradley fight that his age might be catching up with him. Against the quick and athletic Ortiz, he looked old, slow and undersized. Ortiz manages to put more distance between the Maidana fight and now looks for bigger things.
Khan vs. Malignaggi Results: Khan Outclasses Malignaggi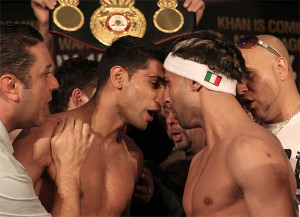 In a performance that surprised some by its level of dominance, Amir Khan easily beat Paul Malignaggi by 11th round TKO. Khan began strongly, flashing speed and good fundamentals. Working with a steady punch rate, Khan's quick-trigger combos and extra length were difficult obstacles for Paulie to overcome.
For a while, Paulie hung in there, even taking the third round on my card. His speed and anticipatory powers would only get him so far against Khan. Facing an opponent who could equal him in speed and greatly surpass him in power, Paulie began to struggle. His grease and ointment weren't going to be enough.
A sharp-shooting match waged in the center of the ring ensued. Max Kellerman astutely observed that in a match of this nature, the fighter who is more fundamentally sound would have a great advantage. Paulie had his hands down, while Khan fought behind a high guard. Whereas Khan's punches caught Malignaggi at a high percentage, Paulie's shots mostly hit gloves.
Paulie looked increasingly outgunned with each passing round. While gutsy, the flushness in which he was getting hit didn't bode well for his prospects. Khan's attack had a certain truth to it and Paulie went into the second half of the fight looking a bit worse for wear.
The jab of Khan was exceptionally stiff, rendering Malignaggi's speed and jive moot. Paulie just couldn't do anything to even momentarily derail the intelligent and well-measured performance of his opponent. By the 8th round, Khan, getting off first, began knocking Malignaggi's head back with greater regularity. Malignaggi's cause was now approaching absolute hopelessness.
Paulie opened the ninth appearing to realize he needed to do something quick. He got on his toes and landed a few nice punches, before Khan picked up where he left off—winning almost every ten-second portion of the fight. I think Paulie should have been pulled out after this. Instead, his trainer Sherif Younan told him he liked what he saw in the previous round and that Paulie should try to KO Khan.
There was nothing about the 10th round that was promising for Malignaggi. He had never established any foothold in the entire fight. Now he was getting beaten up and becoming increasingly tired. Khan dominated the 10th. While Younan deserves credit for being a part of Malignaggi's minor career renaissance, he was asleep at the wheel in this fight. After the 10th, there was palpable concern on the part of doctors and even Steve Smoger—a man not exactly known for giving fighters an early hook.
Younan rebuffed all their concerns with the hollow "he's all right." Everyone else involved seem to be saying to themselves, "Well, why don't we stop the fight while he is all right?" It was just a little unnecessary for the fight to play out to its predictable outcome—a Khan stoppage win. Under a Khan barrage in the 11th, an alert Smoger saved Paulie from further punishment.
Khan proved some things in this fight, especially to the U.S. audience watching him for the first time. First and foremost is that he has the physical gifts to be a great fighter. His punches rattle off with the speed and solidness of a rare kind of fighter, a real natural. When you add Freddie Roach's guidance into the mix; you begin to see the kind of fighter that could be a real factor in the game for years to come.
He didn't prove that his chin has improved, but he has shown that he is willing and able to fight in a style that puts him at the least amount of risk. The reckless abandon has disappeared and we now see an alert and well-schooled boxer operating behind a high guard.
Whether Khan will stand up to the bombs of murderous–punching Marcos Maidana or the juggernaut attack of Timothy Bradley remains to be seen. He figures to at least give himself the best possible chance of winning if he continues down the route of tempering his great talent with large doses of defensive awareness, intelligence, and patience.