The Amir Khan vs. Marcos Maidana media tour continued this week with a stop in Los Angeles, where the fighters held another press conference for fans and media in the states after already holding a press conference in London. Here are what the fighters and the rest of the people involved had to say Tuesday.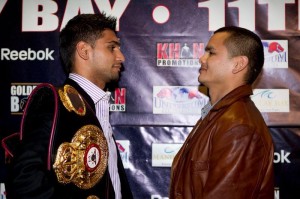 AMIR KHAN, Current WBA Super Lightweight World Champion
"We are two fighters that are exciting to watch.  Both young.  Both hungry.  It's the perfect fight for both of us.
"I'm not scared of anyone.  I'll fight anyone you put in front of me.
"When I beat Maidana, I want to let my fists do the talking, not my words.
"When people say I have a weak chin, I respond by saying that Pacquiao gave me his best shot and couldn't wobble me.
"Maidana is a big name.  If I want to unify the division I have to fight the best.  I believe if you want to be known as a great fighter you have to clean up divisions and that's what I'm going to do.
"I'm going do something different in this fight, something nobody's ever seen me do.  I'm changing my style.
"I'm going to come in and be the big puncher.  This fight, is going to be explosive.
"Losing to Prescott made me realize how serious boxing is…I needed to train harder."
MARCOS MAIDANA, WBA Super Lightweight Interim World Champion
"Khan has been talking a lot.  On December 11 he's going to have all the pressure on him.
"I felt Amir was scared of me because he wasn't giving me the opportunity to fight him.  It's been almost a year and half since I won the interim title.  I'm excited that we're going to fight.
"You can say he's the favorite and I'm the underdog, but I don't feel that way.  I feel calm and prepared and know I will win.
"I want to be in the best in my era so I'm going to take advantage of this opportunity."
RICHARD SCHAEFER, CEO of Golden Boy Promotions
"This fight is named, 'Thunder and Lightning' and both of these guys are thunder and lightning!"
"Amir Khan showed his tremendous skill and power…he made an amazing first impression here in the United States in May.  With Amir's size, his speed, his power…he really is the total package.
"We all know what happened when Maidana beat Victor Ortiz, one of the most exciting fighters in the sport.  We know how hard Victor Ortiz hits…when he hits you, it's lights out.  Marcos Maidana went down three times but he got back up.  Maidana can take a punch and he has the heart and the will to win and proved that against Ortiz.
"Knowing the styles of these two guys, you know it will be a fight you don't want to miss.  Whoever comes out the winner on December 11 is going to be a big star in the United States for a long time to come."
ASIF VALI, Amir Khan's Business Manager
"Los Angeles is Amir's second home and with his last fight taking place in New York and this fight taking place in Las Vegas, he is actually spending more time here in L.A. than he has been in the U.K.
"Amir is truly one of the emerging superstars of boxing."
MIGUEL DIAZ, Marcos Maidana's Trainer
"Everybody is waiting for this fight.  Amir is waiting, Maidana is waiting and the fans are waiting.
"Two fighters in the prime of their fighting careers and two young fighters looking for a position in the boxing world.
"For the winner it means the super fights and for the loser it's back to the drawing board."
SEBASTIAN CONTURSI, Marcos Maidana's Advisor
"Marcos doesn't want to be called the interim champion, he wants to and will be called the absolute WBA Super Lightweight Champion."
TONY WALKER, Director, Affiliate Relations of HBO Pay-Per View
"You will see two great champions trying to make their mark on the boxing world.
"If you can't make it out to Mandalay Bay, make sure you watch it on HBO because it's going to be a great night."