Michael Buffer served as master of ceremonies at Tuesday's final press conference for this Saturday's highly anticipated heavyweight showdown between knockout artists, WBC heavyweight champion Vitali Klitschko, and No. 1-ranked challenger Cristobal Arreola.
The challenger, Arreola, and the champion, Klitschko, took their turns at the lecturn, Vitali directs a comment at Team Arreola, the two fighters face off and pose, and brothers Vitali and Wladimir Klitschko (with his new Ring belt) show off their heavyweight hardware. They are the only siblings in history to hold heavyweight world title belts simultaneously.
At the conclusion of the press conference, Wladimir, Vitali's younger brother, is presented the Ring Magazine heavyweight belt by Ring representative, Ivan Goldman. That makes four championship belts for Wladimir, who is also the IBF/WBO/IBO heavyweight champion.
Vitali Klitschko Confident of Victory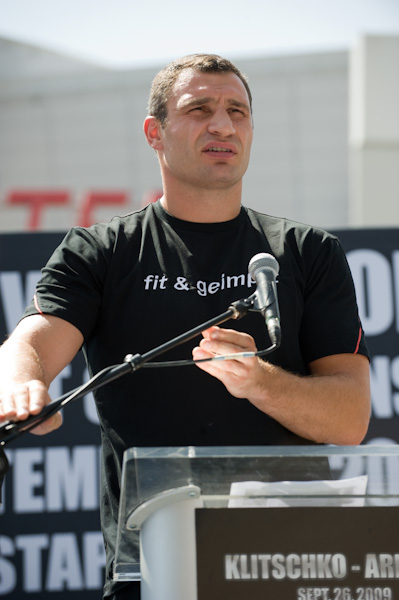 Photo Credit:Pavel Terekhov
World Boxing Council (WBC) heavyweight champion Vitali "Dr. Ironfist" Klitschko is confident he will be victorious and his experience will be the key factor when he defends against No. 1-ranked Cristobal "The Nightmare'' Arreola in what will be the most exciting heavyweight title fight in years this Saturday, Sept. 26, at STAPLES CENTER.
"The question is, who will be the winner? I don't know,'' said Klitschko during the final press conference on Tuesday in front of a packed media turnout at Nokia Plaza L.A. LIVE.  "It's a heavyweight fight; it's boxing, where any one punch can decide the outcome.
"After five weeks of training, 100 miles of running, and over 100 rounds of sparring, I can now answer that question. I am in great shape, ready for a great performance and ready to show my skills in the ring.
"Five weeks ago, if you asked me that question (who would win?), I wouldn't have been able to answer it.  Now, after my training camp, I can tell you that I will win.
"Arreola is a tough guy, a big puncher, but he doesn't have the experience in the ring.''
Klitschko, of Los Angeles and Hamburg, Germany, brings a record of 37-2 with 36 knockouts into what will be an exciting, hotly contested 12-round showdown. The dangerous-punching Arreola, of Riverside, California, via East Los Angeles, is 27-0 with 24 KOs.
Tickets are on sale at all TicketMaster outlets, by phone at 800-745-3000 and online at www.ticketmaster.com. Tickets will be available at the STAPLES Center Box Office.  Tickets are priced at $500, $300, $200, $100, $75, $50 and $25.us, f
The world title fight, which is promoted by K2 Promotions in association with Goossen Tutor Promotions, will air live on HBO at 10 p.m. ET/ 7 p.m. PT.  Doors open Saturday at 4 o'clock.
What the participants, including IBF/WBO/IBO heavyweight champion Wladimir Klitschko, who received the Ring heavyweight belt, had to say Tuesday:
VITALI KLITSCHKO
"Saturday will be a real good fight.  If you have good opponents, you look good.
"This will be a real heavyweight fight.  I am more than sure that I will exit the ring as heavyweight champion of the world.
"I know it's very important to focus on the fight and be 100 percent ready.
"Some people ask if I'm overlooking Arreola and thinking about the future.  Chris, I think about you, I prepare for the fight and I will give it my best.
"I take it step by step.  I don't think about the future because there is no future without a victory Saturday night.
"I have never fought anyone with such a good record as Arreola.  I know he's a good fighter and I prepared for the hardest fight of my career.
"Can Arreola beat me?  I don't think so.  Can he hit me hard?  Maybe.
"It's very interesting for me because this time I have no injuries and am 100 percent.
"Ten years ago I won my first world title belt.  Right now, I have 10 years experience as a world champ.  Right now, that will make all the difference.
"He may punch hard, but I'll duck.  He won't knock me out.
"I am ready and I can't wait until Saturday night.''
BERND BOENTE, MANAGING DIRECTOR, KLITSCHKO MANAGEMENT GROUP (KMG)
"I think it's a fantastic fight and STAPLES (Center) is the right place to do it. It's a very, very tough, young gun over here with Chris Arreola. He's unbeaten, and he wants to prove that he can also be the best in the division.
"On the other hand, we have a very, very experienced three-time heavyweight champion with the best knockout percentage in the heavyweight division ever. I think it's a great, great matchup and this is exactly what the heavyweight division needs.
"I'm looking forward to a great fight. The media interest is gigantic. We have, I think, 380 media requests from journalists who want to come to this fight. We have 113 countries who are broadcasting it, including the biggest Chinese TV station and the biggest Russian TV station. So, it's gigantic.
"I'm sure it'll be a great fight and a great win by Vitali Klitschko."
FRITZ SDUNEK (Klitschko's Trainer)
"We're happy to be back in L.A.  We had a great training camp and we went swimming at UCLA.  We're really looking forward to Saturday night.   Vitali is in great shape and didn't have any injuries while training.  We'll probably see a knockout on Saturday night."
TOM LOEFFLER, DIRECTING MANAGER, K2 PROMOTIONS
"We're really excited about Saturday's fight card. It's really a worldwide event. It will be broadcast in over 100 countries internationally."
"I think Dan (Goossen) will agree, and I think the fighters have already said in a number of interviews: This fight's not going 12 rounds. It's not going to be a boxing show. It's going to be a knockout spectacle. Vitali, with his knockout ratio, and Chris isn't going to run from Vitali.
"There will be fireworks aplenty this Saturday at STAPLES Center."
IVAN GOLDMAN (RING Magazine Representative, who presented the belt to Wladimir)
"When you have a good fight, a good fighter will win and a good fighter will lose. Vitali Klitschko had the Ring Magazine belt before he retired and now this is just the second set of brothers to hold the Ring belt.
"Wladimir makes it look easy, and he made it look easy against (Ruslan) Chagaev.  But, we know it's not easy.  He's a gentleman and a proud fighter, and it's my pleasure to award this belt to Wladimir.  It's a difficult belt to win and it's my pleasure to give it to a great champ."
WLADIMIR KLITSCHKO
"It's going to be a great fight on Saturday night. I wish both my brother and Chris good luck in the fight.
"Thank you for the belt.  For five years I have been hunting for this belt, and now I have it. It is an honor to have it."
Arreola Says Klitschko Will Pay for Underestimating Him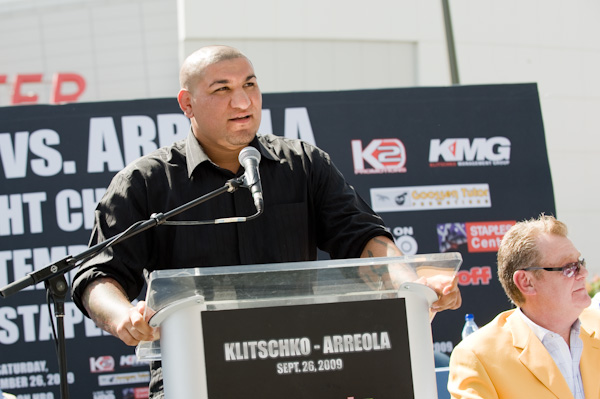 Photo Credit:Pavel Terekhov
"Vitali Klitschko has never fought anyone like me; someone that's willing to take a punch to give a punch, or someone that has a lot of heart and fights with emotions.
"There's always strategy going into a fight.  But the thing about it is you always take it as you go in the ring and always you think about training; you have to get inside the jab.  You can't let him stretch his hands out and you go balls to the wall.  You take the fight to him and make it a fight he's not used to.
"This is a fight that definitely won't go the distance.  It's going to be a fight that everyone's going to want to see. It is not going be one of those boring jab fests."
"Not only (becoming the first world heavyweight champion of Mexican descent) would it be history, but it's a legacy I can leave behind.  It means everything to me!"
HENRY RAMIREZ (Arreola's trainer)
"He's ready to go.  It's the week of the fight; we have fight week festivities and we have a few days before we go to work, and we're ready to go.
"Vitali's a big guy and it's kinda hard to get guys to emulate that style.  But the thing about Chris that is hard to emulate is the pressure that Chris brings is unlike any other.  You cannot emulate it.  It is pressure that is unbelievable and he (Klitschko) has never been in with it.
"I agree this fight won't go the distance, but unlike everybody else I feel the longer it goes the better it is for Chris."
DAN GOOSSEN (President, Goossen Tutor Promotions) on his thoughts on having perhaps his first world heavyweight champion in Arreola:
"We've had our big fights.  The key to this one is realizing there is nothing wrong with getting lost in the moment of fighting for the heavyweight championship and making history.  But when everything is said and done you have to go out there and walk through the tunnel at Buckeye Stadium as a freshman QB and go out and do what you do as an athlete, and Arreola will be up to the task.
"When Vitali talks about experience, forget it. The point of it is, experience is great if you're not ready to play the big game.  The great ones overcome all that and just go out and play the game.
"There's no stopping Chris Arreola, not because he's my fighter but because he is a true fighter that's got the will and determination, the guts, the goals, the ability and the willingness. I'll show you a world champion with what I just described.
"And there isn't going to be anything that stops him Saturday night.  That is my belief.  Arreola will knock him out."
Check out more Klitschko Arreola coverage from ProBoxing-Fans.com!
Klitschko vs. Arreola Results and Round by Round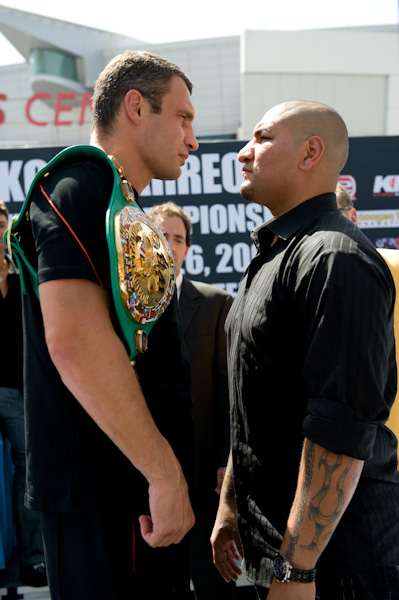 Photo Credit:Pavel Terekhov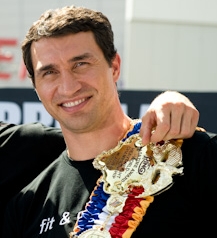 Photo Credit:Pavel Terekhov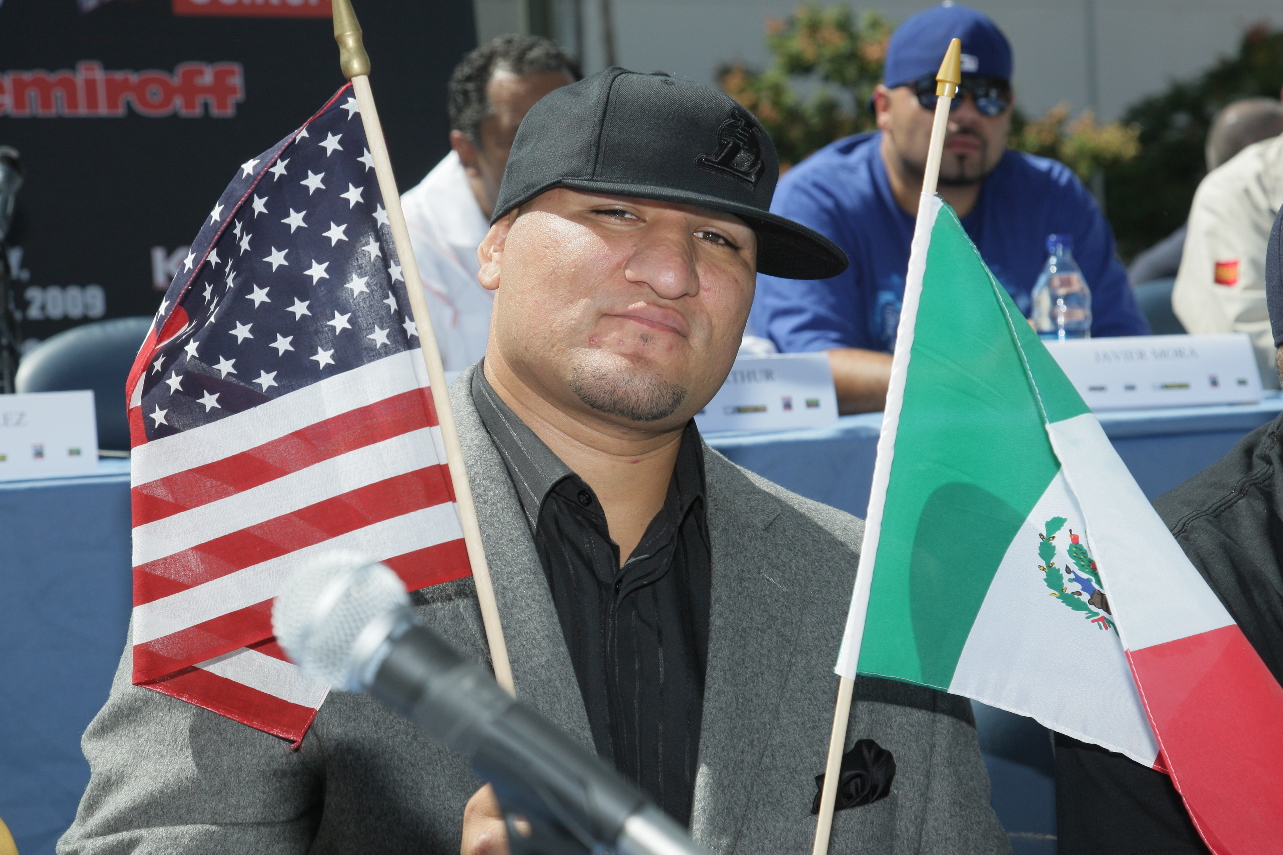 Photo Credit:Jan Sanders/Goossen Tutor Promotions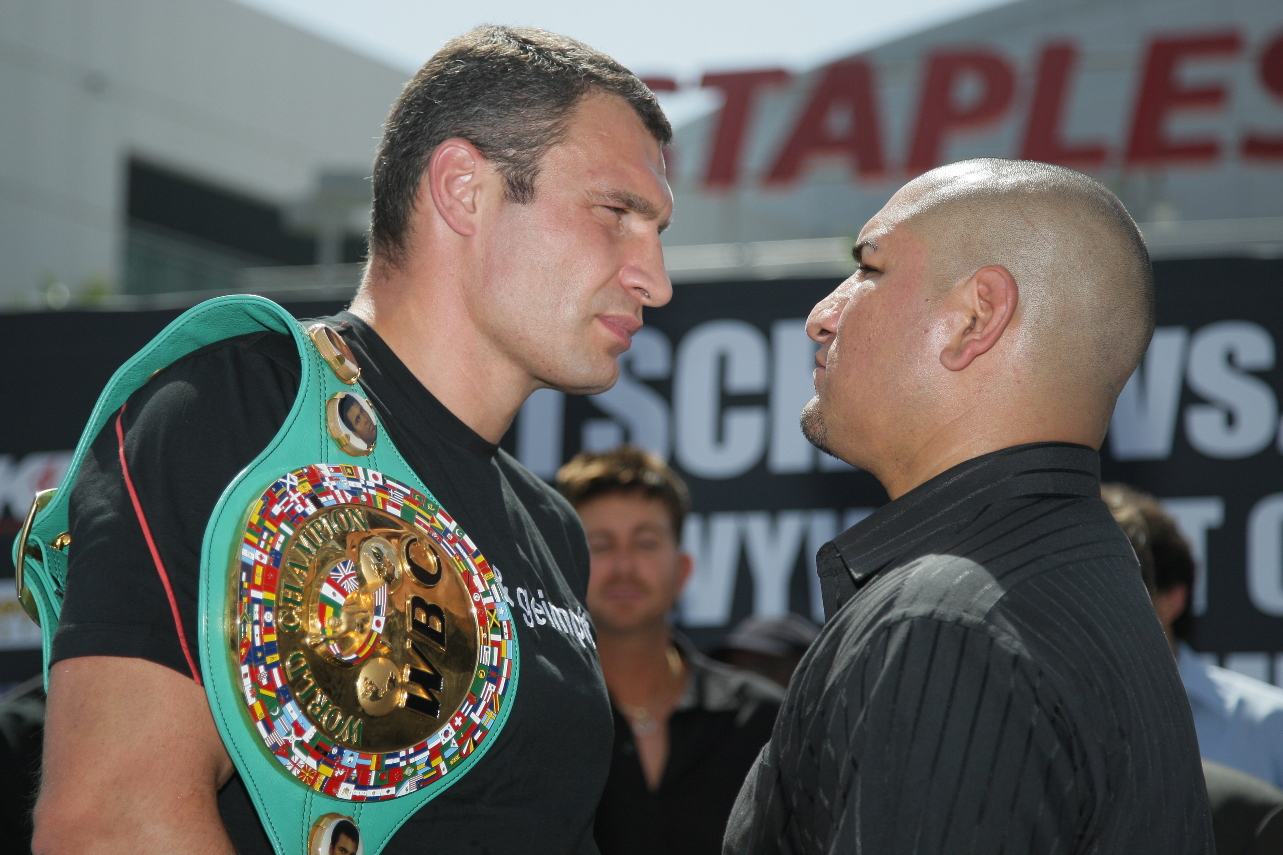 Photo Credit:Jan Sanders/Goossen Tutor Promotions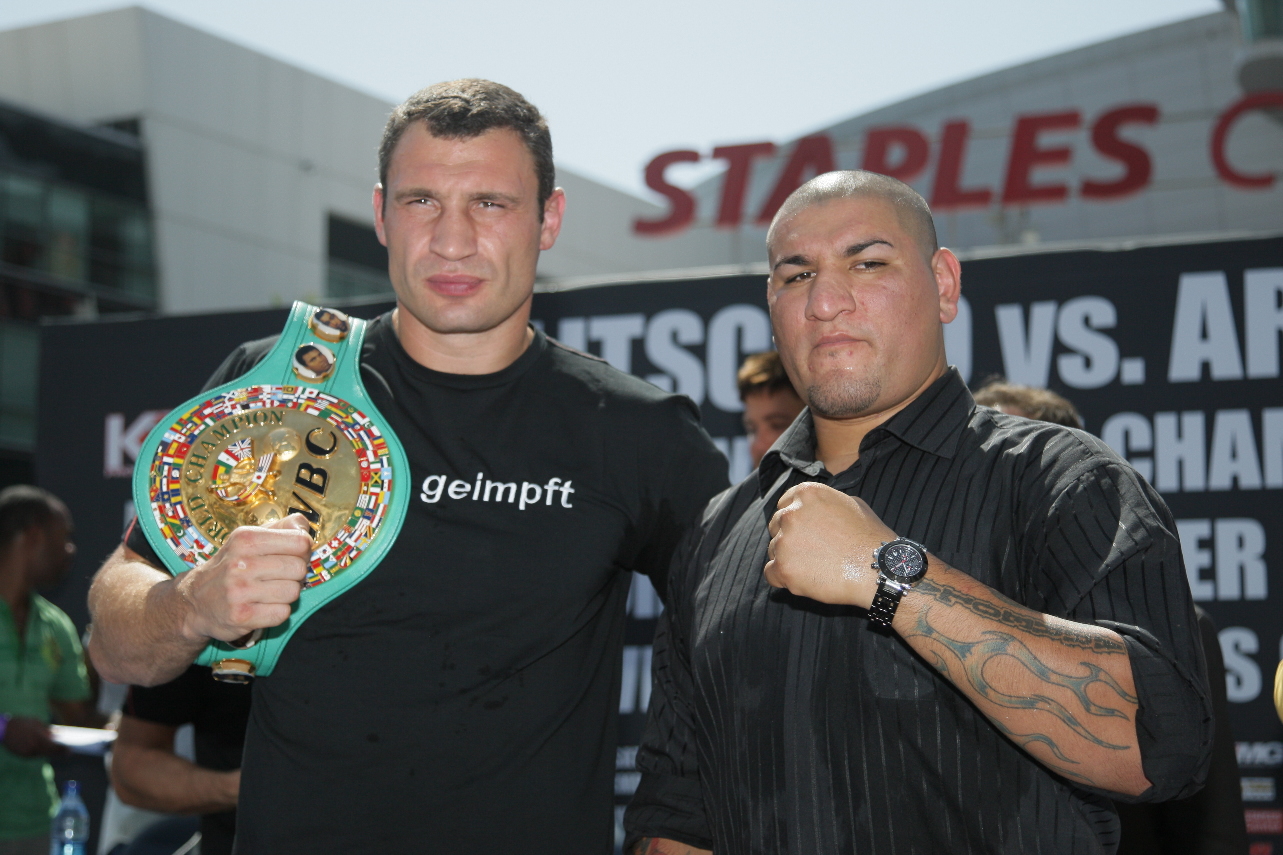 Photo Credit:Jan Sanders/Goossen Tutor Promotions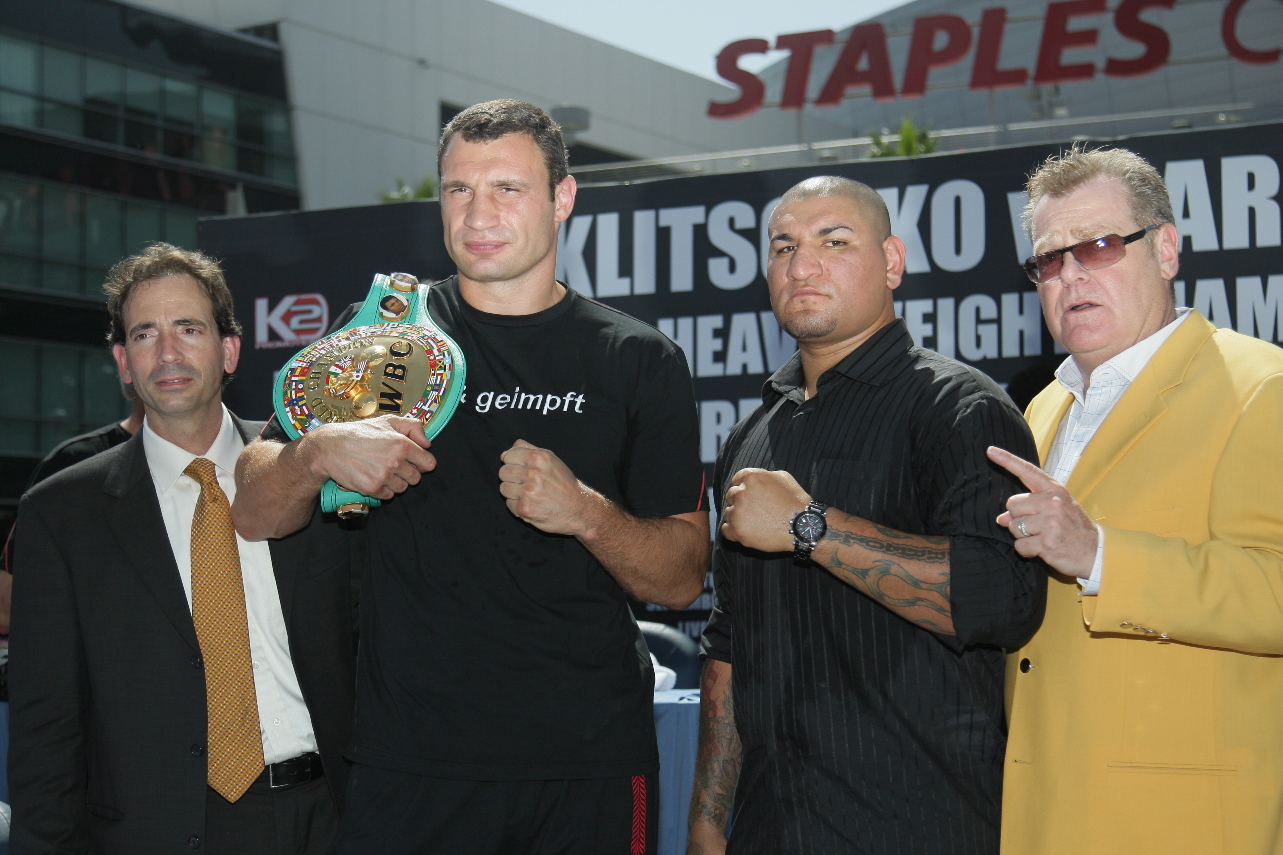 Photo Credit:Jan Sanders/Goossen Tutor Promotions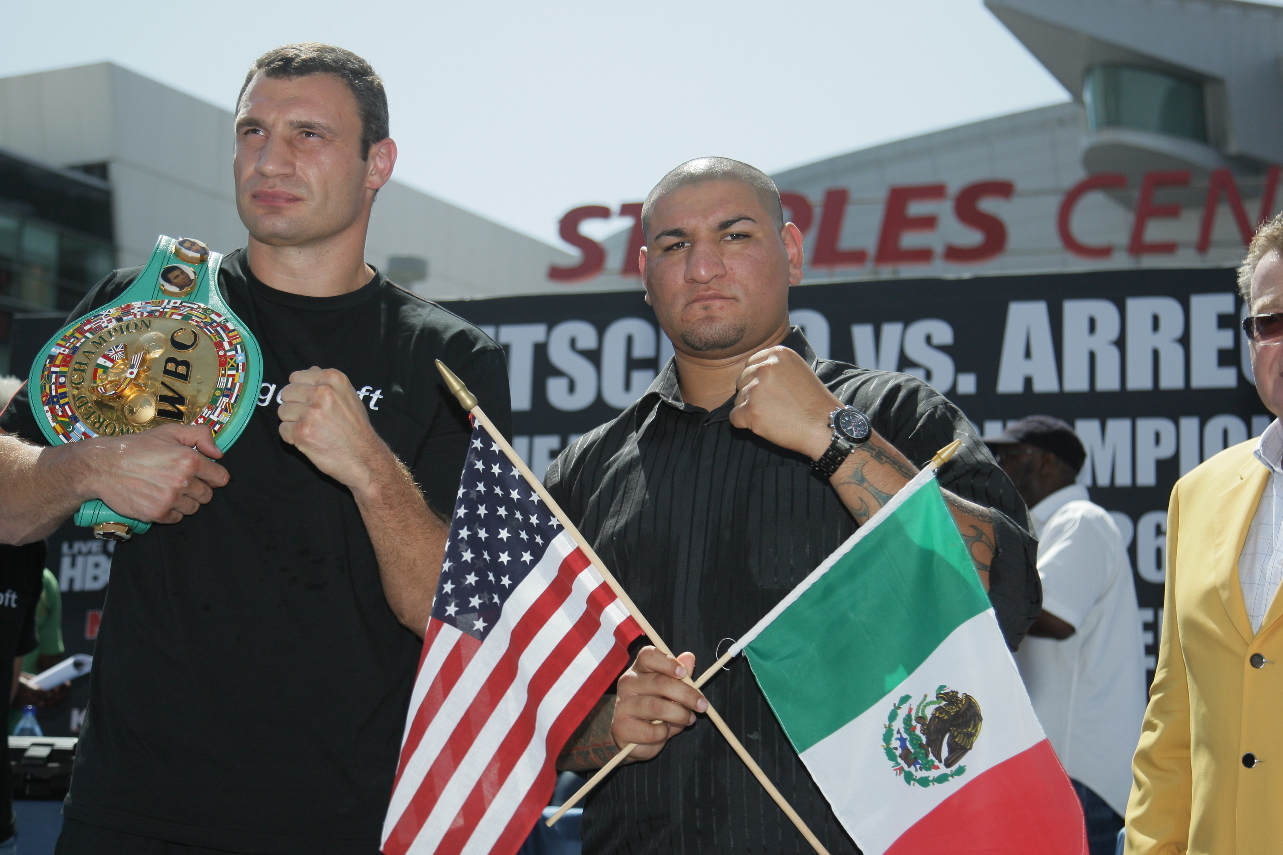 Photo Credit:Jan Sanders/Goossen Tutor Promotions