In terms of world championship belts, only two fighters have any logical claim on challenging heavyweight top dog Wladimir Klitschko: his big brother Vitali, the WBC champ; and Alexander Povetkin, the WBA "regular" (read "fake") beltholder. Since Vitali and Wladimir have long and loudly proclaimed they will never fight each other, that makes Povetkin the sole, rightful challenger to Wladimir's place as boxing's biggest, baddest man. Yet is the Russian Vityaz ready to duke it out with Dr. Steelhammer?
Check out the latest installment of our Klitschko Readiness Rating series, where we examine the top contenders in the heavyweight division and grade them and their chances against the brothers Klitschko.
Povetkin and Klitschko: We Were Almost Here Before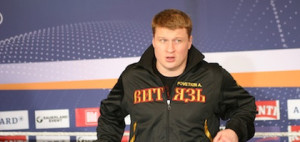 Povetkin was first set to challenge Wladimir in 2009, after a solid winning streak that culminated in his winning an IBF title eliminator. At that time, Povetkin was a rising prospect coming from a sterling amateur pedigree, and following a traditional, progressive career path. After beating some upper-tier journeymen, Povetkin whipped Larry Donald, Chris Byrd and Eddie Chambers in quick succession.
It was only at that stage Povetkin derailed, and the interesting thing is he derailed himself. Claiming injury, he withdrew from his slated bout with Klitschko. The IBF graciously gave him more than a year to recover and exercise his title shot, which Povetkin chose not to do. The injury had nothing to do with it, since Povetkin began his "comeback" in April 2009, with five months to spare on his IBF deadline.
That in and of itself is a powerful statement. I believe Alexander Povetkin deliberately and wisely chose to avoid a clash with Dr. Steelhammer in 2008/2009, and he would not have done so if he thought he had a snowball's chance in hell of dethroning the big Ukrainian. This tactic became public knowledge when trainer Teddy Atlas was brought into the team, and he clearly stated he felt Povetkin wasn't ready to challenge Wladimir, and advised against taking the fight.
The question of "can Povetkin beat Klitschko?" therefore revolves around what, if anything, has changed since then.
Povetkin's Prowess
The Russian Vityaz ("Vityaz" refers to a mythical group of mounted heroes) is a mid-sized heavyweight by modern standards, standing 6'2″ and weighing in the upper 220s, as opposed to a giant like Wladimir. He uses a stand-up, Continental boxing style similar to that of Dr. Steelhammer, and past fights have shown Povetkin to be a skilled fighter with reasonable strength and durability.
Povetkin's career path has only advanced so far, however. Although Donald and Byrd were well past their best by the time Povetkin got to them, the Chambers win was solid, showing the Russian had the ring smarts to not become befuddled by a slicker opponent. He has also shown that he can deal with a similarly-sized pressure fighter in the form of Ruslan Chagaev, although some would argue that Marco Huck turned around and disproved that same assertion.
The one thing we have decidedly not seen is Povetkin mix it up with a real banger. Even Marco Huck (who many believe was robbed) isn't known for his cracking power, being more of a pressure fighter. We therefore have no idea just how good Povetkin's chin really is. Povetkin has also never challenged even a second-tier heavyweight who was bigger than himself. In Wladimir Klitschko, Povetkin would be facing off with an experienced, confident boxer-puncher who is bigger, at least his equal in terms of skill and athletic ability, and very powerful.
Bottom Line – Povetkin's Klitschko Readiness Rating
The KRR – C
Povetkin's KRR follows from three major factors. The Russian heavyweight idled in neutral for more than two years after beating Eddie Chambers, and that time was wasted. Instead of seeking out Tony Thompson, Dereck Chisora, or anybody who would have furthered his development as a fighter, he feasted on tomato cans and journeymen. This is a damning statement for a 32-year-old fighter, and it's not like Povetkin looks eager to make up for lost time now that he has the (fake) WBA belt around his waist.
Even so, Pokvetkin does well enough against heavyweights who are his own size or smaller, but that doesn't describe Wladimir Klitschko. Furthermore, while Klitschko has a weak chin and can be out-punched, he simply is not there to be out-boxed. Men as good as or better than Povetkin have tried it and met with abject failure. The "styles make fights" equation strongly suggests that Povetkin would be hammered into a defensive shell and drop a lopsided decision to Klitschko, should the two ever meet. In my mind, I don't think Povetkin will ever be ready to beat Wladimir Klitschko, but he is about as ready as he will ever be to go out on his feet.