Grading David Haye's Prospects Against Klitschko the Elder
In the next segment of our ongoing Klitschko Readiness Rating series, we're taking a look at David Haye.
Of course, ruminating on the subject of David Haye facing one of the Klitschko brothers is nothing new. We all know the story of Wladimir Klitschko vs. David Haye — the unending waiting, cancellations and rescheduling, the toe injury and the ultimate failure of that fight.
However, with David Haye's triumphant and spectacular return to the ring, smashing Dereck Chisora over five dominant rounds, it's time to reevaluate his positioning in the division, and his chances against the Klitschkos. As he has already fought Wladimir, for this particular piece, we'll only be examining his KRR against Klitschko the Elder, Vitali.
Does David Haye Have a Chance Against Vitali Klitschko?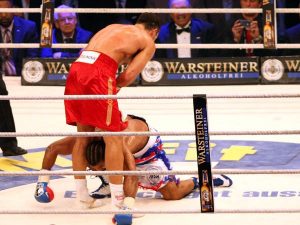 Things didn't go so well for David Haye against Wladimir Klitschko. It wasn't just a loss, it was an embarrassing effort.
Truth be told, many people believed from the get go that the better match-up for Haye was Vitali, despite Wladimir's perceived glass chin and despite Vitali's superior toughness.
As opposed to Wladimir, Vitali doesn't maximize his height and reach advantages by working behind a stiff jab and a thunderous right hand. Instead, he uses an awkward attack and he's willing to exchange. He is slower of foot and hand than Wladimir, and he typically holds his hands low and sticks his head forward as he looks for the right moment to pounce.
Of course, Haye will be avoiding exchanges at all costs. Without the jab blinding him and barring his path, however, he should technically be able to get inside, flick off his own jab and a Hayemaker or two, and then circle away out of harm's way.
That will be easier said than done and it brings us to three questions that will determine Haye's potential effectiveness in a fight against Vitali.
1) Will Haye show a legitimate willingness to adopt the above strategy?
We all know he talks a good game, and against a fighter the likes of Dereck Chisora, he certainly has the potential to look phenomenal. Against a fighter the likes of Wladimir Klitschko, though, he withdrew into an ineffective shell of himself.
2) Can Haye maintain that physically and mentally draining routine for a full 12 rounds?
Haye has only gone the distance on three occasions, the loss to Wladimir, a cruiserweight fight in 2006, and in between, his Majority Decision win against Nikolay Valuev, when he captured his WBA heavyweight title strap. While Valuev has monstrous size, he has nowhere near the boxing acumen nor the pure, concussive force, of Vitali. Beyond that, Haye has only entered the 8th round on three other instances throughout his entire career.
Against Wladimir, as has been ingrained into our memories, both his stamina and his willingness to exchange were brought heavily into question.
3) What will happen when Haye gets tagged by a flush shot?
Even if Haye does his best throughout the evening to avoid skirmishing, he's going to get hit cleanly at some point, especially if he tires in the later portion of the fight. It can't be denied that David Haye has a suspect chin. Even in routing Chisora, he appeared to get legitimately hurt at least once, at the end of Round 3.
Working in Haye's favor though is the fact that Vitali isn't a one-punch knockout artist. He has an otherworldly 40 knockouts in 44 wins, but the credit for that largely goes to bludgeoning accumulation, as was shown against Tomasz Adamek, Chris Arreola, Sam Peter and scores of others.
That reduces the chances of Haye ending up floored from one punch. Combined with Vitali's unorthodox approach and his slower attributes, and Haye may indeed open up a bit more, and look to score more freely in an honest effort to win the fight.
Even if Haye passes the three tests outlined above, the expectations for his performance should still be curtailed. Against the likes of Valuev, Haye chose to easily score points, while avoiding action and generally cruising to a lackluster win. Against Vitali, he'll have a much harder time, against a much classier opponent, and even less of a chance of getting a stoppage win.
Therefore, Haye is going to be jabbing and circling, jabbing and circling, and hoping to avoid Vitali's wrath. If you miss out on the cycling competitions at the London 2012 Olympics, you'll likely get your chance to see a world class bicyclist in the ring that evening should the two meet.
The best case scenario is that he not only learned from the Valuev fight, he learned from the Wladimir fight and the Chisora fight as well. Against Valuev, he learned what he could do against sheer size, and likely sees he could do more. Against Wladimir, he gained 12 rounds of experience against a physical replica of Vitali, and surely seethes at the openings and opportunities he wishes he had exploited. Against Chisora, he boosted his own confidence with a dramatic thumping of a top-10 opponent who just took Vitali the distance.
Bottom Line – David Haye's Klitschko Readiness Rating
The KRR: A-
Right now, there's nobody in the division with a better shot at defeating Vitali Klitschko than David Haye.
Unlike Wladimir, you can't out-tough big brother, and you certainly can't out-size him either. What you can do is exploit his shortcomings with superior athleticism and enough pop to keep him honest, and hope you can keep it going for a full 12 rounds. The only guy out there that fits the bill is the Hayemaker. Call him David "Obi-Wan Kenobi" Haye — he's our only hope, if you're looking to see Vitali take an 'L', that is.
Vitali Klitschko is presumably going to stroll past Manuel Charr in September. He's then focusing on politics and an upcoming election until the end of October. Best case is, he's ready to jump back into training after that, and we see Vitali Klitschko vs. David Haye in January 2013.