Evaluating Whether Seth Mitchell is Ready to Face Wladimir or Vitali Klitschko
Seth Mitchell is considered by many to be the USA's most viable heavyweight contender. He is at the very least its most visible heavyweight, having already twice appeared on HBO Boxing After Dark telecasts. He is 6'2" with a reach of 76-inches and 30 years of age. He only took up boxing in 2006 and had a brief 10-fight amateur career.
Before taking up boxing, "Mayhem" was a star linebacker for Michigan State until injuries brought an end to a promising career. Now 25-0-1 (19 KOs), Mitchell is moving toward bigger things. A sign that he is committed is his weight. The well-conditioned and athletic Mitchell has been 240-245 for the last 13 fights.
—> Check out the entire Klitschko Readiness Rating series, evaluating all of the top heavyweight contenders & pretenders
Does Mitchell Have a Chance Against Either Klitschko?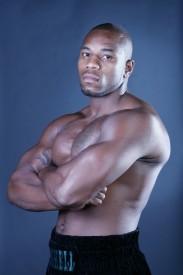 Right now the answer is probably no. Mitchell is strong, determined, and shows a proper fighting spirit. But when he picked up the gloves for the first time, the Klitschkos were already established fighters who had racked up world title honors. It would be one thing if the brothers Klitschko had shown signs of erosion, but that isn't the case. At least not enough to make them seem imminently beatable.
Bolstering Mitchell's cause is the fact that what is true today is not necessarily the case tomorrow. If he keeps developing and the Klitschkos start slipping, who knows?
Does Mitchell's Inexperience Hurt?
At the end of the day, this is going to be the major sticking point. There are certainly good fighters who picked up boxing late. World Middleweight Champion Sergio Martinez didn't begin boxing until he was 20, for example, so not all great boxers started in grade school. Mitchell, however, started at 24 and is only now 30 years old. While it is impressive that he has become America's top hope in that short time-frame, it makes you wonder how he can possibly be seasoned enough.
While Mitchell might look pretty good to the naked eye for a guy so new to the sport, there are some concerns. Offense is the easiest thing to learn. Some of the finer points of the game, like defense, rolling with punches, and having an innate ability to actually fight, take time and experience to develop. There is no easy way to do it. You have to get in there, fight a bunch of different styles, and hopefully develop the experience needed to acquire these traits.
Against Chazz Witherspoon, Mitchell was severely rattled early by some big right hands. He showed great fighting spirit by immediately shutting down Witherspoon's surge, going on to stop him in the third round. Hats off to Mitchell for showing guts, recuperative ability, and power. Those traits should serve him well in the future.
What will not bode well for Mitchell's future prospects is his lack of defense and that innate fighting ability. Witherspoon found Mitchell to be an easy target. When Witherspoon landed that right hand, Mitchell absorbed the full brunt of the punch. If that were Tim Witherspoon instead of Chazz landing those right hands, they'd still be trying to wake up Mitchell.
Is He Overrated?
Sometimes we get a little confused with evaluating fighters. We mistake entertainment value with actual merit. Mitchell is an exciting fighter. His offense and physical strength is impressive. But when looking at some of the other less-visible aspects of his game, there are major deficits. His win over Witherspoon was the first time he ever really won what you would call a "fight."
He's been bowling opponents over with superior physicality. While impressive, he has not necessarily been learning how to fight. When in a fight, offense is obviously not the only trait that matters. You need to possess elements like the ability to lessen the impact of a punch, knowledge of angles and ring geography, and dozens of other nuances that are hard to pick up in 6 years, especially when facing lesser opposition.
Can He Get Better?
It seems like everyone is quick to push Mitchell into a position he might or might not be able to handle. At 30, the time is somewhat limited and with a total dearth of American heavyweight talent, fast-tracking Mitchell makes sense on some levels. I look at him more as a long-range prospect–a work-in-progress who might need to take some lumps before rounding out into the best fighter he can be.
Fighters like Mitchell who started late need time to develop. Seems obvious, but that won't stop his management from rushing him into something he can't handle. Rather than putting him in the ring with a Klitschko in the next year, the better course of action might be to keep him active and allow him to learn his trade properly. In the next 2-3 years, he could face a variety of solid journeymen and contenders to build up his fighting chops.
His offense is about as good as it's going to be. What he could do is add a few wrinkles–some little skills and tricks that would make him far more formidable. That isn't going to happen by putting him in with a long series of fighters he can out-physical, then throwing him in with the Klitschkos without any kind of meaningful build-up process. He needs to develop.
His management wants to keep him unbeaten. Fine. But I think a 2015 or 2016 Seth Mitchell who is like 32-1-1 and learned a few things stands a far better chance than the current manifestation of the fighter known as "Mayhem."
Final Grade
Klitschko readiness rating: C+
I see Wladimir as being too advanced for Mitchell. He knows how to use his reach and height expertly. For Mitchell to even get close enough to do damage, he will first expose himself to the wheelhouse of Wladimir, who never gives opponents a free pass for trying to get inside. Judging by his performance against Witherspoon, Mitchell's chin is hardly invulnerable. I'm having a hard time envisioning Mitchell being able to absorb those right hands.
Then again, Mitchell offers some appeal as a steep underdog, which is what he would be. With underdogs, the match-up isn't going to be very favorable. That's a given going in–the very definition of an underdog. But he'd be a dangerous underdog–a very physical and strong hitter who is an interesting potential challenger.
Older brother Vitali might be an easier task, but even that seems like a problematic match-up for Mitchell. Vitali will offer Mitchell more offensive opportunities, but Vitali's stronger killer instincts could counterbalance that. It looks like an exciting match-up that will inevitably boil down to whether or not Mitchell can handle major league power.
Maybe we're being too hard on Mitchell for getting wobbled against Witherspoon. The first round is a time when fighters can be caught cold, with even strong-chinned fighters finding the opening session a time of increased wariness. Once he acclimated himself to the action, Mitchell dominated. A lot of what he's experiencing in the ring are things he's never faced before–namely getting hit and overcoming trouble. There lies the problem–experience.
At this point, anyone who faces either Klitschko is going to be an underdog. Mitchell is in that group, so it's not really a revelation to say that his forecast is not particularly rosy. But when scanning the list of potential Klitschko opponents, Mitchell is about as interesting a challenge as exists. His athleticism, power, physicality, and strength makes him an X-factor and in today's moribund heavyweight division, that counts for something.
Let's look at reality, though. Getting inside on either Klitschko brother is no easy feat. Among those who have tried and failed are a slew of experienced heavyweights who basically got nowhere in their efforts to beat or even significantly trouble the Klitschko brothers. How can we expect Mitchell to have any of the prerequisites needed to beat a Klitschko after only a few years in the sport? I would sure like Mitchell's chances a lot more with some extra seasoning or if he were to even wait for the post-Klitschko era to end before making his mark.