The undisputed number 1 heavyweight in the world was back in action on Saturday, as Wladimir Klitschko looked to make yet another title defense, this time against unheralded challenger Francesco Pianeta in Manheim, Germany, in a fight televised in the U.S. on EPIX. Did Klitschko put on another dominant performance? Check out the Klitschko vs. Pianeta results below.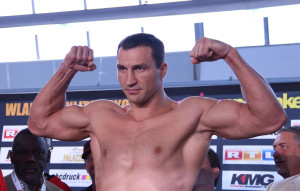 The Pro-Klitschko crowd in the jam-packed arena was enthusiastic as always. Klitschko's former, and once again current, love interest Hayden Panetierre was notably in attendance ringside, and looked fantastic, which is to be expected. That was about as much excitement as the evening would provide.
Pianeta wasn't expected to put up much of a challenge, and Wladimir opened the fight and began asserting himself immediately.
That's not to say that Pianeta wasn't game and trying, though, which is more than some opponents. He would lunge and try to bull his way inside, and launch heavy shots. But Klitschko wasn't having much of it.
Soon, he assumed complete control. He sent Pianeta down with a left hook in the 4th, and continued doing damage, particularly with that hook. As opposed to relying on his jab, which he often does, he was simply jabbing to help find his target, and would then unload that left hook and look for the crushing right hand knockout blow.
Pianeta stumbled to the canvas on several occasions, and his offense soon nearly disappeared completely. Pianeta wouldn't go away though, showing the grit and heart you'd expect from a guy who defeated cancer. I guess, on the grand scale of things, Klitschko is a tougher out than cancer.
Wladimir battered Pianeta down to the canvas in the 6th, and the referee wisely waved off the count before more damage could be done. Pianeta was on the wrong end of a one-sided beating, and Klitschko appeared to be in top form.
Thanks for checking out the Klitschko vs. Pianeta results, and be sure to come back with us tonight for our complete Mayweather vs. Guerrero results & round by round blog as well!
Comments
comments