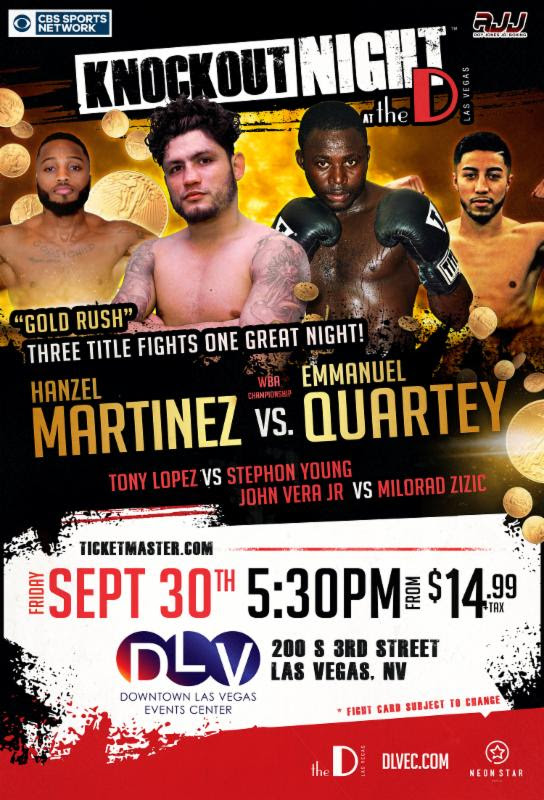 "Knockout Night at the D" returns Friday night, September 30, airing live on CBS Sports Network and internationally via ESPN, outdoors at Downtown Las Vegas Events Center (DLVEC). In The 10-round main event, Hanzel "Rude Boy" Martinez (23-2, 19 KOs) takes on Emmanuel Quartey (20-2, 19 KOs).
Tony Lopez, Jr. (11-1, 4 KOs faces unbeaten Stephon "Showstopper" Young (14-0-3, 6 KOs) for the vacant WBA North American Boxing Association (NABA) bantamweight title in the 10-round co-feature, while undefeated WBA-NABA USA super welterweight champion John "The Phenom" Vera (14-0, 9 KOs) makes his first title defense against Milorad "Micko" Zizic (12-1, 6 KOs) in an 8-round bout.
"This show has all the makings of the best 'Knockout Night at the D' show of the year with three title fights on tap," RJJ Boxing Promotions CEO/Co-Founder Keith Veltre said. "The six principal fighters have a combined record of 94-6-3 with 63 knockouts. All three of these title fights are evenly matched and can go either way. The winner of the main event should land a spot in the WBA's top 15 ratings. And we plan to load up the undercard with many of Las Vegas' most promising prospects."
Martinez, 24, is a former World Boxing Council (WBC) United States bantamweight champion. A native of Tijuana, Mexico, Martinez is ranked No. 4 by the NABA, and on the verge of breaking out on the national boxing scene. He hasn't fought since last December because his last fight was cancelled when he was injured in a car accident.
A former super flyweight champion at home in Ghana, Quartey like Martinez is a dangerous puncher who has experience in the ring. He will be making his United State debut Sept. 30 vs. Martinez.
The 22-year-old Lopez, fighting out of Dallas, is coming off of a sensational second-round stoppage of Jerren Cochran this past May at DLVEC. He is a former WBC Youth Intercontinental bantamweight champion, the belt he captured in 2014 with an 8-round unanimous decision from previously undefeated Isaac Torres (9-0) in Fort Worth. Lopez is rated No. 7 by the NABA.
Young, 27, is rated No. 2 by the NABA. The southpaw was a decorated amateur boxer out of Saint Louis, compiling an 86-13 record, including a silver-medal performance at the 2011 National Golden Gloves Championships. All three of his draws were fought on the road. His last was in his most recent fight, last April at Turning Stone Casino in Verona, New York, in which he and 14-0 Nikolay Potapov battled evenly for 10 rounds.
Vera's brutal sixth-round knockout of 10-1-1 Joey Ruelas, also at DLVEC, earned the left-handed Vera his NABA-USA super welterweight crown. Fighting out of Fort Worth, Vera will be facing the toughest opponent of his 3 ½ year professional career.
Zizic, a native of Montenegro is a former International Boxing Federation (IBF) Youth and WBC Mediterranean middleweight champion. Ranked No. 14 by the NABA, Zizic now lives and trains in the capital of boxing, Las Vegas.
Undercard fights will soon be announced. All fights and fighters are subject to change.