Anthony Yarde certainly didn't disgrace himself, but Sergey Kovalev largely dominated proceedings to stop the Londoner in eleven rounds to retain his WBO Light Heavyweight Title in his native Russia.
Yarde sauntered and danced his way to the ring with the look of a man unfazed by the task in hand, while Kovalev was afforded a hero's welcome in his back yard, in front of a partisan Russian crowd, as he trotted down the runway towards the ring.
After the National Anthems and lengthy introductions, it was down to business.
Kovalev, in his sixteenth World Title fight, began on his mettle, and it was a quiet opening round, with Yarde relaxed, but cagey and staying out of range. The second saw Kovalev utilise his jab to good effect, while also landing with a decent right hand. Yarde had more ambition in the third, enjoying success in patches, but Kovalev was stalking the Londoner with menace.
There were plenty of feints and posturing on show as both looked for openings, but a right hand followed by a straight left found a home for Kovalev in round four, as he started to settle into a rhythm. Yarde took a big left hand toward the end of the round, but shrugged it off.
It was hard to give Yarde anything in the first half of the fight, but the tactics seemed to be to take the second half of the fight to the Russian.
Yarde did exactly that, pounding to the body in the seventh, and, in the eighth, Yarde pulverised Kovalev to the brink with a volley of shots that couldn't miss the Champion. Kovalev was visibly tiring and running out of gas, but grimly held on to see out the session with Yarde within touching distance of a seismic upset. Yarde couldn't back his success up immediately in the ninth, and Kovalev seemed to have brought himself back to normality as a result, with Yarde also spending a lot of his energy in his most successful round to ensure he unfortunately couldn't finish the job.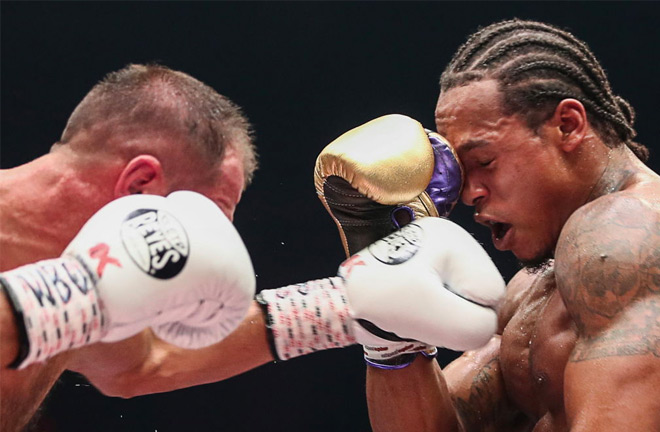 The tenth saw Kovalev get his second wind, and he seemed back on an even keel, landing with a big left hand halfway through the session to force his opponent back, and he then went about dominating the visitor with clubbing shots landing almost at will, and right at the end of the round the fight was very nearly stopped, with the bell saving Yarde from further punishment.
Kovalev is an elite finisher, and he didn't need a second invitation to prove this, as a crunching straight left hand left Yarde flat on the canvas, with the count dispensed with.
Yarde certainly wasn't overwhelmed in his first foray into World Title class, and will certainly come again. For Kovalev, there is plenty of life left in him, and he will surely look to unify in the near future.
– Video Highlights Credit Twitter – BT Sport
Comments
comments