After spending four-plus years taking the safe route to lucrative bouts with Wladimir Klitschko, Tony "The Tiger" Thompson is finally acting like a real heavyweight contender and showing his stuff against opponents who aren't the World Heavyweight Champion. Or that is one way of looking at Thompson's career in the wake of two back-to-back knockout wins over British prospect David Price. Another way of describing Thompson is as the division's new gatekeeper, with his wins over Price making him the guy to beat in order to be taken seriously. Either way, Thompson faces a very different type of rising heavyweight when he clashes with Kubrat Pulev in Germany on August 24.
Tony Thompson (38-3, 26 KOs)
6'5″ tall, 81 1/2″ reach, southpaw, 41 years old
American
Oh Tony, how little we knew of thee. Why did you waste so much time focused on just Klitschko the Younger, when you could have been kicking butt elsewhere?
The Tiger is a big, aggressive southpaw of a boxer-puncher, leaning hard on the boxer side. I wouldn't call him a knockout artist, but he likes getting in there and whacking his opponents, and that is exactly what he did to David Price. He has good stamina for a 41-year-old super heavyweight, he can take a punch, has power in both hands, and can give one-dimensional fighters absolute nightmares in trying to figure out the double conundrum of how to deal with a left-handed giant.
Kubrat Pulev (17-0, 9 KOs)
6'4 1/2″ reach, 80″ reach, 34 years old
Bulgarian
European (EBU) Heavyweight Champion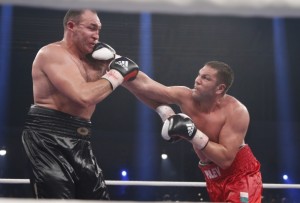 In some ways, "The Cobra" is very much like David Price, but in the ways that count he is totally different. Like the Briton, Pulev is also a big heavyweight with a sterling amateur pedigree. Yet whereas Price relied largely on his athletic prowess and power to win fights, Pulev is a cautious boxer who shows plenty of skill, but very little of his physical attributes beyond his size and reach when he boxes.
We know we has good power in his right hand, but Pulev rarely deploys it, while whether he can whack with his hook or uppercut remains anyone's guess. We know he has a good chin, although he does his best to keep people from denting it.
Instead, Pulev plods through fights with a ramrod jab, wearing opponents down and winning wars of attrition. This application of the stand-up, Continental style of boxing has held him in good stead thus far, with Pulev scoring late round kayos over top journeyman Alexander Dimitrenko and undefeated prospect Alexander Ustinov.
Pulev vs. Thompson Analysis
Pulev wins fights in much the same way as Wladimir Klitschko: he uses his jab and his defense to tamp down on the action, minimize damage to himself, and grind down the other guy. As Ustinov and Dimitrenko show, Pulev has no trouble in applying this strategy against guys who are taller and rangier than he is. Thompson wins fights by getting in there and forcing the action, and relies mostly on his size and southpaw stance to keep him out of trouble.
If Thompson can turn the bout into a shoot-out, Pulev will be pulled out of his element… but that doesn't necessarily mean Pulev will be undone. The Bulgarian has better point defense than Thompson, he can hit when he needs to, and insofar as we know, he has a good jaw. My guess is that if Thompson makes Pulev fight, he will win rounds, but Pulev won't fold up the way David Price did.
Pulev forcing his game plan on Thompson, on the other hand, leaves Thompson with nowhere to go. The left jab isn't the best weapon for dealing with a southpaw, but Pulev has a good right hand behind it.
Pulev vs. Thompson Prediction
The one thing I see clearly is that if Kubrat Pulev wants to win this fight, he simply must abandon some of his customary caution. Pulev has the footwork to get into position, and the defense to weather The Tiger's onslaught. Yet to control Thompson's aggression and win rounds, The Cobra simply must strike with his right hand more often. Much more often. He really needs to let that hand go, in the form of both more 1-2s and more lead rights. If he lets that right go, Pulev's better skill at using range and finding timing should see him through.
A scenario where one guy has the tools to win, but isn't in the habit of using them, and where the other guy might want to pounce from the opening bell can only spell one thing: Thompson will tear out of his corner and look to take out Pulev. The opening stanzas of this contest could be all Thompson, but Pulev simply doesn't have the merely average chin or defensive deficits of David Price, so getting him out of there will be damned hard. Thompson will be lucky to knock down a flustered Pulev, but I don't see an early knockout. After that, Pulev should start using his skills to land the right hand, ultimately sweeping the later rounds.
A late round stoppage could be out there for Pulev, but only if he applies some real aggression later on. I don't see that in him, so this fight will see the final bell.
Predicton: Kubrat Pulev UD12 Tony Thompson