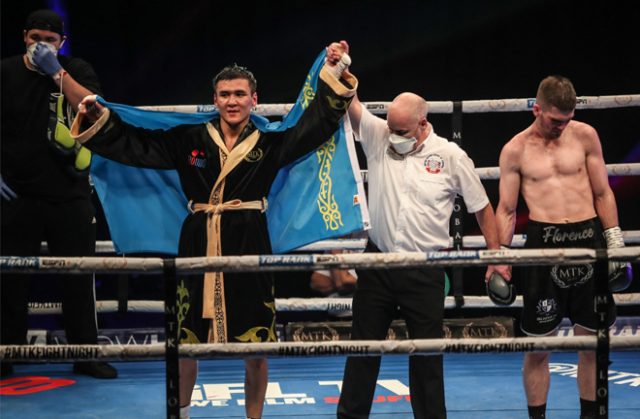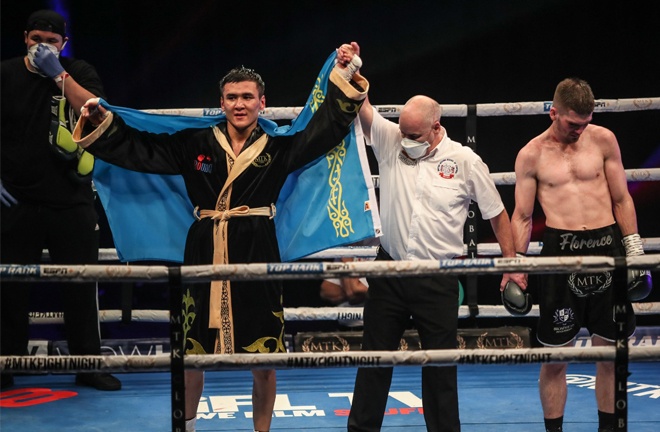 Tursynbay Kulakhmet claimed the vacant WBC international super welterweight title in only his second contest with a landslide points win over the previously undefeated Macaulay McGowan.
The fight was the main event of the latest MTK Global card staged behind closed doors in Wakefield on Wednesday night.
The bill was due to be topped by Lee McGregor's bid for Karim Guerfi's European bantamweight crown, but a positive COVID test has put that fight back. Hassan Azim's trainer tested positive on the eve of fight night, and his Super Lightweight clash with MJ Hall also bit the dust. The card carried on regardless, with all undercard fights going the distance.
McGowan (14-1-1, 3 KOs) entered the ring to the strains of Blue Moon, the old Ricky Hatton signature tune, and he would need a Hatton-like performance in what looked a tough task against the former amateur starlet, but it never looked like coming in truth.
Kulakhmet (2-0, 1 KO) was scheduled for eight rounds on his debut and won in four, and he was stepped up to ten round level here.
Kulakhmet started on the front foot against the understandably wary McGowan, and the Kazakh wasn't allowing his opponent any time to breathe, boxing him in against the ropes and the corners.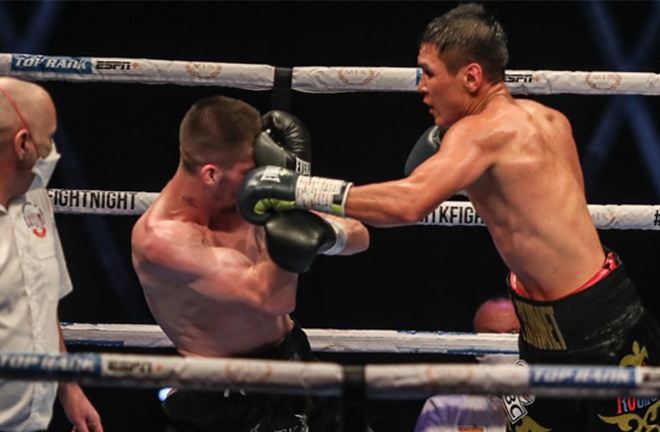 Kulakhmet was doing as he pleased, stalking McGowan and not giving him a moments peace.
The 25-year-old came into the contest unbeaten in 15, but he was struggling to get a foothold through the first two rounds.
Kulakhmet was turning the heat up, and his footwork was allowing him to connect from all sorts of angles, landing with cuffing left hands in the third.
McGowan was cut under his left eye, and the 26-year-old had little regard for anything he had to offer, pivoting on his front foot as he confused his man with multiple shots in the fifth, stunning the Wythenshawe resident with a left hand halfway through the round.
The left hand down the pipe was breaking McGowan's heart, but Kulakhmet was showing signs of frustration that he couldn't finish the fight, with the contest reaching its second half.
KNOCKDOWN ‼️

Macaulay McGowan given a count at the end of round seven after a right hand from Tursynbay Kulakhmet.

📺 The main event continues live RIGHT NOW on @ESPN+ and @IFLTV.

FREE LIVE STREAM ➡️ https://t.co/jJ74drVT3z#MTKFightNight #TeamMTKGlobal pic.twitter.com/fmnwwYQMzb

— MTK Global 🌍 (@MTKGlobal) November 11, 2020
A superb right hand over the top followed by a short left bundled McGowan to the canvas, where a knockdown was counted at the end of the seventh.
There was a strong case for McGowan to be saved for another day, but he continued, and Kulakhmet was docked a point for pushing in round eight, as he attempted to make room for his punches.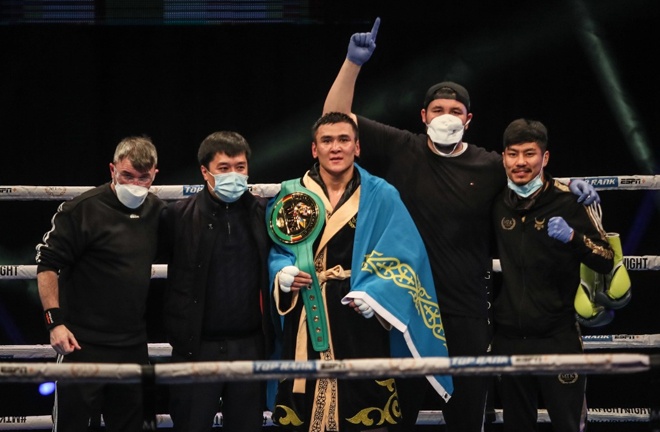 The final two rounds were a procession, and McGowan admirably saw the fight through to the end, where there was only likely to be one victor.
Three identical scores of 99-89 ensured Kulakhmet secured the belt in a one-sided display.
Rafferty outlasts Hill
The precursor to the main event came in the form of the sole eight rounder of the evening, where Jack Rafferty's high volume of punches trumped Tom Hill's (9-2, 2 KOs) high work rate over eight entertaining rounds.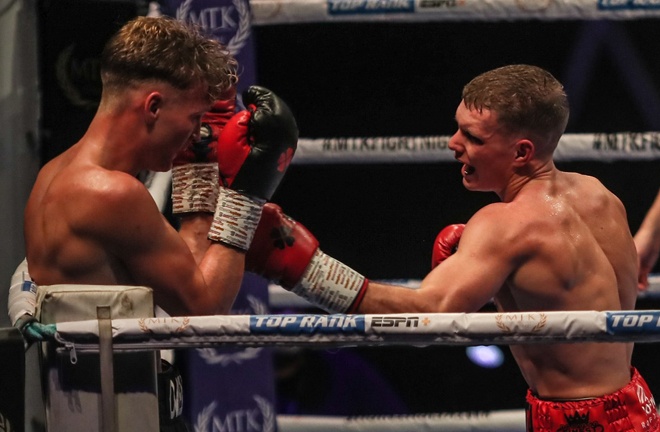 The two exchanged punches at regular intervals, but Rafferty (13-0, 7 KOs) got the better of the action in the main. Referee Mark Lyon saw things exactly that way, as he scored the Manchester man a 78-75 winner.
Donovan impresses against Camero
Paddy Donovan (5-0, 3 KOs) is a highly regarded talent, and the Andy Lee-trained Irishman went through his impressive repertoire in taking a wide points win over six against the tough Jumaane Camero (10-7, 3 KOs), who hadn't previously been stopped in six defeats on his 16 fight slate.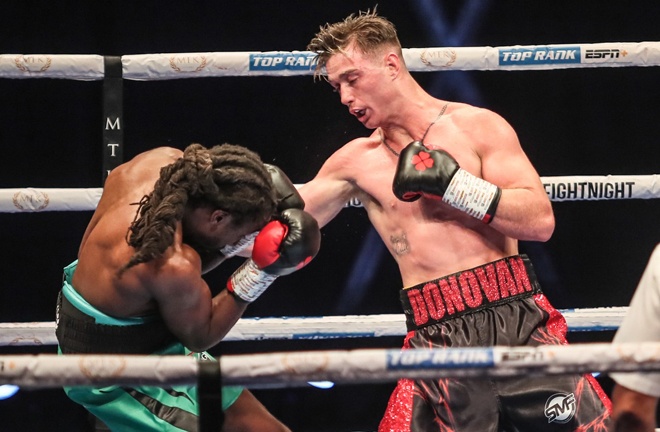 Ian-John Lewis adjudged the 21-year-old Limerick man a 60-55 winner, and he remained unbeaten.
Saunders' charge Edmondson marches on
Lewis Edmondson (3-0), who has been training with Billy Joe Saunders in Spain and is co-managed by the WBO middleweight world champion, impressed in winning all four rounds of his lightweight encounter with Scott Williams (0-9).
Referee Mark Lyson scored 40-36 for the Southampton native.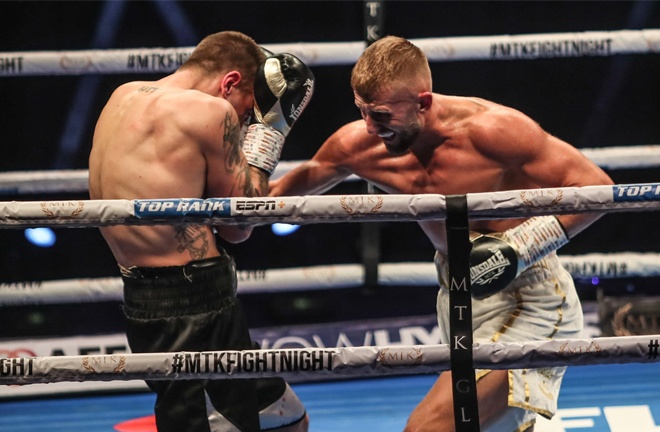 Have to thank @MTKGlobal for getting my man out on a weeks notice 🙌💪🔥

— billyjoesaunders (@bjsaunders_) November 11, 2020
Martin trumps former amateur rival Bassi
Over six at super welterweight, Southminster's Jack Martin (4-0) took the spoils in an Essex derby, as he took Inder Bassi's unbeaten record, and improved his own record to 4-0 with a points win.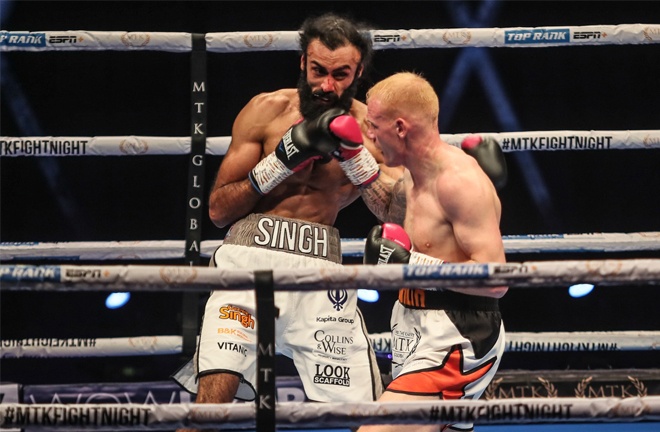 Bassi (2-1) was out on his feet in the last round, but gamely made it to the final bell. Referee Ian-John Lewis saw the contest 59-55 in Martin's favour.
Murrell makes winning start
Dave Allen's protégé Danny Murrell made his professional debut, and the 18-year-old super welterweight banked four rounds against Hyde's Dale Arrowsmith.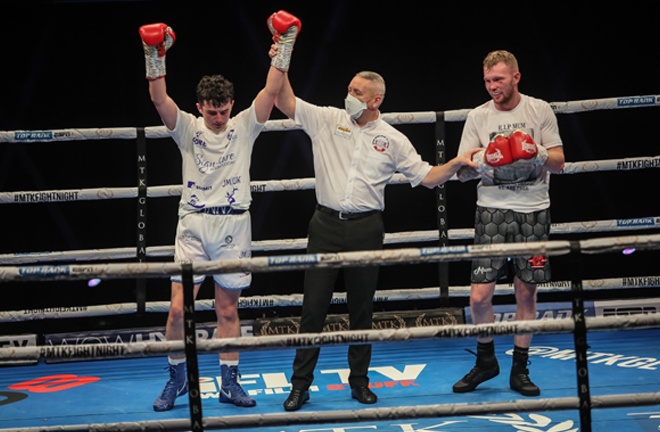 Arrowsmith (2-38-1, 1 KO) had only been stopped four times in 37 defeats, so an inside schedule win was always likely to be a tall order. Referee Mark Lyson tallied Murrell (1-0) a 40-37 winner.