"I never studied the fight and I should have."
These are words Nonito Donaire uttered to Max Kellerman moments after losing to Guillermo Rigondeaux on April 13 at Radio City Music Hall in New York City. It was certainly a telling admission and a truth that undoubtedly haunts him now. Versatility and adjustment are two underrated elements of the style arsenal of most elite level fighters. Donaire rarely accessed either attribute during his 12-round match with Rigondeaux and the result was the first loss in 12 years for "The Filipino Flash".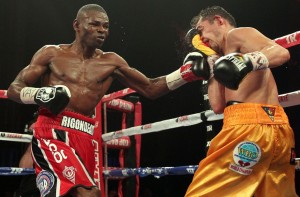 Certainly Rigondeaux's supreme performance must be credited, but Donaire surely could have helped himself more than he did.
Leading up to the fight, many believed that Doniare would match Rigondeaux's ring generalship, and ultimately his power would reach Rigondeaux and end things before the fight ever got to the judge's scorecards.  However, as the bout began to unfold, what we saw was a lightning quick Rigondeaux defense which was even better than expected.
Rigo skipped, slipped, bobbed, ducked, rolled and dodged with blazing quickness. Many pundits were asking why Donaire wasn't "pressing" more, which is easier said than done versus the ultra-elusive Rigondeaux.  Rigo was a blur to Donaire and there was simply nothing there for Nonito to hit for most of the fight. After an action-starved standoff for the first couple of rounds, Rigondeaux, in addition to his astonishingly effective movement, began to find scoring opportunities, primarily with his left down the middle, as he began beating Donaire to the punch.
Donaire for his part remained bewildered and continued his pedestrian effort as the fight wore on. Rigo continued to cash in on his scoring opportunities while Donaire stayed back waiting for a chance to take the Cuban amateur legend out with one big shot.  After Donaire electrified an antsy Radio City crowd with a knockdown of Rigondeaux in the 10th round, the fight was suddenly up for grabs again from a scoring perspective.
Still. Donaire seemed to stubbornly stick to his predictable plan and stayed back, allowing Rigo to once again reclaim control of the pace, after getting himself off the mat in the 10th. As Donaire finally came forward in a somewhat desperate fashion in the final two rounds, Rigondeaux did not run.
Likely sensing that the score could still be too close for him simply to survive the last two rounds, Rigondeaux stayed offensive and landed big blows. Early in the final round, Rigondeaux hurt Donaire with a left hand that seemed to damage the right eye of the champ. From there, Rigondeaux kept the pressure on and went on to a convincing round 12 win and salted away the victory.
Donaire is still among the best in and around his weight class. However, in the face of an opponent like Rigondeaux, whose guile and speed were superior to his own, he seemed surprisingly reluctant to adjust his attack.  Rigo was smarter and more versatile and the outcome proved as much.
One is also forced to perhaps reexamine his training and preparation with coach Robert Garcia. Garcia's undoubtedly a top trainer, and he cannot be held responsible if his fighter simply didn't do what he needed to in order to prepare. However, the team of Garcia and Donaire clearly didn't have the correct plan in place.
But don't throw Donaire out as a top pound for pound fighter just yet. I believe he learned that there comes a point where things like adjustment and versatility become essential to a fighter's arsenal. Donaire's skill, power and talent are undoubtedly elite, and it's a combination which has been and will continue to be more than enough versus most foes.
At some point though, it is no longer good enough to simply show up and be better within your own style than your opponent is within his own style. There will be those rare opponents, like Rigondeaux, against whom it will take more than just elite talent, to overcome.  Against guys like Rigo, it takes versatility, adjustment and savvy, to go along with supreme talent. Donaire's somewhat simplistic approach to his strategy versus Rigondeaux and its unexpected consequences will hopefully serve as motivation for him to "study" a bit more before the next time.
Comments
comments