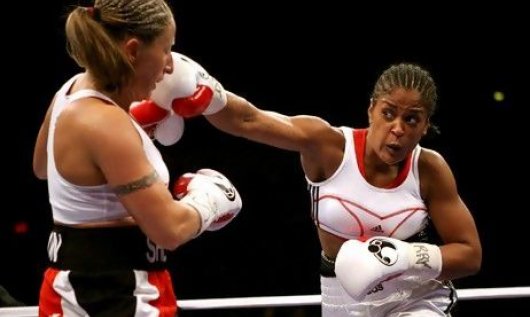 The International Women's Boxing Hall of Fame has announced eight women who have been voted into the 2015 class. The group includes six boxers from the modern era of female boxing (1990-2010), one pioneer female fighter of the 1950s and a ring official who trail-blazed past the gender barriers in the field of refereeing.
The IWBHF induction will be held on July 11, 2015, 1:30-4:30 PM in the Panorama Ballroom of the Hyatt Regency Pier Sixty-Six Hotel in Ft. Lauderdale, FL., in conjunction with the 2015 National Women's Golden Gloves Tournament, the finals of which will be held that evening.
The eight honorees include: Laura Serrano of Mexico, whose 18 year, 25 bout career included wins over Chevelle Hallbeck and Kelsey Jeffries along with her debut bout, in 1994, against Christy Martin, adjudged a draw but a bout many ringsiders considered a win for Serrano; Dierdre Gogartyof Ireland who compiled a 16-5-2 record over a seven year career and was a participant in what is often considered the first "major" female bout, a six round loss to Christy Martin in Las Vegas in 1996; Jeannine Garside, a hard punching Canadian, who compiled a 10-3-1 record, capping her six year career with a 2010 win over Ina Menzer for the WBC featherweight title.
The five Americans being honored are:
Laila Ali, who carried a revered name into the sport of female boxing and lived up to that name with a record of 24 wins without a loss, including 21 KOs;
Terri Moss who had 18 bouts during a busy five year career and, following her retirement, has stayed involved in the sport outside the ring as a highly regarded trainer, the force behind one of the most successful "white collar" boxing programs in the country in Atlanta and as a documentary film maker and author effectively depicting and advocating for the sport of Women's boxing;
Ann Wolfe a hard punching middleweight who has surely set the sport's record for You Tube views of her spectacular one punch KO of Vonda Ward. In an eight year career, Wolfe, ranked close behind Lalia Ali in the middleweight ranks, put up a record of 24 wins, one loss, generating 16 KOs. Following her retirement, Wolfe has had a successful managing career most notably guiding middleweight James Kirkland;
Sparkle Lee (non-boxer category) progressed from refereeing in the amateur ranks to become the first female referee appointed to the NY State Athletic Commission where she has been arbiter in several world championship bouts;
Phyliss Kugler(posthumous pioneer boxer category) compiled a reported 55-1 record during the 1950s, her lone loss coming against Barbara Buttrick in a return bout following a four round draw with Buttrick, last July's IWBHF pioneer boxer inductee.
The 2015 inductees will bring to fifteen the number of honorees inducted into the IWBHF in the initial two years and this July's ceremony is expected to generate the same type of fan and media excitement and exposure that the initial event engendered. The IWBHF induction ceremony is a signal event that serves to raise the awareness of the sport of Women's boxing by honoring those individuals who have significantly contributed to the sport and who, in many cases, continue to be active in support, advocacy and growth of the sport.
Sue Fox. founder of WBAN, the "Internet site of record for Women's boxing," and the prime mover behind the concept, creation and implementation of the IWBHF, looks forward to July 11: "I'm thrilled to have our 2015 Hall of Fame Induction Ceremony in conjunction with the National Women's Golden Gloves in Ft. Lauderdale, FL., again this year. The opportunity to locate the ceremony where there will be so many associated with the sport at one event will prove a very fitting way to honor our 2015 IWBHF inductees."