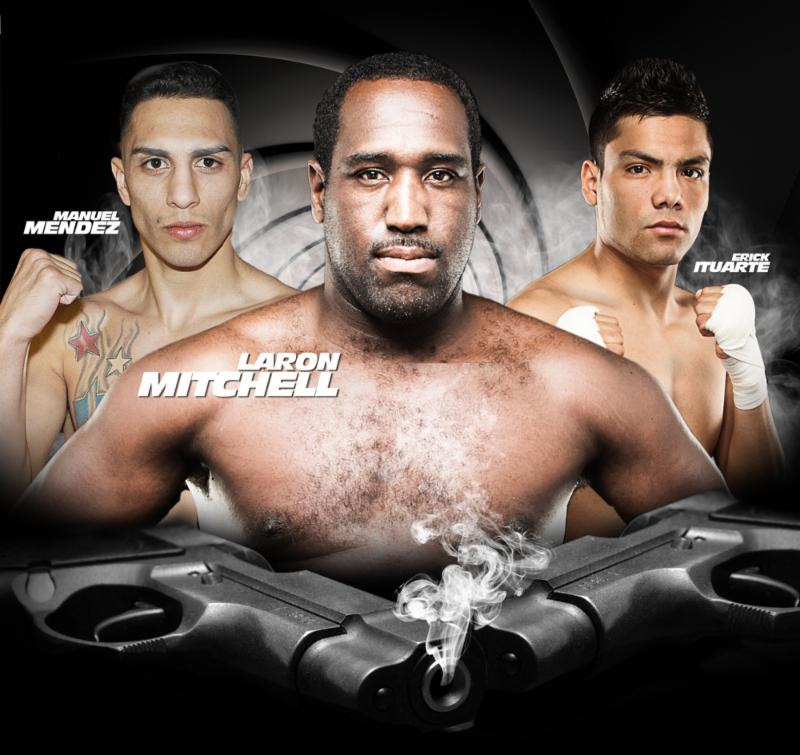 LaRon Mitchell (12-0, 12 KOs), one of the heavyweight division's rising talents, defends his unbeaten mark against on opponent to be named later on Friday, June 24, in Thompson Boxing Promotions "Locked n' Loaded" 8-round main event.
The six-bout card originates from the Doubletree Hotel in Ontario, Calif. The San Francisco-based Mitchell recorded back-to-back knockout victories in February and March. A self-described gym rat, Mitchell has been in the gym focusing on his main event showdown since early April.
"I'm excited to get back in the ring," said Mitchell, who trains in San Francisco with lead trainer Jimmy Ford. "I know the last time I fought was in March, but it feels a lot longer. I don't like going extended periods without a fight."
Mitchell, who works full-time as a physical education teacher at a Bay Area elementary school, is fully prepared to continue his red hot knockout winning streak.
"We're training hard like always," said the 36-year-old Mitchell. "We've been focusing on power and speed and just staying true to our routine."
"Over the last few years, LaRon has grown in every aspect of the game," said Ken Thompson, president of Thompson Boxing Promotions. "He understands he has more to learn. He has a menacing style that's only getting better with time."
In the 8-round co-feature, a pair of featherweights in Erick Ituarte (13-1-1, 2 KOs) and Daniel Ramirez (11-3, 5 KOs) will vie for Southern California bragging rights (8-rounds).
Ituarte, who is from the Orange County city of Santa Ana, puts his six-fight winning streak to the test against the Los Angeles-based Ramirez. While both boxers possess similar records, it is Ramirez that comes in with the stronger resume. He holds losses against two former world title challengers, Jayson Velez and Eric Hunter.
Nevertheless, the 21-year-old Ituarte has looked extremely impressive in his last six wins. He is adept at cutting off the ring, while working his way into power combinations.
"Ramirez is a very capable fighter with solid skills," Ituarte said. "We have to avoid certain situations, but overall we're confident in our game plan."
In other action, lightweight Jose Roman (22-1-1, 15 KOs) of Garden Grove, Calif. looks to extend a winning streak that has swelled to eight. His opponent, Bernardo Gomez (13-6, 9 KOs) of Mexico, has the punching power to give Roman fits. Roman, however, doesn't see an upset happening in the 8-round fight.
"I've seen a lot of styles in my career so I'll be ready for whatever Gomez brings," Roman said. "I'll take the first few rounds to figure him out. After that, I can be more aggressive in what I do."
Lightweight Manuel Mendez (11-1-1, 7 KOs) of Indio, Calif. meets Ricardo Maldonado (6-5) of Seattle in a bout scheduled for 6-rounds. Mendez has come into his own as of late – producing his seven knockout wins in his last 8 starts. Mendez is trained by the well-respected Joel Diaz.
Additionally on the card, welterweight prospect Eridanni Leon (2-2) of Los Angeles will fight an opponent to be named later in a bout scheduled for 4-rounds.
Opening the "Locked n' Loaded" show are bantamweights Rudy Garcia (1-0) of Los Angeles and Damon Simon (0-3-1) of Houston (4-rounds).