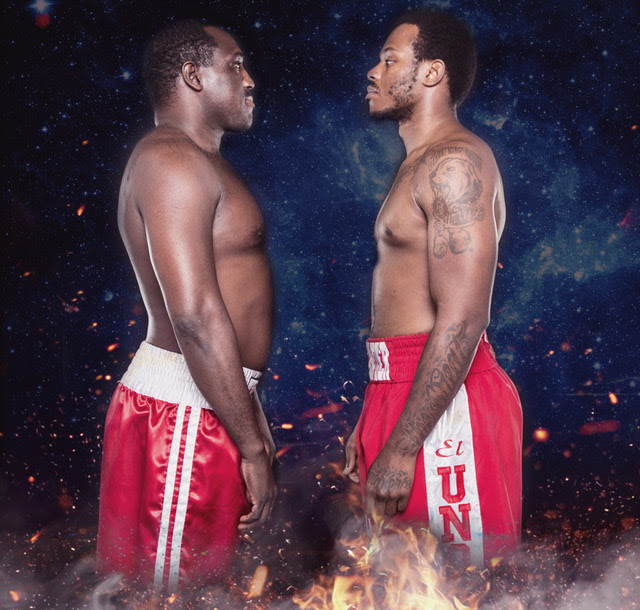 It's official. LaRon Mitchell and Scott Alexander will fight for the vacant NABF Jr. Heavyweight title on Friday, Oct. 21. The "Path to Glory" 10-round title fight originates from the Doubletree Hotel in Ontario, Calif. Recently, Mitchell and Alexander met with members of the boxing media in Southern California. Below are highlights of the discussion.
LARON MITCHELL (14-0, 13 KOs)
"The drive and desire burns inside me. That's my motivation. My whole team has the determination to become a world champion no matter who gets put in front of me."
"The only thing that is on my mind is beating Scott. I can't get caught up with who might be next."
"You guys [media] say Scott's smaller, but I wouldn't want to run into him in a dark alley. He's plenty big. You guys can expect fireworks on October 21. That's all I can say. We're going to bring it."
"If he wants to bang, we can bang. If he wants to box, we can box. I'll be ready for anything.
"He's going to want to take my zero away and I can't let him do that."
"I'm 36-years-young. I know that sounds old, but I'm like a Cadillac with 50,000 miles that has been parked in the garage for much of its life. I have no wear and tear."
SCOTT ALEXANDER (12-1-2, 6 KOs)
"I tip my hat off to Ken Thompson for making this fight happen. I'm looking forward to seeing the best LaRon on October 21.
"Every fight is different, but as a boxer-puncher my job is to adjust. Whatever is working for him, I have to make the adjustment to take that away. LaRon likes to load up on his punches and I think I can exploit that."
"I understand LaRon is a school teacher, but on October 21, I'll be teaching him a lesson."
"Camp is going great. If the fight were today, I would be ready. LaRon hasn't tasted defeat, but I'm going to make sure that he does."
KEN THOMPSON (President of Thompson Boxing Promotions)
"Both LaRon and Scott are world champion material. They're taking a big risk in meeting this early in their careers, but that's what boxing is all about. At some point in your career, you're going to have to take risks to accomplish your goals.
"We've built many champions through the years and this is where the drama starts. Can LaRon continue his winning streak and become a champion? Can Scott grab his signature win and take home a title in the process? We'll have answers to those questions next week. "
HENRY RAMIREZ (trainer to Scott Alexander)
"The heavyweight division is hot right now. This is a fifty-fifty shot with the winner taking that next step toward earning a world title shot. Scott is one of the most disciplined fighters I've worked with. He 's focused. I know LaRon and his team are going to be focused. This is a pick 'em fight."
ANDY NANCE (manager to LaRon Mitchell)
"Not a lot of people know this, but LaRon is a pure athlete. He played tight end in college and is one of the strongest punchers I've ever seen. He had a brief amateur career that finished by being an alternate for the London Olympics in 2012."
"The whole purpose of being in boxing is working toward that world title shot. With a win, we are that much closer in accomplishing that goal. We're going to show what we've been working on for the last three years."
ALEX CAMPONOVO (Matchmaker/GM at Thompson Boxing Promotions)
"We've been watching their development over the years and we felt it was the appropriate time to elevate the level of their competition. Boxing is a lot like a roller coaster in that there are a lot of highs and lows in terms of opponents. You're going to get matched with easier fights at first, but you're also going to be in fights where you have to step up to the challenge and prove yourself, and this is that type of fight."