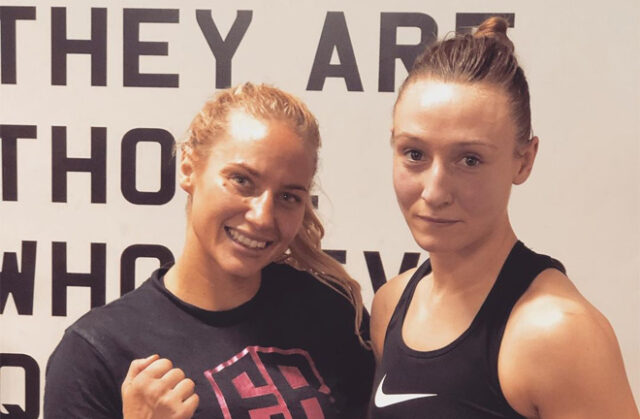 Lauren Parker is hoping to push on to titles after recent sparring with Ebanie Bridges.
Super flyweight prospect, Parker has been sparring with Bridges ahead of her world title tilt against IBF bantamweight champion, Maria Cecilia Roman on Saturday on the undercard of Josh Warrington's rematch with IBF featherweight titlist, Kiko Martinez in Leeds.
The 30-year-old, who is signed to manager Steve Goodwin, admits the pair go toe-to-toe in the gym.
"I've not really seen loads of Roman, but she [Bridges] says that I have very similar qualities," Parker told proboxing-fans.com at Thursday's press conference.
"There will be times in the spar where I'll be boxing and picking Ebanie off, but there will be times where Ebanie uses her come forward, tenacious style and then we're head-to-head and we're working in the pocket, some lovely in-fighting.
"We have filmed the spars, I'm watching them back and even myself I'm like, 'bloody hell, that was good!'
"I would just say very competitive spars, a mix of styles at points throughout the spars and generally I just think [it's] great preparation for her.
"Obviously they've kept revisiting it. It's one of those things, when you've got someone boxing on such a big stage like this, they might want to be mixing the sparring partners, but she's literally kept me throughout the whole camp.
"So, I feel very privileged that she's kept me on board and that I can offer good things to her and help her in preparation for what's to come on Saturday night."
'Lionheart' has just a sole defeat in on her slate in 2019 and has won three on the bounce, picking up her first career stoppage win over Ivanka Ivanova in her last outing in November.
The Stevenage native is set to return in April and admits she would like to win domestic titles, before eventually moving onto the world scene.
"I had one fight back after COVID.
"I've got one coming up at the end of April. I'd like to get a win on that one, obviously get that out the way.
View this post on Instagram
"I want to push the boundaries all the time. So, we have spoken about potentially a Commonwealth title and then once I've got that in the bag then who knows? 
"The world's my oyster and let's go for world titles.
"I do believe personally that I've got what it takes, so yeah I'm prepared to put everything into that to hopefully achieve those dreams."
Watch the full interview with Lauren Parker below: