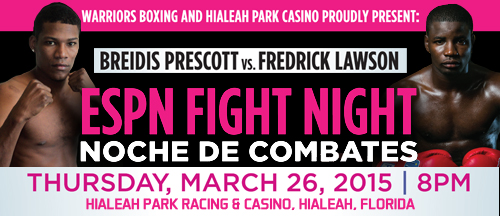 Undefeated up-and-coming welterweight Fredrick "General Okunka" Lawson (23-0, 20 KOs) and veteran Breidis Prescott (27-6, 20 KOs) will headline a special Thursday night edition of ESPN Friday Night Fights on March 26, at 9 p.m. ET from the Hialeah Park Race Track in Hialeah, Fla. This will mark the second consecutive year Friday Night Fights has visited the historic venue. The card is presented by Warriors Boxing.
Main Event:
In his last fight—which was televised on ESPN2—California's Lawson scored a 10-round unanimous decision win over Ray Narh.
"I think Breidis Prescott is a seasoned guy who's going to give Freddie some new looks that maybe Freddie hasn't seen," said Lawson's trainer Abel Sanchez. "This is probably the first major test in Freddie's career – Prescott has some very good experience against some top-level guys. Freddie's going to have to go in against a guy who's on a world-class level."
Colombia's Prescott—whose last fight was also televised on ESPN2—is looking to rebound from a 10-round unanimous decision loss to Roberto Garcia.
"Fredrick Lawson is a great fighter. I was looking at his fights, and the kid is great," said Prescott's manager Lazaro Garcia. "There's nothing bad to say about him. I don't know what his camp is doing, but our camp is working hard, very hard. We studied some of his fights, and we're ready to rock and roll."
Co-Feature:
Thursday's 10-round lightweight co-feature will pit undefeated former junior lightweight titlist Rances "Kid Blast" Barthelemy (21-0, 1 ND, 12 KOs) against Angino Perez (18-6, 16 KOs). In his last fight, Barthelemy—who was born in Cuba and currently resides in Las Vegas—scored a 12-round unanimous decision win over David Saucedo to retain his lightweight title.
Florida's Perez is looking to continue his winning ways following a second-round TKO win over Joselito del Rosario. Barthelemy first won his title in January 2014 on Friday Night Fights' season opener against defending titlist Algenis Mendez. The decision was later changed to a no decision after an appeal from Mendez's promoters. Barthelemy went on to win the title in a July rematch against Mendez. After one successful title defense, Barthelemy decided to vacate his title in February to move up in weight.
Additional Fight:
Friday's show will also include a six-round bout between Light Heavyweights Ahmed Elbiali (10-1, 9 KOs)—who will be making his fourth ESPN appearance—and Mike Stafford (13-2, 3 KOs).