Fight Pick – Santa Cruz vs. Mares Prediction:
On Saturday, August 29th at The Staples Center and televised live on ESPN, Leo Santa Cruz meets the toughest challenge of his career when he takes on the comebacking Abner Mares. The match features two of our top five 126 lb. fighters in the world, as we rank Santa Cruz #3 at featherweight, and Mares at #5.
Mares will be looking to regain his status at the top of the sport, while Santa Cruz will be seeking to finally legitimize his own place after largely facing mediocre to terrible opposition thus far in his career. Here's a look at Santa Cruz vs. Mares and what you can expect.
Meet the Fighters
[tabs type="horizontal"][tabs_head][tab_title]Leo Santa Cruz[/tab_title][tab_title]Abner Mares[/tab_title][/tabs_head][tab]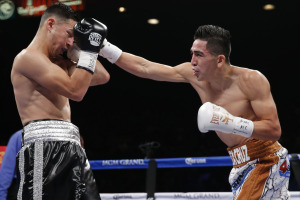 Record: 30-0-1, 17 KOs
Height: 5′ 7.5″
Reach: 69″
Best wins: KO3 Victor Terrazas, UD Cesar Seda, UD Vusi Malinga
[/tab][tab]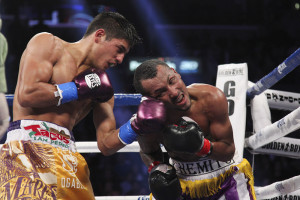 Record: 29-1-1, 15 KOs
Height: 5′ 4.5″
Reach: 66″
Best wins: UD Anselmo Moreno, TKO9 Daniel Ponce de Leon, SD Vic Darchinyan, UD & MD Joseph Agbeko
[/tab][/tabs]
Santa Cruz vs. Mares Betting Odds
Leo Santa Cruz: -210
Abner Mares + 170
Sign up for Bovada today & get a 50% deposit bonus
Santa Cruz vs. Mares Preview
As I've repeatedly said over the past several years, there's no other fighter in the sport right now who gets as much exposure for doing as little as Santa Cruz. He has been matched time and time again with no-hoper opponents. A few have had big names, but were years and weight classes removed from being legitimate threats. Others were absolute unknowns.
The big question for this fight is whether or not Mares falls into the former category — being years and weight classes removed from being a legitimate threat. I disagree with that notion. Certainly, it's been quite awhile since we've seen the Mares who skyrocketed to be an undefeated, top 10 pound for pound fighter. His last great showing was his kayo of Daniel Ponce de Leon in May 2013, now over two years ago.
However, while Santa Cruz was shoved down our throats fighting nobody of note, Mares went on one of the most daunting stretches of opposition of any fighter in the game during that period. He took a huge leap up in class to enter the bantamweight tournament, and went on to fight Yohnny Perez, Vic Darchinyan and Joseph Agbeko, twice, before moving up to meet Anselmo Moreno and then moving up again to tackle Daniel Ponce de Leon, spanning three weight divisions and emerging 5-0-1 against those names.
Then came the stunning 1st round knockout loss to Jhonny Gonzalez. Next he was out of action for nearly a year, and since, has fought three times and failed to completely recapture his old form. That brings us to where we are today.
Santa Cruz vs. Mares Prediction
Santa Cruz's career has been badly mishandled. He's been hyped up and has enjoyed main event status and television exposure without coming up the hard way. Boxers need to be challenged, especially as they're progressing.
Hard fights teach tough lessons that provide the fighter with the tools they need to survive when they are at that top rung. I don't believe Santa Cruz has ever garnered those lessons and tools. Mares has them in spades.
While he hasn't been at his best as of late, I believe the time off and lighter schedule has allowed his body and mind to heal after that rigorous stretch. He's still only 29 years old, and although facing a taller, lengthier opponent, he's by far the more seasoned fighter. It's time for all of those lessons to pay off. I smell an upset here.
Mares will make this a rough, ugly fight. He'll slip inside and under Santa Cruz's shots, or take one or two on the way in, in order to work the body and muscle up Santa Cruz. Santa Cruz, entirely unprepared to not have things go his way, will eventually fade. If he moves backwards, he's doing something he has no taste for and no experience with, and by coming forward or staying put, he'll be fighting Mares's fight.
Mares will hurt Santa Cruz to the body and then continue to break him down, eventually forcing the referee or corner to stop the fight.
Prediction: Mares by TKO8