Froch vs. Kessler II Results & Round by Round Coverage:
It's a rematch years in the making, dating back to their thrilling encounter in the Super Six Tournament. Now, on Saturday, May 25, it's finally time for Mikkel Kessler vs. Carl Froch II, one of the most eagerly anticipated bouts of the year. Will Froch be able to settle the score? Will Kessler prove the critics wrong, and pull out another tough victory? Will either man land a rematch against Andre Ward?
Right here, you'll be able to follow along with our live Kessler vs. Froch results and round by round blog. Dive in and take a look!
Kessler vs. Froch II Scorecard & Results
| | | | | | | | | | | | | | |
| --- | --- | --- | --- | --- | --- | --- | --- | --- | --- | --- | --- | --- | --- |
| Round | 1 | 2 | 3 | 4 | 5 | 6 | 7 | 8 | 9 | 10 | 11 | 12 | Total |
| Carl Froch | 10 | 10 | 10 | 9 | 9 | 9 | 10 | 10 | 10 | 10 | 9 | 10 | 116 |
| Mikkel Kessler | 9 | 9 | 9 | 10 | 10 | 10 | 9 | 9 | 10 | 9 | 10 | 9 | 113 |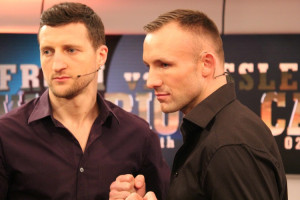 Froch vs. Kessler Round by Round Results
Crowd is effervescent at the O2 Arena. Froch comes to the ring first to the strains of "Welcome to the Jungle." He looks customarily confident and intense. Ring walk seem ill-timed and awkward, with Froch being lowered on a scaffold and entering ring without his team. Kessler then enters the ring in standard fashion. Gotta say, he looks intense, but affected–a little worrisome. Anthems and intros to be made and we'll be off and running.
Rd 1: Froch opens with an active jab. Crowd already roaring. Nice hook by Kessler. Action in the middle of the ring, with both poking jabs. Kessler eating more jabs, but he's calm and defending well. Froch opens up in last 20 seconds. Big shots by Kessler at end of round.
Rd 2: Kessler is looking good when he lets his hands go. His shots at the moment are resonating more, though he's throwing less. Froch's jab looks good tonight. Nice combo by Froch rattles Kessler and "the Cobra" is now dishing it out. Some nice rights and hooks by Froch.
Rd 3: Both men trying to jab now. Both men also trying to unleash combos also. Froch's jab giving him an edge against the more sporadic Kessler attacks. Kessler getting in nice zingers occasionally. Nice body shot by Kessler. Good bodyshots by Froch. Kessler looking marked up, with a bloody nose.
Rd 4: Froch outworking Kessler badly. He's throwing almost 3 times as many punches through 3 rounds. Nice hook by Kessler. Froch jabs away. Kessler again with the hook, looking good when he lets the shots go. Froch a little more off-key in this round, with Kessler using some deft movement. Hard to the body goes Kessler, who is having a better round.
Rd 5: Kessler takes some jabs then lands a long flashy hook upstairs. Kessler picking up steam. Frock trying to squash the rally, but he's been less busy, as a result of Kessler's sharpshooting. Kessler opens up and lands a big right–best punch of the fight. Froch seeks retribution and answers back with a higher workrate, but Kesler's single shots are more resounding. Froch opens up in the last 30 seconds. Close round.
Rd 6: Nice combo to open 6th by Froch. Huge right for Kessler! Froch visibly bothered by that one. Froch sticking with the jab. But Kessler's jab has been solid and is finding its mark more with each passing round. Kessler opening up, but is zinged by a right by Froch. Kessler really winging the shots now with big rights and hooks thrown at different angles. Not a barnburner, but a spellbinding fight.
Rd 7: Froch lands nicely to open the second half of the fight. It's just that Froch is throwing lighter flurries, whereas Kessler is landing hurtful punches thrown in 2's and 3's. Kessler's jab is hurtful. Kessler lands a nice right-hook. Froch answers with a right that Kessler felt. Slower round. Froch a bit more active. Froch right snaps Kessler's head. A combo gets a wobble from Kessler as the two exchange wildly to end the round. Great final minute.
Rd 8: Froch lands big with hook. Right by Kessler. Both looking to do damage. Froch opens up and smacks Kessler around before the Dane responds with a nice hook. Kessler lands big hook, but he gets strafed with the Froch combos. Right hand now finding its mark for Froch. Kessler gets head snapped back several times. Kessler with a right! Whoa. Now we're talking. Froch winging like a madman. Center of the ring exchanging at its finest! Great round.
Rd 9: Froch taking over but Kessler still in the fight and landing huge shots. What a chin on Froch, to not so much as even dip a knee after some of these shots. Lot of rabbit punches over the course of the fight by Froch, which is unfortunate. Nice combo by Kessler in a tamer first half of the round. Nice hook by Froch finishes a heated exchange. Kessler still winging big-right hand-left hook combos. Both exchange rights, with Kessler's being better. Froch still much more active. Problem for Kessler is that Froch doesn't react when he gets hit. Kessler is showing more affect when he takes a big shot and of course, the crowd is chipping in. Close, close round.
Rd 10: As usual, Froch is more active, even if the overall damage done is somewhat even. Froch better with jab, but Kessler lands some nice hooks. No reaction from Froch, which is amazing. He gets back to the stick. Kessler goes to the body, one area where he has been significantly better.Jabs and rights by Froch. Kessler clips him with a right. More clear round for Froch.
Rd 11: Kessler seems to be fading out with each passing moment. Froch a lot snappier at this point. Kessler, having landed his best mat be discouraged. But the old lion is still trying and wins the first half of the round. Both land hard shots. Again, Froch is taking huge shots and not showing a batted eyelash. On top of that, he's more active and the crowd punctuated every shot. Kessler starts pouring it on! Froch is cut! Kessler strafes Froch with shots and suddenly Froch is buckled. Froch answers and seems clear at the bell, but a big Kessler round.
Rd 12: Froch more active to open final round. It's been a hard-fought match. Each man is brave to still even be standing after the punishment that has been dished out. Round still up for grabs in final minute. Nice right by Froch. Hook by Kessler. Froch pours it on with 45 seconds left. Kessler a bit wobbly. Great final 30 seconds and a great round to Froch, who wins it 116-113 on my card. Very good fight. Decision to come.
Jean Francois Toupin scores it 115-113, Adalaide Byrd has it 118-110, and Carlos Sucre scores 116-112 for the winner by unanimous decision–Carl Froch!!!
In many ways, it was a more punishing fight than their first, though slightly less-competitive. For Froch, he avenges his first defeat and now may be in a line to reverse his only other loss–to supreme 168-pounder Andre Ward. With both of these combatants in their mid-thirties, it remains to be seen if this war will affect their long-term plans. It was that kind of fight. Nevertheless, it was a pleasure to watch and both men should see their status bolstered from this showing. For Kessler, however, it may mark the end of the road. Such is the unforgiving nature of this sport.
—-
Be sure to check back with us later in the weekend for more post-fight analysis and aftermath, and thanks for checking out our live round by round Kessler vs. Froch II results!