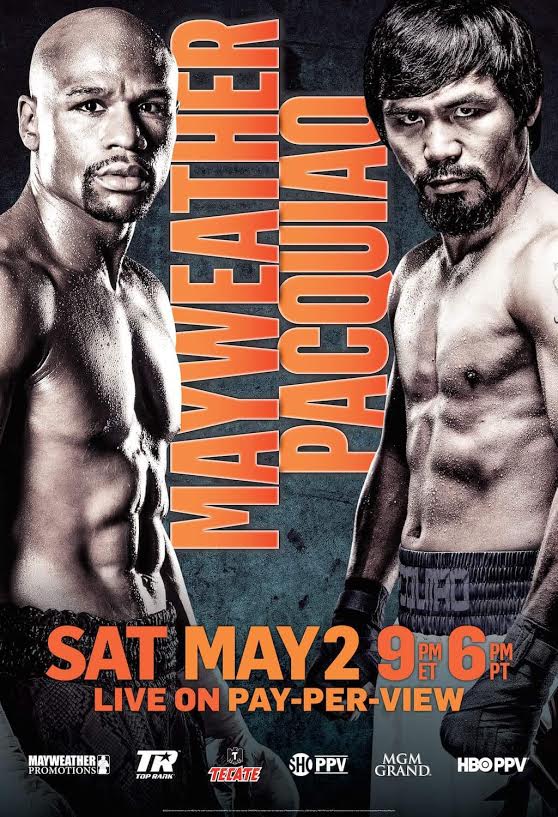 Follow Along with our Live Floyd Mayweather vs. Manny Pacquiao Results & Round by Round Blog
After months of endless hype, buzz and news, and years of waiting and hoping, tonight is finally the night. Floyd "Money" Mayweather and Manny "Pacman" Pacquiao will square off live from the MGM Grand in Las Vegas, Nevada, headlining a joint HBO and Showtime pay-per-view event. And no matter where you are, unless you're in the arena, then ProBoxing-Fans.com is the place to be, with our live, continuously updated Mayweather vs. Pacquiao results blog and PPV coverage.[box type="info" ]
–> Continue to our live Mayweather vs. Pacquiao round by round results
[/box]
Fight fans have been waiting for half a decade or longer to see this one. And some of the luster may have been removed, but it's certainly still going to be the most lucrative fight of all-time. All of the debates and back and forth can finally, thankfully stop – who would win? Let's find out!
Mayweather will look to control the fight with his all-around skill, his ring intelligence, his defensive wizardry and his counter-punching. Pacquiao will look to damage and potentially hurt Mayweather, while using his fast-paced, all-angles offense and high work rate to get Mayweather into a shell while piling up points and taking the fight out of him.
It may be impossible for the fight to actually live up to its billing and its magnitude. The styles and the stakes, not to mention the ages of each man, may all lead towards a more tactical and controlled affair. That's particularly true if Mayweather is in control, of course. Yet, the intensity of the fight should certainly be there, and hopefully that delivers on its promise.
One way or another, we'll know who finally gets his hand raised, and who can always say that he defeated the other. It's a fight you won't want to miss out on, and you certainly don't want to find out too late, or after the news has already broke.
Mayweather vs. Pacquiao Fight Time
The pay-per-view event begins at 9pm Eastern. There are three undercard fights on the docket before the main event. Although none of them are big fights, we'll have to sit and wait through 'em anyway. In addition, it seems like they'll draw out the night of anticipation and build up even longer than usual. I wouldn't expect the actual Mayweather vs. Pacquiao fight time to be until midnight.
But there's no reason to wait until then to begin following along with our all night updates and coverage. So pop on over to our blog to check out the live Mawyeather vs. Pacquiao results!
Comments
comments