In what we hoped to be one of the best technical fights in boxing's history turned out not to live up to the build. In the first ever meeting between boxers who are both two-time Olympic gold medal winners, WBO super featherweight champion Vasyl Lomachenko (10-1, 8 KOs) made Guillermo Rigondeaux (17-1, 11 KOs) quit after six rounds of one-sided action.
The fight began as a high tense chess match in the first round. Lomachenko who looked a lot bigger than Rigondeaux, looked to be the aggressor but nothing significant was landed through the first two rounds.
Rigondeaux was visibly frustrated in the fight, as he continued to hold and was allowing Lomachenko to outwork him in the third and fourth rounds of the contest. He began to use dirty tactics via holding and hitting, low blows and shots behind the head.
Lomachenko was heavily backed by boxing betting 2018 fans and he was still outworking him in the 6th round but he wasn't landing too many damaging shots on the Cuban boxer. The referee had enough in the sixth round, finally taking away a point from Rigondeaux for excessive holding, as Lomachenko was still outworking him.
Before the start of the seventh round, Rigondeaux did not want to fight any further and the fight was stopped via TKO. While Rigo didn't land more than three punches a round the entire fight and was ultimately outlanded 55-15, he proclaimed to have injured his hand at some point of the fight which resulted in him not continuing.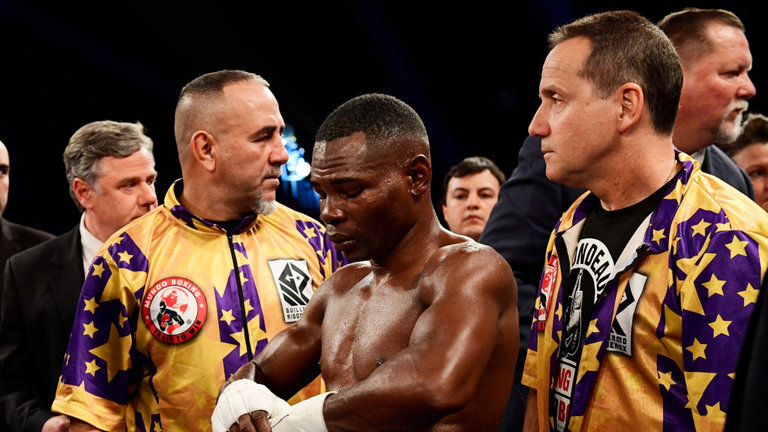 For me no matter how you slice it, the size, the speed, the footwork, the explosion, the angles and the man known as Hi Tech made a 2x Olympic Gold Medalist, undefeated fighter quit on his stool. Rigondeaux didn't land an impactful punch to have injured his hand, with 11 KOs off 17 wins, he was forced to fight bending down and sucking all night. He was outclassed at the highest of levels.
After the fight Lomachenko joked that now with 4 straight fighters quitting against him he should change his name to "Nomaschenko". I agree fully, because as a fighter you're job is to fight, the old saying goes there is always a punchers chance. Rigondeaux didn't give us what we expect from a fighter, especially a former champion and gold medalist.
Lomachenko is a rare fighter, and is always a a thrill to watch. Not only to watch his offensive skills, along with his defensive techniques but his ability to force fighters to be left on stools with no answers, with the only conclusion is to say "no mas".