Following the first leg of the World Series of Boxing quarterfinal when Ukraine Otamans inflicted a tough 5-0 on Azerbaijan Baku Fires in Kyiv, the whole boxing word is in a fever of expectation for the second leg in Baku. A major reason of excitement stands in the presence of two-time Olympic Champion and two-time AIBA World Champion, 25-year-old Otamans Vasyl Lomachenko and Azerbaijan Baku Fires' top boxer, AIBA World Champion in Chicago, Albert Selimov.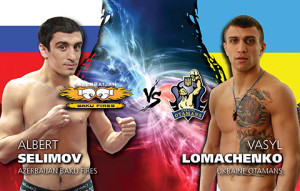 The Ukrainian supremo Lomachenko and the highest ranked Lightweight (57-61kg) Selimov have just met twice in their career, but their confrontations are since in the legend of the sport. Lomachenko is unbeaten since 2007, with the exception of against Selimov, who smudged this perfect pathway defeating the Ukrainian idol in a narrow final at the AIBA World Boxing Championships Chicago 2007. Since then, Lomachenko was dreaming of revenge. That happened a year later when the Ukrainian eliminated Selimov in the first preliminary round of the Beijing 2008 Olympic Games before winning the gold medal and the best boxer trophy.
Since Beijing, the two stars have not met in any international competition. WSB made this third battle real and the eternal rivals are now offered the chance to show their talent.
"I can't wait for the weigh-in when I will look into his eyes, confessed Lomachenko. I am also impatient about this fight, as it will finally dissolve all remaining doubts about who the best boxer is".
Southpaw Lomachenko has competed in more than 300 contests throughout his amazing career. So far he won all of his three WSB fights thanks to his insolvable style. He seems to have all skills to make Selimov's job in Baku an impossible mission. The Ukrainian hero has a great advantage with his extremely quick footwork that gives him enough time to land his powerful punches.
His Russian rival was born in Dagestan in 1986 and won the 2006 European Boxing Championships in Plovdiv, Bulgaria as his first major competition. The Lightweight star signed for Azerbaijan Baku Fires at the start of this WSB Season III. He already won four contests (no losses) in the group stage. Selimov is famous for his heavy blows but he might need to be at 120% to beat Lomachenko in their anticipated battle.
This fight will also be decisive since the Otamans overwhelmed their Azeri counterparts to win the first leg 5:0. Therefore Selimov's victory over Lomachenko is mandatory.
Kazakhstan's must win home line-up against Argentina
Who will be the first team to reach the World Series of Boxing semifinals? The answer will be given this Friday, March 29, in Almaty where Astana Arlans Kazakhstan will host the Argentina Condors. Closely but defeated anyway in Buenos Aires last Sunday, the Kazakhs have named an impressively strong line-up to make sure they overcome the Argentinean obstacle.
Still unbeaten this season, Bantamweight (50-54kg) Bagdad Alimbekov will first have to face a tough rival in the shape of Ignacio Perrin. The 24-year-old Arlans southpaw, a WSB boxer since 2010, is well-known for his quick footwork and heavy punches. No matter if his opponent lost to Russian Albert Selimov and Mexican Elias Emigdio earlier in the group stage, every boxing fan remembers how he defeated another hard-hitter from Russia, Mukhammad Shekhov.
Inaugural season's Individual Champion, Yerzhan Mussafirov will be the host Lightweight (57-61kg) of the evening, facing newcomer Brian Ivan Nuñez. Since his World title in 2011, the Kazakh orthodox fighter has had some difficulties in the league. However this season, he has won his two home outings, for two close defeats away. It will surely be an emotional start in WSB for 19-year-old Nuñez.
Best Israeli boxer, Middleweight (68-73kg) Konstantin Snigur has won all of his three home contests so far. Therefore he might be in a good position to continue his winning path against the inexperienced Henrri David Polanco. The Dominican orthodox has lost both of his WSB contests to date. In order to surpass Snigur's aggressive style, Polanco will have no other choice than taking advantage of his longer arms and keep the distance.
The Light Heavyweight (80-85kg) battle will put together one of the Astana Arlans Kazakhstan's best boxer, Ehsan Rouzbahani and Condors Facundo Nahuel Simal, who came back this season from a 11-0 professional career. We do expect an exciting fight here as southpaw Rouzbahani won his last three contests in WSB to prove his world-class skills. The Iranian had also reached the quarter-finals at the London 2012 Olympic Games.
Last but not least, Roman Kapitonenko will seek a first WSB success at Heavyweight (91+kg) against Angel Daniel Villalba. Kapitonenko's international experience speaks for himself. But he was unlucky to start his WSB career with a loss to experienced Hungarian Istvan Bernath. Villalba is actually in the same situation, having lost to Chouaib Bouloudinats in his sole WSB bout.
In case Astana Arlans Kazakhstan was to win 3-2 at the Almaty Towers Business Center this Friday, the match would be decided at Middleweight (68-73kg) with Miras Bairkhanov facing Juan Jose Velasco.