As reported yesterday professional female boxers Marianne 'Golden Girl' Marston and Angel 'The Artist' McKenzie, along with dozens of WinkBall.com citizen reporters, descended on Carnaby Street in the heart of London on a mission to raise awareness that Women's Boxing will be included in the Olympics for the first time in 2012.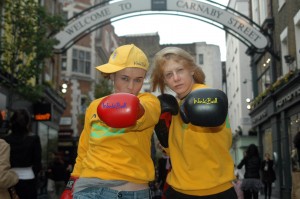 During the two hour flash raid on fashionable Soho Marianne and Angel demonstrated their boxing skills as the WinkBall.com citizen reporters undertook video interviews with the gathering crowd and passers by.
In all there were 385 video interviews, the overwhelming majority firmly in favour of Women's Boxing and it's inclusion as an Olympic sport.
Many of those interviewed echoed the total support of Leyla who firmly stated, "I think it's a good thing that women are boxing in the Olympics. I think it's fair that women have the right to participate in the same sports as men"
Others, such as Thane, showed their conditional support by saying, "They should be allowed to, equal opportunities and stuff. As long as they wear the correct padding I'm sure they will be fine."
In a similar vein Danny stated, "With the right safety procedures in place there is absolutely nothing wrong with it at all. It encourages healthy lifestyle, good competition, dedication and I think not having Women's boxing there would be sexually prejudiced. What are the differences in risks to male and female competitors, is it just that some people think it's unlady like. But I'm all for it. "
Most of those interviewed  responded in similar fashion to Simon who said, "That's fine, I have no problem with it all. I think women should participate in boxing if they want, let them go for it." and when asked if he felt it would inspire other women to take up the sport Simon replied, "I think it will. Watching other women standing up for what they want to do."
Whilst the overwhelming majority clearly supported Women's Boxing there were one or two that didn't, such as Lucy who said "Female boxing is clearly ridiculous, it's a man's sport".
Marianne, who fights Lana Cooper on December 4th at York Hall in Bethnal Green, London, responded to the interviews by saying, "I have watched around two hundred or so of the interviews on Winkball.com and it is wonderful to know that so many people are supportive of Women's Boxing.
I think this Winkball.com initiative will open a few people's eyes to a sport that until now has barely received any exposure. I also hope it will encourage people to watch the England squad at the GB Amateur Boxing Championship on BBC TV next weekend so they can see our future champions in action ahead of the 2012 London Olympics." before cheekily adding a little self promotion by saying, "Or come and watch me fight at York Hall on the 4th December."
All 385 video interviews are now available to view at www.winkball.com
Angel 'The Artist' McKenzie (Left) & Marianne 'Golden Girl' Marston (Right)