Fight fans will finally get to see more action from the red-hot super lightweight division on when Argentine Lucas Matthysse, ranked #7 by Proboxing-fans, dukes it out with seasoned former lightweight champion Humberto Soto. Soto is coming up from 135 lbs and has yet to fight a name opponent in his new division, while Matthysse has been on the short end of a pair of close, questionable decisions, so a lot is at stake for both men. The winner of this fight – which now is appearing as the co-feature to Victor Ortiz vs. Josesito Lopez – can expect a good performance to translate into a consolidated place in the division and a big fight opportunity, while the loser might be relegated to fringe contender status.
Lucas Matthysse (30-2, 28 KOs)
5'9″ tall, 69″ reach, 29 years old
Argentine
If Lucas Matthysse is established as anything at 140 lbs, it is as the division's hard luck contender. The man is a rugged, skillful puncher, and many thought he deserved the nod in his fights with Zab Judah and Devon Alexander, but the Argentine got only Split Decision losses for his troubles in both fights. In the former instance, Judah's promotional pull and greater reputation probably pushed him over the top; the fight with Alexander was in the American's backyard in the St. Louis suburbs. Hopefully, this outing sees Matthysse on a more level playing field.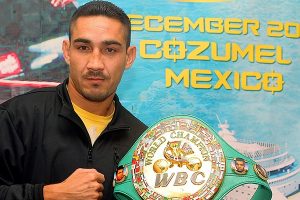 Humberto Soto (57-7-2, 34 KOs)
5'7 1/2″ tall, 72″ reach, 31 years old
Mexican
Former Featherweight, Super Featherweight and Lightweight Champion
"The Crafty Little Fox" is a better fighter than his record might suggest. Most of those losses were in the early stages of Soto's career, now a decade past, but in recent memory he dropped a 2007 decision to Joan Guzman in a 130 lbs title challenge, and a year later he was disqualified in a second bit at a 130 lbs title. Looking at it from a practical point of view, Soto has only been beaten once in the last 10 years.
In some ways, Soto's move to 140 lbs follows in the footsteps of Erik Morales. That bodes well for Soto, who was beating solid lightweights only a couple of years ago. Morales, after all, is now getting by on the basis of his chin and his boxing prowess, and Humberto Soto is a lot slicker than Morales. Soto also has a prodigious work-rate.
Matthysse vs. Soto Analysis and Preview
I think moving up to 140 and fighting a puncher like Matthysse is a bridge too far for Soto. For one thing, the Crafty Little Fox is a skinny character and will definitely be the smaller man in the ring, despite his commanding reach advantage. Even at lightweight, physically-oriented opponents such as Urbano Antillon and David Diaz were able to wear him down, even though Soto prevailed in all three encounters. This is the first time in his career that Soto has been decidedly the smaller man in a fight. On that basis alone, the odds shift to the bigger, stronger, and slightly younger Argentine.
Making matters worse for Soto is the fact that the Maidana vs. Morales analogy doesn't hold up for him here. If Soto is slicker than Morales, he also isn't as durable. If Matthysse isn't the monstrous puncher that Maidana is, he still packs dynamite in his fists and is a more rounded boxer-puncher to boot.

Yet Lucas Matthysse has sometimes been slow to let his hands go. If the Argentine had fought Zab Judah in the early rounds the way he did in the late rounds, he probably would have knocked Judah out. If that happens here, Soto will move into the vacuum and bag rounds on the basis of speedy, volume punching.
What Matthysse needs to do is move in and mix it up smartly, pressing on Soto until he weakens and crumbles. If he goes forward and keeps up the pressure, round after round, Soto is in for a fall. Given what is at stake for Matthysse at this point, I don't see him futzing away more than a couple of rounds at the beginning of the fight.
Prediction: Lucas Matthysse TKO10 Humberto Soto