InterBox and Lucian Bute (31-2, 24 KOs) are proud to announce that the Romania native will now be continuing his career under trainer Freddie Roach and his team.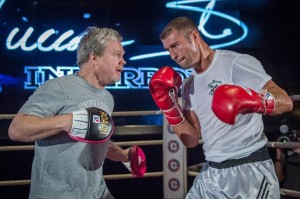 A few weeks ago, while Lucian was visiting California, the famous trainer got to see him in action. Impressed by what he saw, and being confident in Bute's abilities, the alliance between Freddie Roach and Bute naturally came to fruition.
"It's an honor for me to benefit from the advice of a renowned trainer. I have the intention to give everything I have to come back strong in the ring for my fans and the boxing supporters," said Lucian Bute.
For InterBox president, Jean Bédard, Bute's arrival on the team of Freddie Roach represents a new step. "Knowing that after a few months of research, the answers were positives for Lucian, and with all the talent that we know he has, Roach seems like the man of the situation," said Bedard.  "I am more than enthusiastic when I look at his future. He still has excellent years in front of him and it's the occasion for him to take a new burst."
More determined than ever, Lucian Bute will join Manny Pacquiao's training camp in the Philippines. This training camp is held for Pacquiao's November 22th bout vs Chris Algieri in Macau. The goal is to continue working on his technique and also continuing his own preparation for his return scheduled in the next few months. Bute's next fight is set for Saturday, December 6th, at the Bell Centre.