Boxing was busy across the globe on Saturday night, with noteworthy cards taking place in Germany, Canada, Japan, and the United States. The two big-name fighters in action were Lucian Bute, against Denis Grachev at the Bell Centre in Montreal, and Marco Huck, going for his 10th cruiserweight title defense against Firat Arslan, in Halle/Westphalia. Both Bute and Huck scored Unanimous Decision victories to get the wins they were seeking, although the outcomes weren't quite equal, as many feel that Huck had some controversially favorable scoring.
Here's a roundup of the complete weekend of boxing results, also including a slew of other fighters in action, such as Shinsuke Yamanaka, Vitaliy Demyanenko and Allan Green.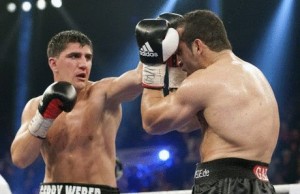 Huck vs. Arslan Results
Marco Huck defeated Firat Arslan by scores of 115-113, 115-113 and 117-111 to retain his WBO cruiserweight title and successfully make his 10th defense of that strap. Huck improves to 35 (25) – 2 – 1 with the victory, and Arslan, potentially heading to retirement, now stands at 32 (21) – 6 – 2.
While the champion closed the show as the stronger, busier and more aggressive fighter, it was Arslan who controlled much of the action throughout the bout, including from the early rounds. Arslan apparently won over the crowd too, as the decision was met with a chorus of boos, and outcry from Arslan's camp of robbery.
Also in Germany…
Undefeated heavyweight Edmund Gerber scored a unanimous decision over former cruiserweight contender Darnell Wilson, winning easily against the outmatched and outsized Ding-A-Ling Man.
Undefeated light heavyweight Dustin Dirks took home a wide 12-round unanimous decision to pick up a regional WBA title strap.
Bute vs. Grachev Results

Lucian Bute got back in the W column on Saturday evening, defeating the tough, hard-nosed Denis Grachev by scores of 115-113, 116-112 and 118-110. Bute was the clear winner of the fight, but the 8 point margin on the final scorecards was certainly far too wide. Bute, at times, had trouble avoiding Grachev's shots, and allowed him to get off first in order to seek big punch countershot opportunities.
Still, Bute's clearly superior skill and craft shone through, despite needing to deal with some cuts along the way. Bute improves to 31 (24) – 1, and the lightly experienced and still raw Grachev falls to 12 (8) – 1 – 1. Bute will not seek out his rematch with Carl Froch, this time in his own backyard of Montreal, in 2013.
Also in Montreal…
The overweight Allan Green used his size advantage to get the best of Renan St-Juste, with the fight being waved off after the 7th round…
Sebastien Gauthier was upset by Rodrigo Guerrero, getting stopped in the 8th round of their bantamweight fight…
The undefaeted Mikael Zewski kept on cruising, improving his record to 17 (13) – 0, with a sensational 1st round over (not Julio) Cesar Chavez.
Elsewhere across the globe…
Undefeated Japanese bantamweight titleholder Shinsuke Yamanaka successfully defended his WBC belt, stopping Tomas Rojas in the 7th round of their fight. Particularly with all of the defections of fighters up to 122 lbs, Yamanaka looks more and more like one of the top dogs at bantamweight.
In Anaheim, prospects Jamie Kavanagh and Frankie Gomez remained unbeaten, Gomez getting a stoppage victory to improve to 13 (10) – 0, and Kavanagh winning a decision to move to 12 (5) – 0 – 1.
At the Humble Civic Center in Texas, Fernando Guerrero scored a dominant TKO over J.C. Candelo to improve to 25 (19) – 1, and get his fourth straight win after suffering a setback to Grady Brewer in June 2011. Also on the undercard, undefeated J'Leon Love got a stoppage victory to improve to 14 (8) – 0.
At the Emerald Queen Casino in Tacoma, Washington, undefeated Vitaliy Demyanenko escaped with a split decision verdict against Damian Frias to retain his unblemished record, now standing at 22 (12) – 0.