As expected, Lucian Bute dominated Jesse Brinkley en route to his sixth successful title defense. Bute stopped him with his signature uppercut in round 9, after previously putting him down in the fifth with an uppercut to the body, which Brinkley was barely able to survive.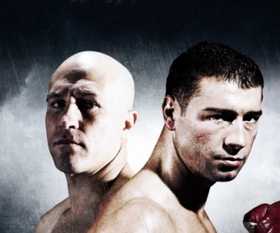 Bute improves to 27-0 with 22 knockouts, and Brinkley falls to 35-6 with 22 KOs. Besides expecting a win for Bute, you would also have had to expect an all-effort performance from Brinkley.
He didn't disappoint, constantly working his game and trying to find openings. Bute just had too much size, speed and skill, and when he had his own openings, he took advantage of them, much to the delight of the over 11,000 in attendance in Montreal.
With the near-collapse of the Super Six performance, another successful outing for Bute furthers his credit as perhaps the top man in the division. However, he needs to await the end of that tournament until he has a chance to prove it against those big names.
In earlier action, Adrian Diaconu had to survive an early knockdown and scare against veteran challenger Omar Sheika to win a unanimous decision. Diaconu improves to 27-2 with 15 KOs, both losses at the hands of light heavyweight champion Jean Pascal. Sheika drops to 30-10 with 21 KOs.