Next Saturday, May 31, top-rated super bantamweight contender Luis "Orlandito" Del Valle (18-1, 13KO's) will look to take a major step toward repositioning himself back among the elite of the 122lb. division when he faces highly regarded undefeated prospect Luis Rosa (16-0, 7KO's).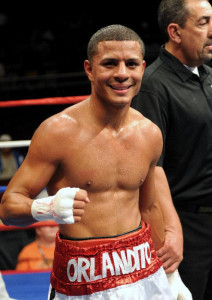 The bout on May 31 will be the second on the HBO network for the talented Puerto Rican Del Valle, and the WBC #5-rated contender is hoping for a better outcome than he had for his debut.
In 2012, Del Valle, a former amateur standout and national champion, was as hot a prospect as any in boxing. Having been featured on Dan Rafael's ESPN.com's 2011 "Prospects to Watch" list, a world title shot seemed imminent for Del Valle. With the national exposure he gained from two impressive performances on the Showtime network, Del Valle was looking to have his coming-out party when he took on former three-time and two-division world champion Vic Darchinyan in September 2012 on HBO.
Unfortunately, Del Valle was handed his first professional loss, in a grueling 10-round slugfest.
Del Valle got his career back on track following the loss to Darchinyan picking up two TKO victories in 2013. He was back in action in January of this year, but his bout against Ira Terry was stopped in the second round due to an accidental head butt.
Del Valle, who just recently became a father, is now ready to show the world that he truly is one of the best 122lb. fighters out there and is beaming with confidence ahead of his upcoming clash with the unbeaten Rosa.
"This training camp has been absolutely great. We are basically already on weight and I am feeling very strong both physically and mentally. If the fight was tomorrow, we would be ready to go," said Del Valle.
Del Valle understands that this is a do-or-die fight at this point in his career, but he is as confident as ever going into the matchup.
"I have never felt pressure to perform going into a fight because this is what I was born to do. Every time I step into that ring, it is do-or-die, so this fight is no different from any of my others. I am ready to go, I just hope that Rosa is too."
Regarding Rosa, Del Valle sees nothing that worries him going into the bout.
"Like I said, this is what I was born to do. I have been doing this for a very long time, between both my amateur and professional career. I have fought on the big stage before. I expect him to come in 100% and give it his all because after I win, I don't want to hear any excuses from him or his camp, discrediting me or my victory. Whatever he plans on doing on May 31, I will be ready. He said that his performance is going to steal the show that night. The only thing that is being stolen is his '0' by me and he knows it."
Del Valle continued, "After I get this win, we are going after all of the big names in the 122lb. division. I am ranked fifth in the world and after this fight, I should move up even further in the rankings and be ready to take on any of the champions in the super bantamweight division. I am winning no matter what on May 31 and Luis Rosa and his team know it."
Rosa-Del Valle is scheduled for 10 rounds and will be the co-featured bout on that evening's HBO Latino telecast. The bout will take place at the beautiful newly renovated Tropicana Resort in Las Vegas, NV. In addition to the HBO Latino telecast, which is being headlined by former world champion Javier Fortuna (24-0-1, 18KO's) taking on Juan Antonio Rodriguez (26-4, 23KO's), the HBO2 service will air the doubleheader with English language commentary at 12 midnight (ET/PT).