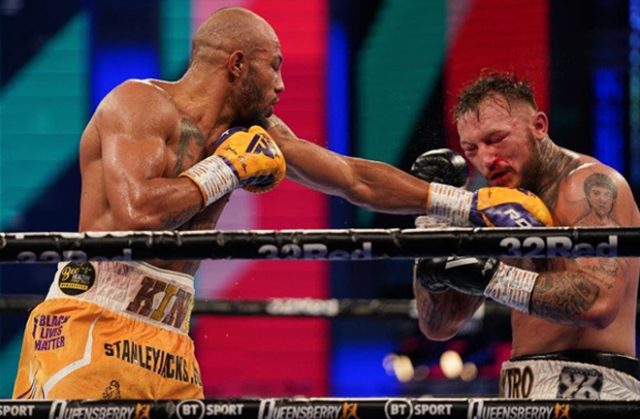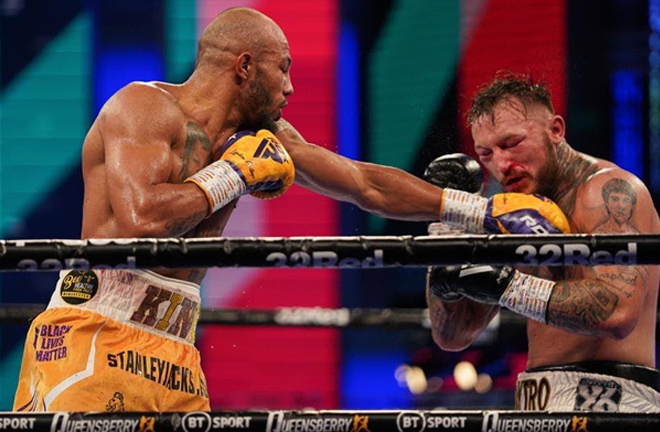 Lyndon Arthur kept on course for an autumn showdown with Anthony Yarde, retaining his Commonwealth Light-Heavyweight belt against Dec Spelman at BT Sport Studios on Friday.
'King' Arthur (17-0, 12 KOs) began proceedings off a smart jab, with the challenger trying his best to wing in shots in the opener and staying busy on the front foot.
It was cat and mouse stuff early on, with Arthur popping the jab and Spelman (16-4, 8 KOs) attacking in bursts, but having to chase Arthur to do so.
The Mancunian's ramrod jab was already having an effect though, swelling his foe's eye as early as the second round regularly finding a home.
"Kid Nytro" did manage to gain some success in the third, as he pinned the champion to the ropes to unload some shots, however Arthur was nice and relaxed, and boxing well.
By round six, Arthur was confident enough to showboat and the former English champion, Spelman was expending a lot of energy having to pin down his opponent, but his effort couldn't be questioned.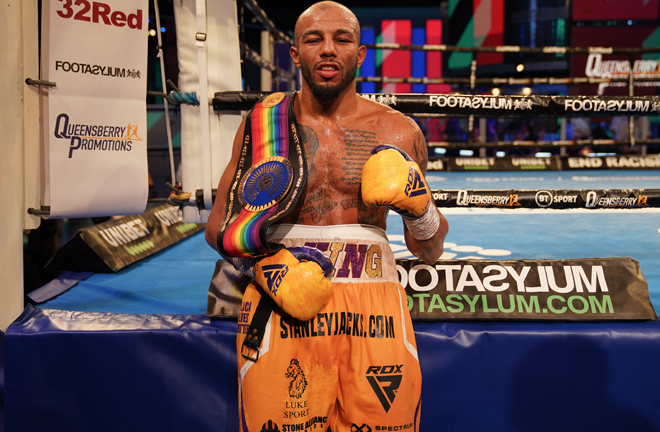 Arthur finally upped his work rate a little in the eighth, landing with a nice head-body combination with speed to inflict more damage on his foe.
It really was a back foot masterclass from the 29-year-old champion, continuously picking off the brave 28-year-old challenger.
The Scunthorpe man did not stop trying, despite his face showing significant damage, but the championship rounds saw more of the same relaxed dominance from Arthur and he safely negotiated his way to the final bell, with Spelman continuing to come forward until the bitter end.
The result was academic, but the scorecards rewarded Spelman's massive efforts.
Mark Lyson scored 116-112, John Latham tallied 116-113 and Terry O'Connor had it 119-109, as Arthur made a successful first defence of his Commonwealth belt behind closed doors in Frank Warren's third show since initiating UK boxing's post-lockdown resumption on July 10.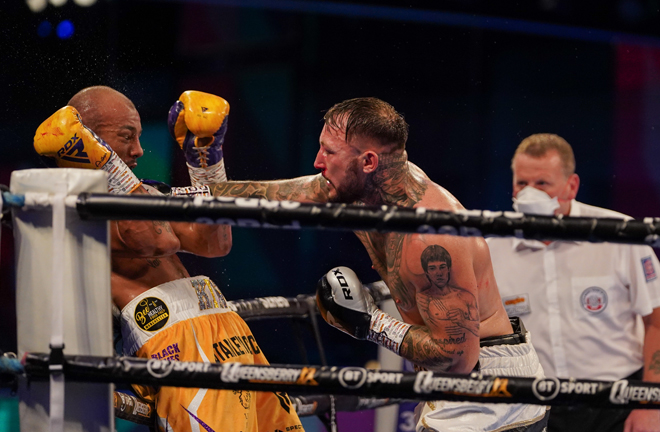 "A few times, I tried to get him out of there to the body, but I hurt my hand early on," Arthur told BT Sport post-fight.
"He was tough and stayed in there, and I give myself a seven out of ten tonight. I just boxed my way to a nice victory rather than really going for it".
"It's signed and sealed for October, (Arthur vs Yarde) so let's go".
At Middleweight, Caoimhin Agyarko had to go through a thorough examination early on by Jez Smith in an entertaining fight, but eventually solved the puzzle to score a ninth round stoppage win.
Agyarko (7-0, 4 KOs) took over from the sixth and in round seven, a left hook to the body dropped Smith, (11-2-1, 5 KOs) who bravely survived the count of referee Mark Lyson.
The very next round saw the body shots come into play again, and another hurtful left to the body floored the Harrow Weald man for a second time.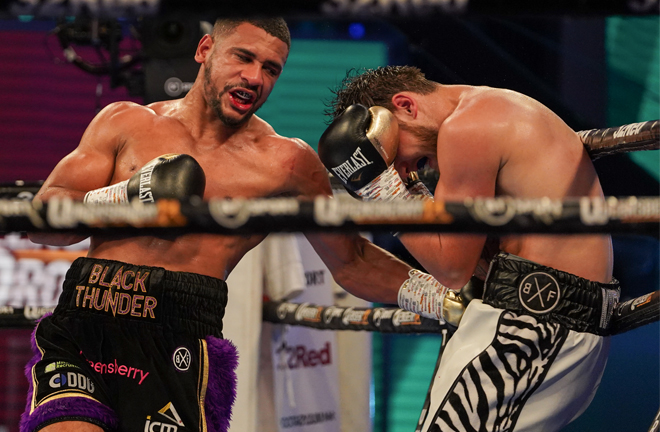 The writing was on the wall, and it didn't take long for the end to come.
A short right hand to the head with not long gone in the ninth from the Belfast native dumped Smith to the canvas yet again and this time referee Lyson dispensed with the count.
There was very much a Liverpudlian feel on the rest of the undercard, with a trio from the Everton Red Triangle Gym all notching wins.
The short, squat and all-action Nick Ball was at the head of affairs, and in a battle of unbeaten fighters, the relentless Ball (13-0, 6 KOs) remained unbeaten with a decision win over Jerome Campbell (6-1, 1 KO) after eight rounds at Super Featherweight.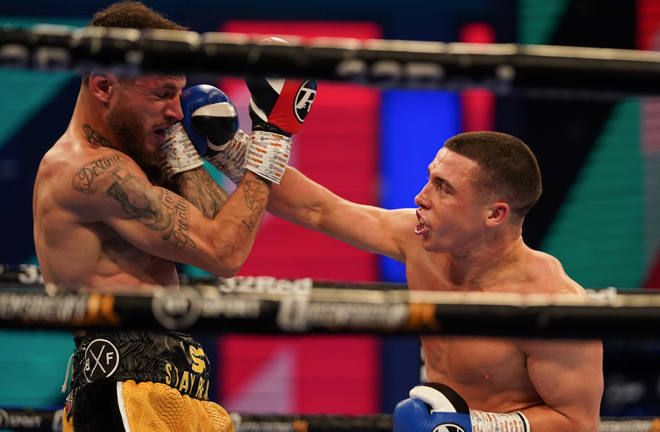 Campbell, who was unbeaten heading into the bout was counted in the seventh with only the ropes holding him up from a Ball onslaught. Referee Mark Lyson adjudged Ball a 79-72 winner.
At Super-Bantamweight, Brad Strand moved to 4-0 (1KO) with a four round points win over the always durable Brett Fidoe, (13-63-5, 6 KOs) with referee Howard Foster scoring the fight 40-36 for the victor.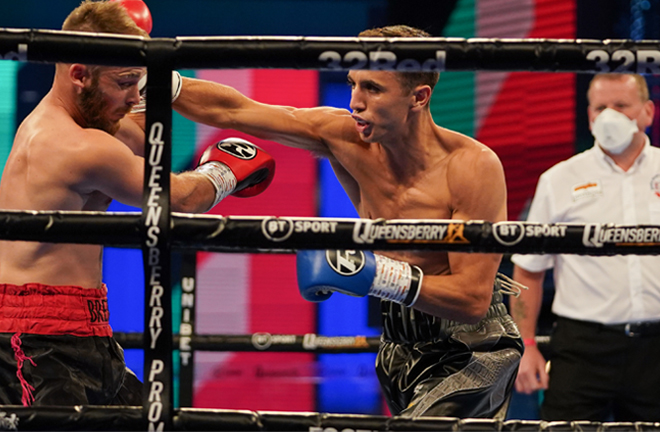 The first contest of the evening featured the talented Andrew Cain, who made it six from six as he forced Ed Harrison to withdraw after three completed rounds.
Cain (6-0, 6 KOs) possesses a very relaxed and elusive style and his sheer volume of punches was simply too much for Harrison to handle. It was the first time that Harrison (1-4, 1 KOs) had failed to hear the final bell.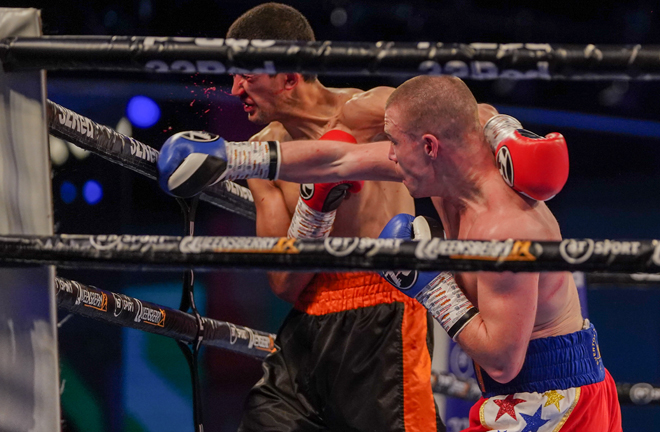 The traditional final ten tolls of the bell, this time for respected Scottish boxing figure, Rab Bannan, who sadly passed away yesterday, opened the BT Sport broadcast.