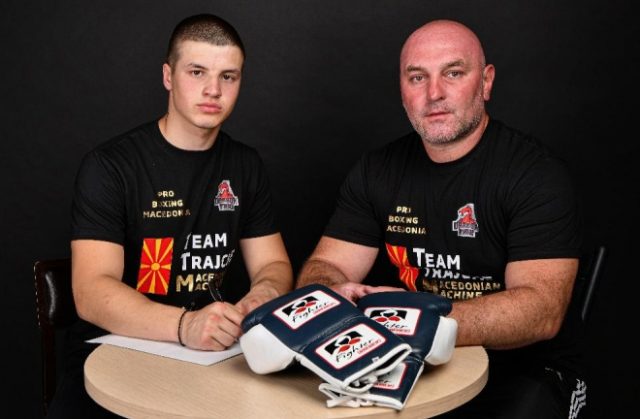 The man known as 'The Macedonian Machine', Trajche Ilioski, will be making his pro debut at 18 years of age. Looking to quickly make a name for himself in the glamorous Welterweight division under the guidance of manager Tony Tolj.
Having quickly amassed over 40 fights with 38 victories as part of the Macedonian national setup in the amateur ranks. Ilioski has compteted in Holland, Austria and Belgium as well as the Balkans.
His most significant victory was winning the International boxing tournament 'Juniors nations cup Vrbas' in Serbia, August 2018.
Ilioski also has an impressive kick boxing resume winning multiple tournaments. Most famously the WKF World Cup in Vienna in a field of 80 boxers from 25 various countries.
Ilioski opened up about signing with Dragon Fire and Tony Tolj. He said, "Having Tony Tolj and Dragon Fire manage my career is very significant to me.
"It's a great honour for me to be managed by Tony. I will do everything in my power to have many successes for me, my team and my country.
"It is great that we Balkans support each other and I am very excited that Tony is of Macedonian origin. I am looking forward to many wins and I will be proud to represent Macedonia in the best possible way.
"To be a World champion I know you have to have the best team behind you, to be ready when my chance comes. I would like to show my own professionalism, dedication, skills and capabilities to be the best."
Darko Catleski, a former Macedonian boxing standout himself, will be Ilioskis trainer and co-manager.
Catleski founded the famous Boxing Club 'AS' Prilep in Macedonia in 2002. Since 2010 he has also served as the secretary of professional boxing association 'Pro Boxing Macedonia'.
Catleski opened up about 'The Macedonian Machine' and manager, Tony Tolj.
"It will be my pleasure to work with Tony Tolj. I've known Tony personally for many years, he leaves nothing to chance and puts in the hard work goes over every detail for all his fighters. That's why they are all quality boxers because they are given every opportunity.
"I think our future together will be very bright and with our boxer, Trajche Ilioski. It will be the start of producing some great European boxers and future World champions".
Tony Tolj gave his take on his latest acquisition, "We are very excited to work with Trajche. I believe he will go right to the top in this industry.
"It was the right move for all parties concerned. We work with fighters from all over the world and this will benefit the career of Trajche.
"Darko is a tremendous trainer and a quality person, my European talent scout Naumce Paunkoski & I travelled to Macedonia in 2017.
"We are all very excited to see the progression of 'The Macedonian Machine'. My mother is Macedonian and It gives great joy to be able to guide the career of Trajche Ilioski."